A look at sustainability at Mt. SAC
Mt. SAC shares what they are doing to stay sustainable
In a presentation on eco-friendliness last month, the Mt. SAC sustainability team discussed what the school is doing to stay green and introduced a keynote speaker, Josiah Edwards.
The school has a sustainability initiative that includes signing numerous environmental protection treaties, signing a climate action plan, committing to reducing greenhouse gas emissions and more.
Professor James Stone opened the presentation with a few words about the Sunrise Movement and the Green New Deal.
According to Stone, the Sunrise Movement played a role in the Green New Deal by organizing a sit-in at the office of then-House speaker Nancy Pelosi in 2018. After the electoral victories of Rep. Alexandria Ocasio-Cortez and Sen. Ed Markey, they started working on the Green New Deal resolution.
The Green Party of the United States website states, "It seeks to solve the climate crisis by combining quick action to get to net- zero greenhouse gas emissions and 100% renewable energy by 2030 along with an 'Economic Bill of Rights' – the right to single-payer health care, a guaranteed job at a living wage, affordable housing and free college education."
Stone recently took some of his environmental politics students to the Los Angeles CleanTech Incubator which, according to him, "is designed to train residents for low-income communities and communities of color for jobs in the green economy and also to facilitate new startups for residents in those communities as well."
Stone then introduced the sustainability director, Eera Babtiwale and sustainability coordinator, Tania Anders.
During the remainder of the presentation, Anders and Babtiwale showed the three pillars of sustainability and shared how these pillars are visible at Mt. SAC.
The first pillar is people which is the diversity, wellness, connection and health of those at Mt. SAC. The wellness centers and student centers on campus are great ways to engage and connect with people on campus.
The second pillar is the planet. Mt. SAC has a wildlife sanctuary that many \do not know about it because it doesn't have a prominent entrance but in the fall there will be a sign to point out the entrance, ancillary spaces, support spaces, locker and restrooms to be able to store things and take a trek into the sanctuary according to Babtiwale.
The Urban Forest on campus holds 3,079 trees which are capturing stormwater, sequester carbon, removing pollution from the water and air. Mt. SAC has also purchased 72 acres of wildlife that will be preserved for the lifetime of the college. This space also uses recycled water which Mt. SAC will be bringing to the rest of the campus in the near future, added Babtiwale.
The third pillar is prosperity. Babtiwale said that in 2035 in the state of California all new car sales will have to be electric. Currently, Mt. SAC has 59 charging stations on campus and is looking into adding solar panels on campus.
According to the presentation, Mt. SAC's climate action plan has a strong focus on curriculum implementation, professional development, community outreach and student engagement.
Babtiwale said that in order to ensure that Mt. SAC is staying on track for their timeline, the climate action plan keeps them accountable because they have to do it every five years. Having to report to Second Nature and use a carbon calculator that is used by all higher educational institutions so that there is a common baseline of those institutions that report to Second Nature.
Mt. SAC also has a decarbonization plan which is to be completed by 2050, phasing out of gas reliance every 10 years.
"We have the Climate Commitment Environmental Justice Committee so that meets monthly and it's composed of faculty of staff, of managers of students. And so if there are any projects that are on the book, the committee has the ability to review and provide comment," Babtiwale added. "And again, hold us accountable. And then this year, the Climate Action Plan for the first time is going to be board approved, that means it's going to get to the board has to go through multiple committees before that."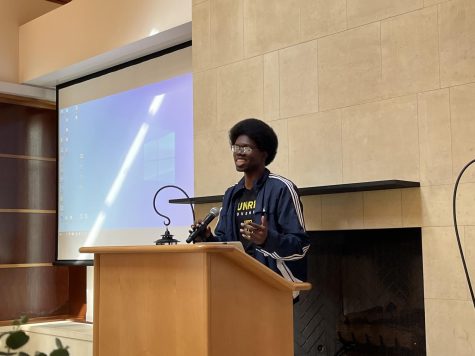 Shortly after, another speaker was brought who Professor Raul Madrid introduced as Sunrise Movement LA keynote speaker Josiah Edwards.
Edwards is a climate justice organizer based in Los Angeles. He grew up in the South Bay of Los Angeles County County near the largest refinery on the West Coast. In his daily life, Edwards experienced environmental racism, something that communities of color feel all too often.
As a member of the LA chapter of the Sunrise Movement, he works to "uplift the voices of youth in frontline communities by training young people on the organizing methods and discipline needed to build multiracial cross-class solidarity."
His presentation, themed "Schools as Sites of Struggles," was about power.
Edwards began his presentation by saying, "The climate crisis is here as we are enduring this crisis, there is an ongoing widespread and well-organized fascist assault on democracy and public institutions attempting to prevent us from investing in the solutions needed to survive it."
He discussed the politicians that talked about change and acknowledged climate change such as Sen. Bernie Sanders. He also mentioned the politicians that deny climate change such as former President Donald Trump.
"One of [Trump's] first executive orders as president was to withdraw the United States from the Paris climate accords, which were still largely deferral to fossil fuel corporations and did little in terms of emissions," Edwards said. "It's still represented something and it was a clear blow to the fight against climate change, setting climate politics in the United States back even further. It was within this context that the new youth climate movement emerged."
He went on to say that failure to thrive in school results in further oppression through low-wage jobs and massive corporations that do not pay enough to meet the needs surrounding health care, housing, social goods and transportation.
Edwards said: "Carceral logic extends throughout today's modern education system. In this system, young people are told what to learn when to eat. When we can use the restroom and what restaurant we're allowed to use. What to wear. What pronouns and names we can go by. The system is rooted in control, seeking to mold young people into obedient workers and model citizens ready to participate in a racist, colonial and exploitative society."
Through this initiative, it would appear that Mt. SAC and its students are fighting hard to win the fight against climate change and the oppression in the school systems.
Leave a Comment
About the Contributor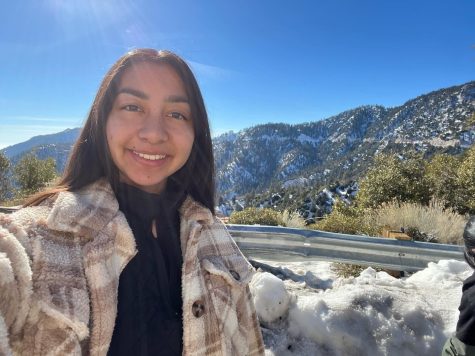 Emily Fernandez, News Editor
Emily Fernandez is SACMedia's News Editor.