5 local hikes to help you de-stress
Here are five spots that let you escape into the wilderness
Lush green hillsides. Wildflowers explode in color amid a spring super bloom. Birds chirping. The sound of flowing water. All these elements combine to make the outdoors a peaceful place where we can reset our bodies both mentally and physically from the stress that the daily grind puts on us.
With the semester and midterms in full swing, it is safe to say some students are probably feeling a little stressed-out right now. On top of that, add having to do a majority of schoolwork on a computer screen and you have the perfect formula for burning out.
One great way to combat this burnout is by getting outdoors and experiencing the wilderness in whatever way you find comfortable. The United States Department of Agriculture's Forest Service says: "There are many mental wellness benefits associated with being outside in green spaces, such as lower risk of depression and faster psychological stress recovery. Studies have shown that being in nature can restore and strengthen our mental capacities, increasing focus and attention."
Anyone can experience this natural form of stress relief because whether it be hiking, trail running, mountain biking or leisurely strolling while taking photographs, there is something for everyone to do in the outdoors. One of the highlights of living in Southern California is the close proximity to numerous outdoor and wilderness areas available for the public to enjoy.
So whether you're a student or not, you can get outside and experience the benefits the wilderness has to offer.
Here are five local Southern California outdoor hiking spots for all skill levels:
Sycamore Canyon Park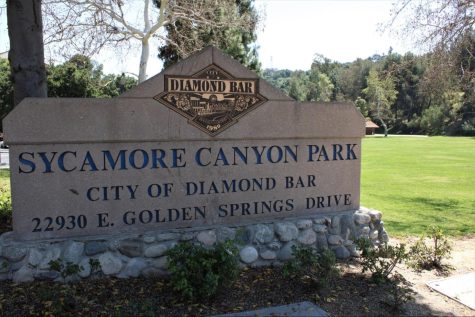 This smaller park in Diamond Bar is a hidden gem that is tucked away between local housing and Golden Springs Drive, conveniently located about 4 miles away from campus.
Upon making an entrance to the park, this recreation area might seem like nothing too out of the ordinary. But this park has a linear design and hidden at the very back portion lies the Sycamore Canyon Park Trail.
Within just a few steps out of the parking lot, you will be surrounded by a dense green forest filled with Sycamore trees. Alongside the nature path, you will find a creek filled with flowing water based on the season.
With a shorter distance of about 1.3 miles total, this out-and-back hike has an easy to moderate difficulty rating. It can be rated easy if you use the forest area to just take a relaxed stroll to free your mind. Where the difficulty tends to increase really depends on what you do when you arrive at the large stair set with over 170 steps that lie at the center of this wilderness area.
This large outdoor flight of stairs makes for a tremendous workout if they are run repeatedly, but the elevated vantage point on top is definitely worth making the climb up the stairs at least once. There are even multiple outdoor workout areas at the top of this small summit so you can really make this hike as physically demanding as you want it.
Free parking makes this outdoor area even more accessible for students on a budget or those in the community who want to get a small taste of this wilderness located right in their own backyards.
Frank G. Bonelli Regional Park/Puddingstone Reservoir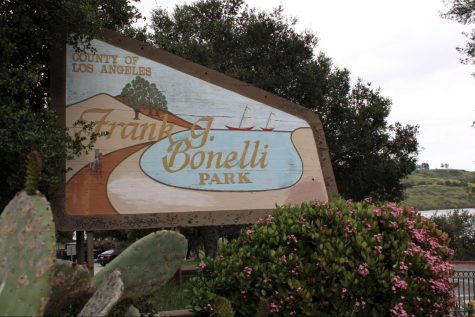 This next spot is a larger wilderness space built around the Puddingstone Reservoir that reaches across Pomona, La Verne and San Dimas. Frank G. Bonelli Regional Park is comprised of about 2,200 acres surrounding the reservoir and contains over 14 miles of trails throughout.
This easily accessible outdoor area is located fairly close to campus, 6 to 8 miles away depending on which entrance you select. The fastest way to enter this large outdoor area is off the Via Verde exit from the 57 Freeway.
The best part about Puddingstone is that there is something for everyone. Whether it is water sports, hiking, running, cycling, photography or even having a family get-together, there seems to be enough outdoor space and options for everyone.
Among the many different wilderness environments you will encounter, there are numerous alternate trails tucked away. It really is an outdoor area where you have the freedom to create your own adventure. Around the reservoir itself is a looping pathway that is about 6 miles total but there are so many offshoots, so it feels like you can explore a different path every day if you wanted.
The difficulty here can range anywhere from easy to hard. You can spend a very peaceful day strolling by the waterside on a paved path just observing the wildlife and nature around you. Personally, I have constructed some extremely difficult and rewarding half-marathon training regimes here by continually circling the reservoir to accomplish anywhere from 12 to 18 miles.
When entering through the main north and south entrances, admission for the day is generally $12. Some days you could get lucky and find a sign that says "free parking." However, this outdoor area is so large that there are multiple selections of free parking normally available if you don't mind walking an extra quarter mile or so.
Johnson's Pasture Trail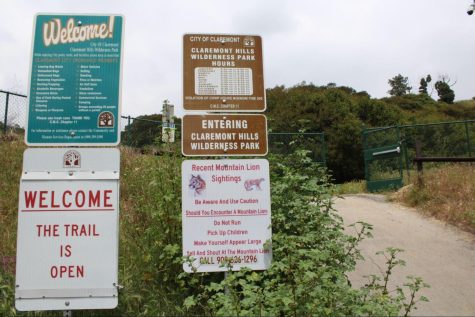 In the hills of Claremont lies the much more secluded Johnson's Pasture Trail, which is located north of campus, about 12 miles hidden away in the foothills of Angeles National Forest. It is a part of a larger loop system. This small selection of the trail contains a 1.8 out-and-back trail full of scenic pathways cutting through rolling green hills.
Driving to the top of North Mountain Avenue in Claremont, you will find the beginning of this trailhead hidden at the peak of the elegant Claraboya Neighborhood. This trail is located a short distance from the much more popular Claremont Loop and actually connects with multiple other trails in the area.
Once you get past the initial steep elevation gain, the trail calms down and opens you up to the serene pasture environment on top of these grassy hillsides. After reaching the highest point of this small hike, you will encounter a lookout point where visitors can witness the foothills surrounding you and Mount Baldy looming in the distance.
If you only stick to this smaller portion of the trail then this hike should be rated fairly moderately. Due to the steeper incline at the start and lack of proper shade throughout, you will want a little more experience before heading out on your own. Although it is a minimal distance, hikers can easily combine Johnson's Pasture with surrounding trails to increase difficulty and mileage by lengthening the hike to 4.5 miles or higher.
This is another student budget-friendly option with free parking. The only downside with parking is that there are only a limited number of spots available, so finding parking on a holiday or busy weekend might be harder than other spots.
Chino Hills State Park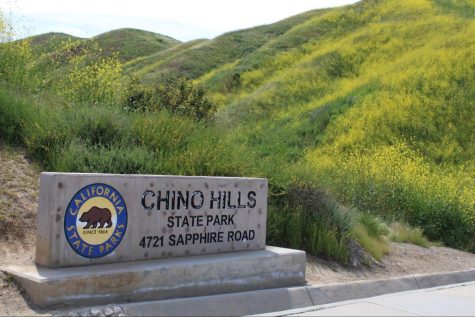 Sitting at around 14,102 total acres, Chino Hills State Park is a massive expanse with over 90 miles of trails throughout the outdoor area to explore. Located about 14 miles away from campus, the closest entrance to campus is near the 71 Freeway and Soquel Canyon Parkway exit.
Yet another area that is so large that you can literally have a completely different experience every time you visit. If you prefer mountain biking on dirt trails, leisurely hiking or even aggressive trail running, there are miles upon miles of paths cutting through this rolling outdoor wilderness park for you to enjoy.
Seasonal super blooms are driving attendance numbers currently, so attempting to visit on the weekends might be something you want to avoid unless you enjoy sitting in traffic. It is definitely worth it to make it out to this park during Spring to witness the huge vegetative structures that tower over 8-feet-tall ripe with wildflowers. Wildlife thrives in this huge area so watch your step for snakes or any other critter sunbathing in the pathways.
Your difficulty is what you make it here as well. Some people drive into the park and venture just a few steps away from their vehicles while those looking for more of a challenge can literally plan a more arduous journey that could take an entire day to complete. I have personally had an unbelievable experience here on a 15-mile trail run where I was running alongside two curious coyotes in the deep grass.
When entering the park, you will generally pay $10 for a standard-sized vehicle. Paying the parking fee can be beneficial in decreasing your overall hike, especially on a hot day. Although walk-in access to the park is free, you will be adding on an extra 2 to 3 miles before you even reach the entrance.
Etiwanda Falls Trail/North Etiwanda Preserve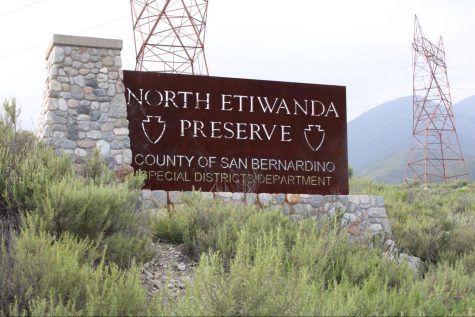 Located the furthest away from campus, at about 32 miles, sits inside the North Etiwanda Preserve is Etiwanda Falls Trail. This ecological preservation area consists of a stunning 1,200-acres preserved wilderness habitat at the very top of Etiwanda Avenue.
The trail is a 3.4-mile out-and-back trail that takes visitors on some rocky pathways up an elevation gain of around 800 feet. Pathways wander alongside beautiful blue wildflowers and large collections of sage bushes taking over from the recent rainstorms.
At the top of this trail, you will find Etiwanda Falls, which is a relaxing waterfall and forest area that currently has water rushing through it in abundance. The journey is definitely worth it as the sound of roaring water can help calm and soothe an anxious mind to reach a meditative state.
This trail will have to be rated at a minimal difficulty of moderate to hard. It is rated moderate at a minimum due to the fact there are many large rocks in the pathway so hiking can be treacherous if you don't pay attention. Due to the combination of elevation gain this particular hike could end up being more physically demanding and fall in the hard category as well.
Parking here is very student and budget friendly as well, coming in at the low price of just $3.25 for a day-use pass. Well worth it for the amazing outdoor experience you can have exploring the foothills north of Etiwanda.
Whether you decide to hike 1 mile or 15 miles, make sure you are always prepared when entering the outdoors.
Take necessary water and snacks to fuel you through whatever treks you plan on accomplishing. Another important factor is sun protection. Always make sure to dress accordingly when it comes to the California sun because one day without UV protection could lead to a serious sunburn.
Although hiking can be peaceful, make sure to always be aware of your surroundings. You are now entering a wilderness area so respect the wildlife that calls these areas home and give them adequate space.
Next time you feel overly stressed or want a break from the monotonous day-to-day grind, feel free to fall back on these five ideas for relaxing and fun Southern California hikes.
Leave a Comment