562 Flea adds an extra layer of style to Cal Poly Pomona
Vendors explain why the people keep coming back
562 Flea descended on the campus parking lot of Cal Poly Pomona on May 7, with over 200 vendors, selling men's and women's vintage clothing and accessories.
Started in 2020, the flea market held its first event that year in Whittier with only 30 vendors. Fast forward to now, their community has grown to over 200 vendors and counting.
562 Flea's objective is to provide a place for artists and emerging small businesses to grow and network, while creating a safe and fun event for all to enjoy.
Two of these small-business vendors shared their experiences on flea markets and the vintage fashion business in California.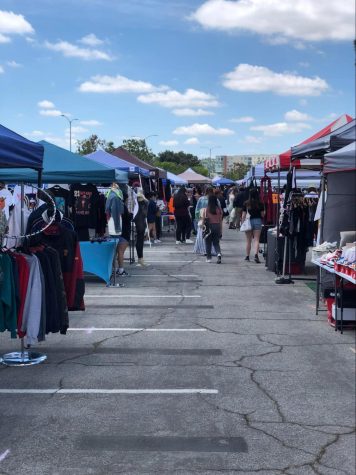 Pedro Montanez, who sells sneakers and vintage clothing through his brand, Sneakerply, explained the importance of flea markets and the vendors who attend them.
"A lot of the small businesses here don't have retail locations or a storefront, so flea markets give us the opportunity to gain some traction, as far as putting our name out there and building a loyal customer base," Montanez said. "I started selling sneakers in 2017 and even now, sell through Offerup and Instagram."
With emerging markets like 562 Flea putting many more eyes on these local retailers, Montanez described what makes his booth stand out.
"I try to go to all the flea markets and sneaker events, it's a lot of traveling, but I have to let people know I'm a reliable source for those looking to buy Nike Dunks or Air Jordans," Montanez said.
"I'm based in Corona and everything I sell is authentic, customers don't have to worry about buying fakes from me and my prices aren't too crazy, as compared to other sneaker resellers."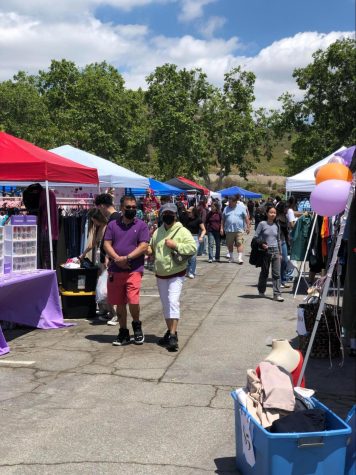 Jeremiah Aguirre, who carried the largest selection of vintage clothing at 562 Flea, with items ranging from $10 to $15, talked about turning his passion into a business.
"I've been interested in vintage band shirts for the longest time. Bands like KISS, Guns N' Roses and Metallica, that's what started my pursuit to collect vintage tees" Aguirre said. "When I look at old graphic tees, I see a piece of art or piece of history, it's like a snapshot of a moment in time."
Although the passion is what attracted Aguirre to the vintage clothing business, the demand and competitive nature is part of this venture that keeps him around as well.
"It's crazy competitive selling vintage clothing in California because there's such a huge demand for it," Aguirre said. "You go to cities like San Francisco and San Diego, not to mention LA and there's vintage shops everywhere, which is why I try to keep my prices as low as possible."
Securing vintage inventory at a reasonable cost from reputable sources has become a key in Aguirre's business success and how he maintains a competitive price point among other vendors.
"We source our inventory from New Mexico and Texas, where we find old Carhartt jackets or pants, old Levi's denim, old Harley Davidson tees, with wholesale pricing being cheaper than compared to California," Aguirre said. "I have a web store that's a work in progress, thanksjeremiah.com, which has a few pieces on there, but I'll always be at the next flea market."
If you missed your opportunity to grab some vintage drip, 562 Flea will be heading back to Cal Poly Pomona on May 28. More information on upcoming events can be found on their website.
Leave a Comment