From adversity to achievement: Rising Scholars offers opportunities to system-impacted students
The program is dedicated to helping those students to thrive and succeed educationally
Rising Scholars is a program that creates pathways for those who have been affected by the criminal justice system to thrive through education.
Through Rising Scholars, students are able to choose four different educational paths: high school diploma/ GED completion pathway, career & technology pathway, associates degrees pathway and/or four-year college transfer pathway.
Precious Padilla started working at Rising Scholars in January 2021. She is part of the student services support and oversees the mentors in the program.
While working online, Padilla would help students fill out financial aid, enrollment and Rising Scholars applications and made sure students had access to the resources that they needed. When on-campus activities resumed, she started planning events so students could get the cultural enrichment aspect in order to do something fun outside of school.
"I want people to take away from when they think of Rising Scholars is that our role as an educator is to support the students, not come at them as a savior," Padilla said.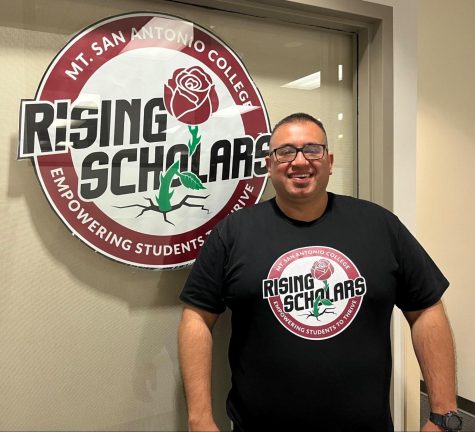 For students to be eligible to join Rising Scholars, they must be currently on parole, adult probation, affected by AB109 and formerly incarcerated or have been system-impacted.
Current students must meet with a counselor at least twice a semester for academic evaluation, personal advising or career advising/assistance. They also have to meet with the program mentor twice per semester and attend two workshops or events per semester.
Kevin Gonzalez, student services support, has been working at Rising Scholars since July 2021. He currently attends Cal State Long Beach and studies in the criminology program. He also works at Project Rebound at Cal State Long Beach.
"I don't see my experience too different from maybe some of the students that are coming in now," Gonzalez said. "When I finally made it to the university I had a mentor, he was formerly incarcerated. I could identify with him. He provided that space for me."
Students can connect with mentors for support. A holistic approach is used to utilize "an asset-based methodology in a cohort-based model focusing on student strengths to help them succeed and grow," according to the Rising Scholars website.
"It's making sure that they have the tools and the resources to be able to advocate for themselves to grow into the leaders that we know they're, they're more than capable of becoming," Padilla added.
John-Paul Enriquez, 40, a substance abuse, drug and alcohol addiction major said: "I came here curious, always wanted to be here but was always steered the wrong way or told that I was not good enough or why even bother now. I have had a lot of odds against me and obviously, now I don't let them get to me as much as I did before. "
"Now I am open to a whole new world, experiences I know what's possible," Enriquez continued. "I know what my capabilities are. I know what I can do, what I can't. I love testing myself and pushing myself to above and beyond."
Rising Scholars provides many services and benefits to its students such as ancillary, advocacy, enrichment workshops, counseling, tutoring, peer mentoring and more.
Enrichment workshops include leadership seminars, interview preparation workshops and more are provided.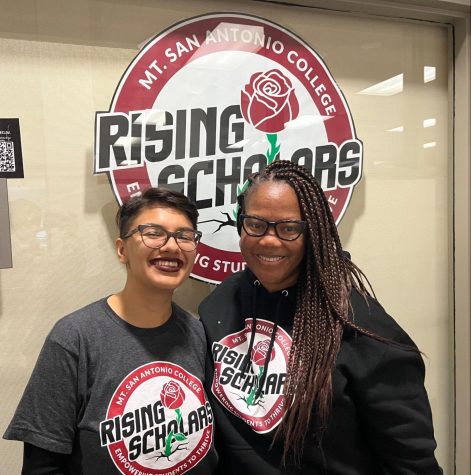 Interested students can apply on the Rising Scholars website. Students may also apply for a social work referral.
Latasha Buie, a social justice major and specialist assistant for Rising Scholars, said that her experience in the program has been good. As a specialist assistant, Buie keeps track of what the specialist does and helps get things such as flyers out on time.
Buie first heard about Rising Scholar when she was invited to attend a domestic violence event. Even though she was not in a domestic violence situation, she was affected as a third party.
"I'm enjoying the support," Buie said. "I appreciate the support. It's actually making me more aware of how much I really can handle compared to what you think you can handle."
"This program is really helping me understand where I need to be at, so that I don't overwhelm myself," Buie continued.
Rising Scholars assures students that they are supported and will achieve their academic goals. The program's operational site is located on the first floor in Building 9B and can be reached at (909) 764-8010.
Leave a Comment
About the Contributor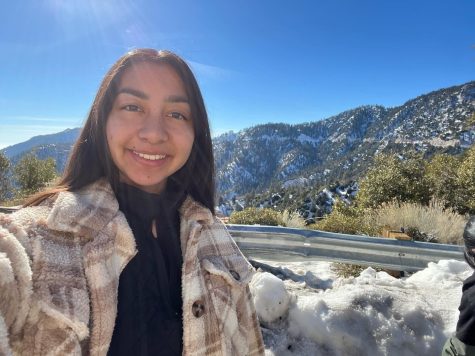 Emily Fernandez, News Editor
Emily Fernandez is SACMedia's News Editor.