"It's totally under the table": Hacienda Heights residents criticize LA County homeless housing project
Almost 1,000 people say no to the permanent homeless center
On May 4, the Hacienda Heights Community Center held a public meeting to discuss the Homekey Project, an effort to reduce homelessness in the area. Chaos ensued as hundreds of attendees sought an opportunity to express their concerns to Los Angeles County officials.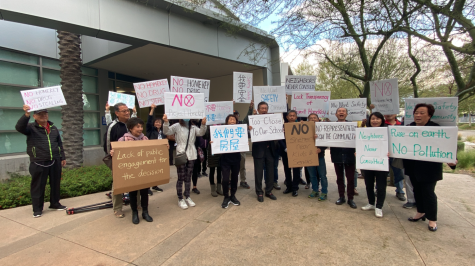 Before the meeting, protestors demonstrated their dissatisfaction with cardboard signs. David Fang, president of the Hacienda Heights Chinese American Association, said the permanent homeless shelter would significantly impact the community.
"Firstly, the homeless shelter is near the school district, so it's dangerous for kids to walk in the street," he said. "Then, it's close to dense residential areas and may cause more crime. And finally, it's near the highway. If homeless people walk onto the highway, they will cause traffic jams."
Launched in 2020, the Homekey project enabled the county to acquire 10 motels, 847 units combined, in Baldwin Park, Compton, Hacienda Heights, Harbor City, Long Beach, Norwalk, Whittier and unincorporated areas of LA.
The Motel 6, located at 7th Avenue in Hacienda Heights, became a temporary homeless center in 2020. County officials plan to have it rebuilt into 142 affordable homeless houses beginning July 2023.
The Motel 6 is adjacent to Interstate Highway 60. It is 0.4 miles away from Palm Elementary School and 0.9 miles away from Orange Grove Middle School.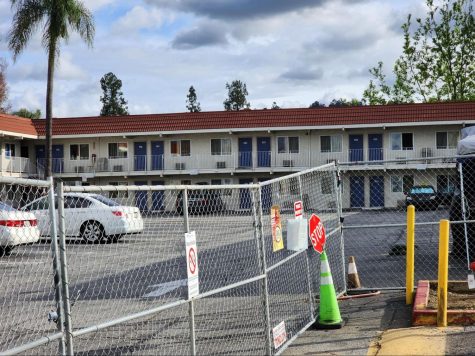 "We are against changing it into a permanent homeless shelter without a complete package of measures and program description," Fang continued.
Michael Wang, a retired structural engineer, said these permanent homeless units could also harm homeless people.
"There are three freeway entrances near Motel 6. So they can walk into the freeway, and then get hit by the car, which is very dangerous," he said. "So our government has to do the traffic study first. Secondly, this building was built about 30 years ago. The building codes are so outdated that the homeless people who live inside cannot escape safely when an earthquake strikes,"
Walnut City Councilmember Eric Ching suggested a different solution to the homeless issue than building housing, which he argued hasn't fixed the issue.
"The fundamental solution is to treat their psychological and drug addiction problems," he said. "Just giving them housing and food will allow them to continue to use drugs and alcohol without any worries."
As the meeting drew near, hundreds waited to enter the facility. Nearly every seat in the venue was taken and standing attendees filled the empty space and overflowed into the hall.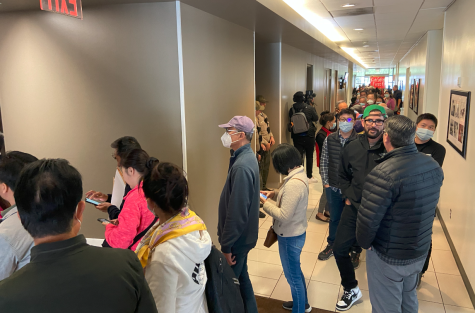 Representatives of LA County Supervisor Hilda Solis and housing development organization WORKS planned to explain the project first but attendees insisted on making comments due to the meeting's time constraints.
The meeting could not continue, as arguments and anger broke outover the city's plan to build permanent homeless units.
"This shelter has already been operating since 2020. It's not new. We're just converting it into something permanent," said Daniella Urbina, Solis' representative.
"I just want to point out there's a contract with the state of California. The project has been decided," she continued.
Hearing this, the attendees became angry that the county made the decision to build permanent homeless units without informing the residents.
"People are not in the process. You need to tell us how this process works, how can they get involved to say 'No, we don't want it.'" Ching said to Urbina.
A Hacienda Heights resident, Elitzah Weiner, who claimed her car was smashed twice and her mother's home was broken into after the Motel 6 was turned into a homeless center, said: "We hire them, we elect them to be the LA County Board of Supervisors. We don't even get a say, and they want us to be quiet and not be able to ask our questions."
Zhigao Jiang, another Hacienda Heights resident, shouted, "It's totally under the table! Who is the victim? Our kids! I care! So there is no homeless shelter near school!"
Among the hundreds of people, less than 10 people attended the meeting to support the project.
"I am definitely in support of housing, we need to protect the people who are most vulnerable," said Malia Vasquez, who is not currently living in Hacienda Heights.
"It's sad to see all the discrimination, the false narratives, all this bias, and problematic language," she continued. "Housing is a human right."
Fang said he will continue to protest and threatened litigation.
"This is where we make our home and we will not back down," he said. "If LA County does not accept our opinion, we will sue them."
Solis' Office did not respond to SAC Media's request for comment.
Leave a Comment