The Green New Deal reintroduced in Congress
Climate and economic changes to come
On April 20, the Green New Deal was reintroduced by Rep. Alexandria Ocasio-Cortez of New York and Sen. Edward J. Markey of Massachusetts.
According to The New York Times, the purpose of this proposal was for the U.S. to pull away from fossil fuels, subdue global-warming greenhouse gas emissions and aim at guaranteeing new high-paying jobs in clean industries.
After the 2018 midterm elections, the Sunrise Movement staged a sit-in outside the office of soon-to-be House speaker Nancy Pelosi to demand climate change action.
The Green New Deal resolution envisions a 10-year national mobilization, akin to Franklin D. Roosevelt's New Deal, that would put millions to work in good-paying, union jobs repairing the nation's infrastructure, reducing air and water pollution, and fighting the intertwined economic, social, racial and climate crises crippling the country according to Ocasio-Cortez's website.
"We know that there cannot be true freedom when people are imprisoned by poverty and homelessness, there cannot be real liberty when education is withheld, a civil right denied," Markey said in a 2021 press conference. "There cannot be public health when air sickens and water poisons. The Green New Deal proudly centered these interrelated undeniable truths."
"Now there are new bills being introduced that have the Green New Deal in their DNA bold ambitious transformational economy, wide legislation with jobs justice and climate at their center," Markey continued.
According to Ocasio-Cortez's website, 13 new co-sponsors joined the Green New Deal resolution in 2021, including Sen. Alex Padilla and Reps. Kaiali'i Kahele, Tony Cardenas, Cori Bush, Sara Jacobs, Jake Auchincloss, Nikema Williams, Jamaal Bowman, Mondaire Jones, Ritchie Torres, Marie Newman, Katie Porter and Teresa Leger Fernández.
The Green New Deal's purpose is to reduce greenhouse gas emissions in order to make a positive change in climate change while trying to fix economic inequality and racial injustice.
Amid global efforts to combat climate change, Mt. SAC has also focused on becoming sustainable.
During Earth Week last month, Mt. SAC hosted events throughout the week which included a sustainability presentation on April 18. Sustainability Director Eera Babtiwale spoke about what Mt. SAC is doing to stay sustainable.
"The new Health and Wellness Center is all about promoting people from the inside out and sustainability is all about that," Babtiwale told SAC Media at the presentation.
"In terms of planet, we have our amazing wildlife sanctuary. We just purchased 72 acres of wildlife," Babtiwale said. "We're looking to really boost our inventory of trees on campus so that we can sequester carbon actively and locally right here. We're bringing in recycled water to our play fields in terms of prosperity."
"It's about, you know, being fiscally responsible with our decisions. So any strategy that we're proposing, we have to really scrutinize and understand the long-term benefits or the long-term repercussions," Babtiwale added.
Phase one of the Mt. SAC' decarbonization plan includes reducing emissions by 25% by 2025. Phase two will reduce emissions by 50% by 2035 and phase three will reduce emissions entirely by 2050.
Mt. SAC is also engaged in habitat restoration. According to Babtiwale, the land across the street at Grand Avenue and Temple Avenue where the West Parcel sign is will be restored to its original state.
She said: "So we went in there removed all the invasive weeds and actually brought in recycled water, and we've already seen the benefits of this hard work. So the California gnatcatcher is actually an endangered species. We've actually seen it nesting already. So we've seen the benefits of this. And we've actually as I mentioned, implemented recycled water, which we intend to bring To the rest of our campus's playfields in the very near future."
There are a lot of environmentally conscious developments to come for the college. The school's climate action plan, which aims to make the college sustainable by 2050, can be read here.
Leave a Comment
About the Contributor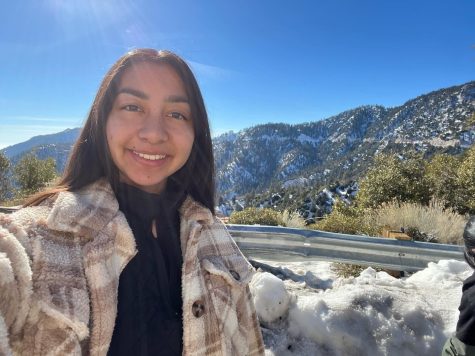 Emily Fernandez, News Editor
Emily Fernandez is SACMedia's News Editor.