Tips for taking care of kittens during kitten season
Essential courses for new kitten owners
Although "kitten Season" can't be found in a traditional calendar, it comes every spring. For different reasons, many kittens are abandoned by their mothers, starve to death or are victims of other incidents that leave them unhoused.
Spokesperson of Pasadena Humane Animal Shelter, Kevin Mcmanus, reminded people that if they see an abandoned kitten, they should call a local animal shelter.
"If they're small enough, and you're able to put them in a cardboard box or something, cover them," Mcmanus said. "Make sure they have bedding and then call us in that way. We can kind of make sure that they get a proper intake."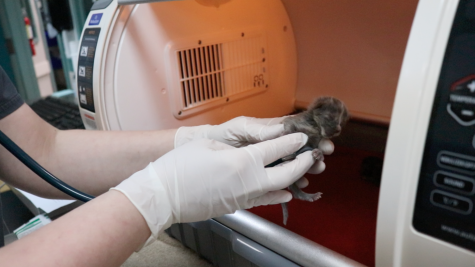 As more and more kittens are sent to animal shelters, the staff's job becomes more tedious. They do full medical checks on every new kitten for fleas, as well as weigh them, neuter them and vaccinate them.
Taylor, a foster placement associate of Pasadena Humane, has assessed kittens as young as four-week-olds and said, at this age, the kittens need powdered formula.
"When they're really little one or two weeks old, we'll start with a syringe, and these little tiny nipples that look like mom," Taylor said. "And then once they get a little bit older, they can start using bottles."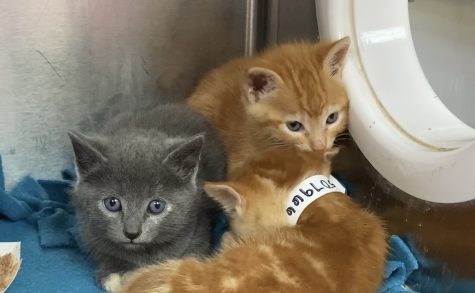 Taylor said the most difficult part for kitten owners taking care of these bottle babies is they have to wake up every two to four hours to feed them.
Furthermore, kitten owners need to use wipes to stimulate them to go to the bathroom on their own. They would also need a heating pad to keep kittens warm.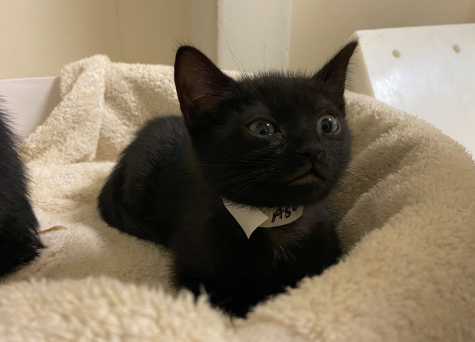 Even though they take good care of these kittens, illness can still happen.
"Ailment is very common," Taylor said. "Diarrhea, vomiting, things like that. Ninety-eight percent of our kittens will have diarrhea at some point, so we have a vet team here that can help them get them on medication very quickly."
Pasadena Humane encourages people to adopt these lovely kittens to release more space for other kittens. If people really like them but can't adopt one, they can apply for foster volunteers. Pasadena Humane released a statement that echoed that same felt encouragement.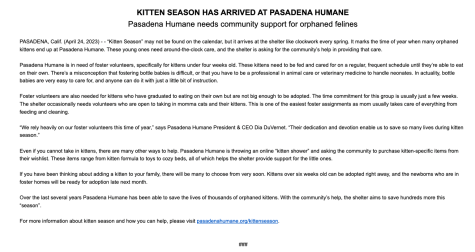 "There's a misconception that fostering bottle babies is difficult, or that you have to be a professional in animal care or veterinary medicine to handle neonates. In actuality, bottle babies are very easy to care for, and anyone can do it with just a little bit of instruction," the statement reads.
In addition to kittens, people can also adopt cats, dogs, rabbits and other furry friends in the Pasadena Humane. More information can be found on the Pasadena Humane website.
Leave a Comment