El Centro celebrates Latinidad cultures
A look at the program's celebration of Latino/Chicano culture
On May 11, El Centro hosted Suelta la Sopa: Open Mic, an event where anyone could sign up and read poems, tell stories and sing.
Many people attended the event including the author of "Chicana on Fire and Mi Amor," Vibiana Aparicio.
Aparicio's book is based on rich poetry and the struggles and beauty of a Mexican American family. Aparicio read a few passages from her book that touched many people at the event.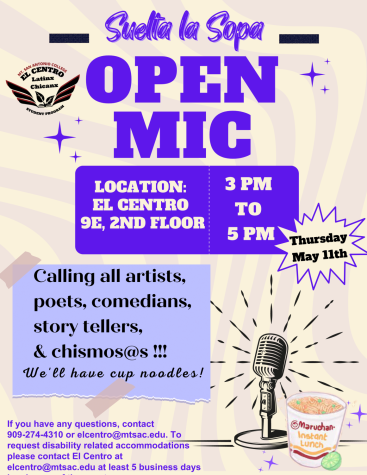 Many people could share their stories and talents which seemed to bring the community closer.
Director of El Centro, Gio Rodriguez, added that there is a need to collaborate with many different people on campus to make sure that different needs are met.
On April 18, Mt. SAC's Pride Center and El Centro program presented Finding Familia: Growing up Latinx and LGBT, an event that focused on developing an LGBTQ+ identity within Latinidad.
A round table discussion and community panel allowed attendees to connect with others.
El Centro's goal statement includes providing a culturally affirming space to "support, educate and assist students and the community."
"Our center is a student support program and community and cultural center on campus that has taken off in the past couple of years, primarily due to the advocacy of our student groups," Rodriguez said.
The program provides a relaxed space for networking and studying and aims to celebrate the diverse cultures and roots within Latinidad.
El Centro also seeks to bring awareness of the political, social, cultural and historical realities of the Chicano/Latino community by participating in Mt. SAC's values of supporting diversity and equity.
El Centro is located in building 9E on the second floor and can be reached at (909) 274-5392.
Leave a Comment
About the Contributor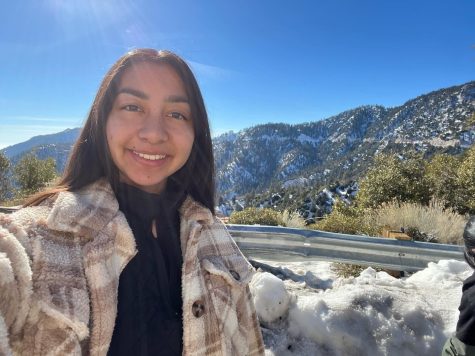 Emily Fernandez, News Editor
Emily Fernandez is SACMedia's News Editor.