Life is a culmination of different cultures, traditions, past trauma, laughter and every other emotion previously thought and acted on by our past ancestors, intersecting innate characteristics we have no control over.
Dr. Anthony Ocampo, a Professor of Sociology at California State Polytechnic University, Pomona felt in his 20s he "lacked the blueprint on how to live his life" but is now all too familiar with the concept of the intersection of multiple identities.
It is at Cal Poly Pomona where Ocampo has centered his teachings around Filipino-American Sociology, race and ethnicity, Sociology of Gender, and immigration.
Ocampo grew up as the queer son of a religious Filipino household whose parents immigrated from the Philippines.
His prime motivation for writing his newest book "Brown and Gay in LA: The Lives of Immigrant Sons" was finding himself. "I was coming into my identity as a queer person and I didn't know what to do," Ocampo said.
In this ethnography, Ocampo interviewed over 60 queer Filipino and Latino men to share their personal experiences on how they navigated through their lives to compare similarities and differences.
Oftentimes in his 20s, when the clock struck 10 p.m. after class at UCLA, Ocampo went straight to the clubs, the bars and eventually the house parties.
"When I started to venture out to clubs, bars and house parties I would see a very different story of queerness," Ocampo said.
This is where he said the first notions of a different narrative on queer identity blossomed.
These locations were his classrooms about queerness that did not revolve around the negative stories told and were far apart from the stigma of the '80s and '90s in traditional classrooms, inaccurate portrayals and stereotypes of the AIDS epidemic or if same-sex marriage should remain illegal.
"[At the club] I would see laughter, I would see messiness, I would see gossip, I would see dancing, I would see people falling in love, I would see heartbreak. All the experiences I wasn't able to have."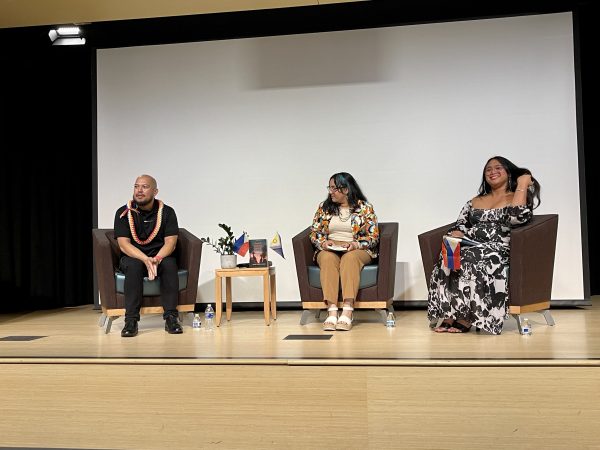 To dialogue and assist in the discussion of intersecting identities, student ambassador of El Centro Malena Bonilla and president of Pride Club Maw Simon, sat on stage in a panel discussion with Ocampo and asked thoughtful questions that invoked themes within Dr. Ocampo's recent book.
El Centro's student ambassador opened by asking how the influence Catholicism had on poorly developed countries that the Spaniards colonized.
"How does Catholicism play a role as our beliefs of being gay developed?" Bonia asked.
Ocampo's hometown, Eagle Rock, a neighborhood melting pot in Northeast Los Angeles, was interesting because he grew up around a community of other ethnic immigrants in America that were deeply rooted into Catholicism and its church."When immigrants come to this country they often live in communities of people with the same background," Ocampo said.
One similarity that arose among the 60 interviewees was their immigrant parents and the influence of the Catholic church institution both negatively and positively.
"The church is like a safe place for immigrants," Ocampo said. "On one hand there is this part of queer sons of immigrants that witnessed the positive impact the church is making on their families' lives."
"Then contradictions happen when the messages they now hear from priests and fellow churchgoers are about same-sex marriage is wrong, at worse your going to hell, or you're not normal," Ocampo said.
After answering Bonia's initial question, he shared one of his anecdotes about his church experiences. Ocampo attended his catholic church in Glendale, California in 2008 and heard his priest during a sermon indiscreetly influence attendees on why same-sex marriage is wrong.
When the priest was done the congregation clapped…
Even after coming out six years prior, he wanted his disdain to be heard.
Ocampo apologized to his parents in the audience about telling this story but on that Sunday afternoon, he booed as loudly as he could.
"In tough moments sometimes you have to interrupt what's happening and make noise in some way," Ocampo said. "Maybe there is some queer or trans kid there that needed this to be interrupted and even if I never meet them, it's one little message to say 'Hey there are others that support you.'"
Ocampo shared that religious friends and colleagues want to be involved with Catholicism and navigate their queer identity, each found their own tailored way to make what they need work.
The Pride Club president asked the next question about self-acceptance.
"What is the big dream and the purpose of everything you do?" Simon asked.
"I would love for this book to become a TV show," Ocampo said.
"We live in a country where books are getting banned, which is really ridiculous," Ocampo said. "I want this next generation of queer and trans young folk to have access to a rendering of their story on TV. They get to experience all the human emotions that other humans get to experience."
After the last question was presented, Ocampo graciously signed copies of his book "Brown and Gay in LA" for attendees of the Student Equity Speaker Series after the panel discussion and their questions.
Miguel Tanjuakio, a Filipino-American student double majoring in Communication studies and Asian American studies, read the works of Dr. Ocampo three years prior, never thinking the opportunity to attend his speech and book signing would present itself.
"I was blown away," Tanjuakio said.
"It feels empowering to know that there are people that are representing our communities and trying to document our stories," Tanjuakio added.
Earlier in the event, Tanjuakio provided the audience with a brief description of Dr. Ocampo to introduce the author to the audience and panel.
El Centro, Pride Center and the ARISE program worked in collaboration to host Dr. Ocampo this October for the Student Equity Speaker Series. This monthly event brings authors, visionaries, artists, scholars and everything in between to speak with Mt. SAC students on navigating through college and the importance of collaboratively creating an equitable space of success for all students.
The three programs acknowledged the importance of the Equity Speaker Series and the timeliness of Dr. Ocampo's message, as October is nationally recognized as LGBTQ+ History Month, Latinx and Filipino American Heritage Month.
Ocampo shared his closing message: "Their stories are a key to a better world," Ocampo said.
"Black people, indigenous people, people of color, queer people, trans people, disabled people, they have the key to a better world."