Hold up, wait a minute and maybe don't put some kush up in it.
On Nov. 6, the American Heart Association announced at the American Heart Association's Scientific Sessions 2023 that regular cannabis consumption may be linked to complications of the heart and brain.
The burning question everyone wants to know is whether the medicinal benefits of cannabis outweigh the potential unknown long-term health risks it possesses.
In an October 2023 survey conducted by the Pew Research Center, nine out of 10 people believe marijuana should be legal for recreational or medical use. In the same survey, 30% said it should be legalized for medicinal purposes. In a similar study conducted by the Pew Research Center, in states where weed is legal use it 24% more than in states where it's illegal.
Bianca Bertrand, a 23-year-old student in Louisiana, like many, was not aware of the side effects of frequent cannabis consumption. "I haven't smoked or consumed any marijuana in over a year," she said. "I believe in the health benefits of herbal medicine, however given the brain alterations and other complications associated with the use of cannabis, I think alternatives can and should be used for health purposes."
In the "All of Us" Research Program (Poster Abstract MDP250) conducted by the National Institutes of Health, approximately 150,000 adults across the United States participated in the "All of Us Research Program." Researchers focused on the relationship between lifestyle, biology and environment in diverse populations and analyzed the association between daily marijuana use and heart failure.
According to the two studies conducted by AHA, older adults who don't smoke tobacco but do use marijuana were at higher risk of both heart attack and stroke when hospitalized, while people who use marijuana daily were 34% more likely to develop heart failure.
While many are concerned about the potential problems persisting when partaking in medicinal or recreational consumption of cannabis, others are less skeptical of its long-term effects, particularly on the brain. Trevor King, a 23-year-old pro-amateur basketball player living in California, believes the benefits outweigh the side effects. "Honestly, it doesn't [worry me at all]," King said. "You have so many side effects from the stuff you find in CVS or any pharmacy only to smoke some weed to make you feel better."
Recommendations from the AHA advise people to refrain from smoking or vaping any substance, including cannabis products, because of the potential harm to the heart, lungs and blood vessels.
View this post on Instagram
According to Weedmaps and the National Conference of State Legislature, 38 states, three territories and the District of Columbia allow the medical use of cannabis products. Twenty-four states, including the state of Ohio, passed legislation for recreational consumption. 11 states allow either only low CBD products for medical use or are still illegal.
CBD, or cannabidiol, is an ingredient derived from a non-psychotropic part of the marijuana plant. Legislation is hesitant to legalize products containing THC, or tetrahydro cannabidiol, the psychoactive agent found in cannabis.
According to the National Conference of State Legislatures' map of state-regulated cannabis programs, the following states allow for low-CBD THC products: Georgia, Indiana, Iowa, North Carolina, Tennessee, Texas, Wisconsin and Wyoming.
The four states where marijuana is fully illegal according to DISA Global Solutions, a drug testing company are as follows: Idaho, Kansas, South Carolina and Wyoming.
With the legalization of recreational and medical marijuana becoming more nationwide, more research and testing will continue to be conducted to study the long and short-term effects of cannabis.
While there are substantial benefits to recreational and medical marijuana, with more advanced testing and regulations, more side effects and illnesses are being found and shared with health organizations globally.
In 2021, a rise in a complex and bizarre illness known as cannabis hyperemesis syndrome, or CHS, a condition where patients experience uncontrollable gag reflex, extreme nausea, abdominal pain and headaches, had seen a spike in cases.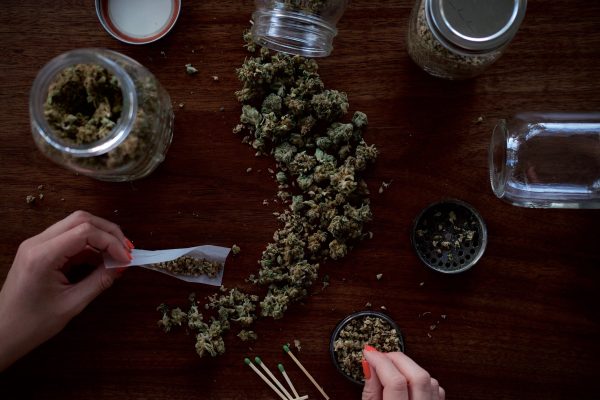 Conditions like CHS and now potential brain and heart complications raise concerns for not only existing and potential users, but health professionals as well.
Machelle Javier, 53, a former registered nurse, believes the data may be skewed on cannabis-related illness cases because of potential unreported incidents. "In my experience, it was uncommon for people to openly ask for treatment with anything cannabis-related," Javier shared. "Although it does have benefits, and I have come around to believing and recommending them to friends and family [as a professional, I cannot], I am hesitant to say it should be used by everyone."
As most medical professionals practice and preach, Javier said: "Like any medicine, you need to take what works for your body in moderation."
The AHA will have a discussion where medical professionals will share their findings and research on Nov. 11-13, in Philadelphia. It is a premier global exchange of the latest scientific advancements, research and evidence-based clinical practice updates in cardiovascular science. From this discussion, the AHA hopes to have solidified the exact impact frequent cannabis consumption has on the cardiovascular and nervous systems in the human body.