Dozens of students, parents and community members from the Hacienda La Puente Unified School District marched from La Puente Park to city hall on Nov. 8 to speak out against the proposed closure of four La Puente elementary schools.
The rally was organized by the newly formed Hacienda La Puente Unified School District community coalition in response to the district's upcoming vote to close Bixby Elementary, Del Valle Elementary, Los Robles and Sunset Elementary to reconfigure both Lasallette and Valinda Middle School into K-5 establishments.
Many parents chose to strike as they felt completely left out of the decision-making process. They also felt the board has been rushing to move forward without proper dialogue.
Over 150 HLPUSD community members assembled at La Puente City Hall at approximately 10 a.m. Protestors waved homemade signs and chants of "El pueblo unido, jamás será vencido!" filled the air. The chant translates to, "A people united will never be defeated," a callback to the Chilean protest theme used by people's movements worldwide.
Rosalba Meza, the parent of students enrolled in the dual-immersion program at Valinda School of Academics, felt the district needs to improve its communication. "I feel like my biggest concern is the lack of transparency," Meza said. "So many parents found out from their kids that their schools are closing."
Luz Sandoval, whose child attends Lasallette Middle School but still utilizes physical therapy services at Sunset Elementary School, expressed concern over the impact of Sunset's closure on students with disabilities. "Sunset [Elementary] is the only school in the district where special needs families know their child's needs will be met," Sandoval said.
Her daughter, Kimberly, added that Sunset is the only school with a playground specifically designed for disabled children.
When asked what information the district has provided to people with disabilities and their families about where they can take their children for care after the proposed closure Sandoval said, "Nothing. We're pretty much on our own."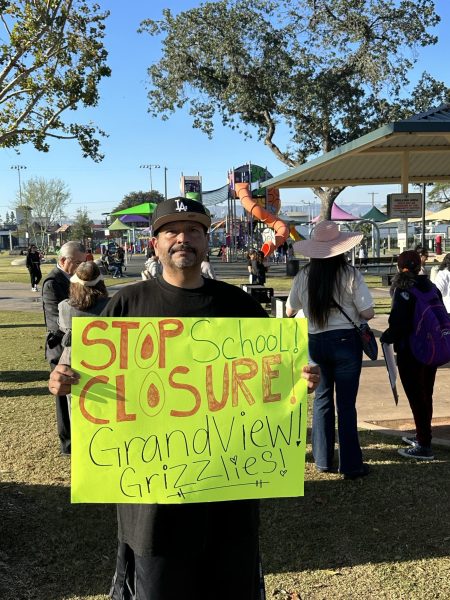 Other notable figures in attendance included La Puente city councilman David Argudo and HLPUSD vice president Stephanie Serrano, one of two board members who strongly opposed the district reconfiguration.
Serrano brought to light the longstanding history of inequities within the district where allocation of funds, implementation of enrichment programs and community representation have all been heavily skewed towards the wealthier neighborhoods of Hacienda Heights.
Consequently, it left the working-class neighborhoods and schools of Valinda and La Puente desperately underserved. "They say they're trying to close these schools because there is a crisis of declining enrollment," Serrano said, "But [The other board members] are not even looking at why that's happening. The real crisis is closing schools."
Serrano pointed out that the board is spending over $50 million on new construction at Wedgeworth Elementary, a blue-ribbon school in a wealthy area of Hacienda Heights, instead of trying to fix these issues by investing in these "struggling" schools. Wedgeworth Elementary will get an additional sum of roughly $25 million being spent to give Wedgeworth a new baseball field to be shared with the Hacienda Little League.
She then said that board president Christine Salazar also sits on the board of the Hacienda Heights Little League, implying a conflict of interest with the allocation of funding.
When asked if she could provide insight into what she thinks the board's decision will be, she said she is not very hopeful that the board will listen to the words of the protesting parents, "I do have hope in the community, I have hope in the legal process and I have hope in the accountability process because that is what it's going to take."
Later that night at approximately 5:30 p.m., a few dozen more community members held a candlelight vigil "For the death of our schools" in front of the district office.