Gamefest 2019: Student Creativity in Full Force
Commercial Entertainment Arts students gathered en masse to put on a show of original creations
The last time I was in the lobby of building 13, it was quiet with students silently tending to their studies. This time, it was abuzz with students from the Commercial Entertainment Arts department sharing their work from the semester. The show floor was alive with people admiring artwork, listening to student DJs and playing games, all while chowing down on pizza and listening to live piano performances of iconic video game music.
This was the sixth annual Gamefest, the showcase of CEA students' work spearheaded by animation and gaming professor Sunil Thankamushy. Though the space was somewhat small, there was plenty of entertainment packed into it.
The entire middle column, stretching from near the entrance to the back of the lobby, was dedicated to games of all types. These ranged from board games to computer games and even virtual reality. Of course, people also had the opportunity to chat with the students who brought the games to life.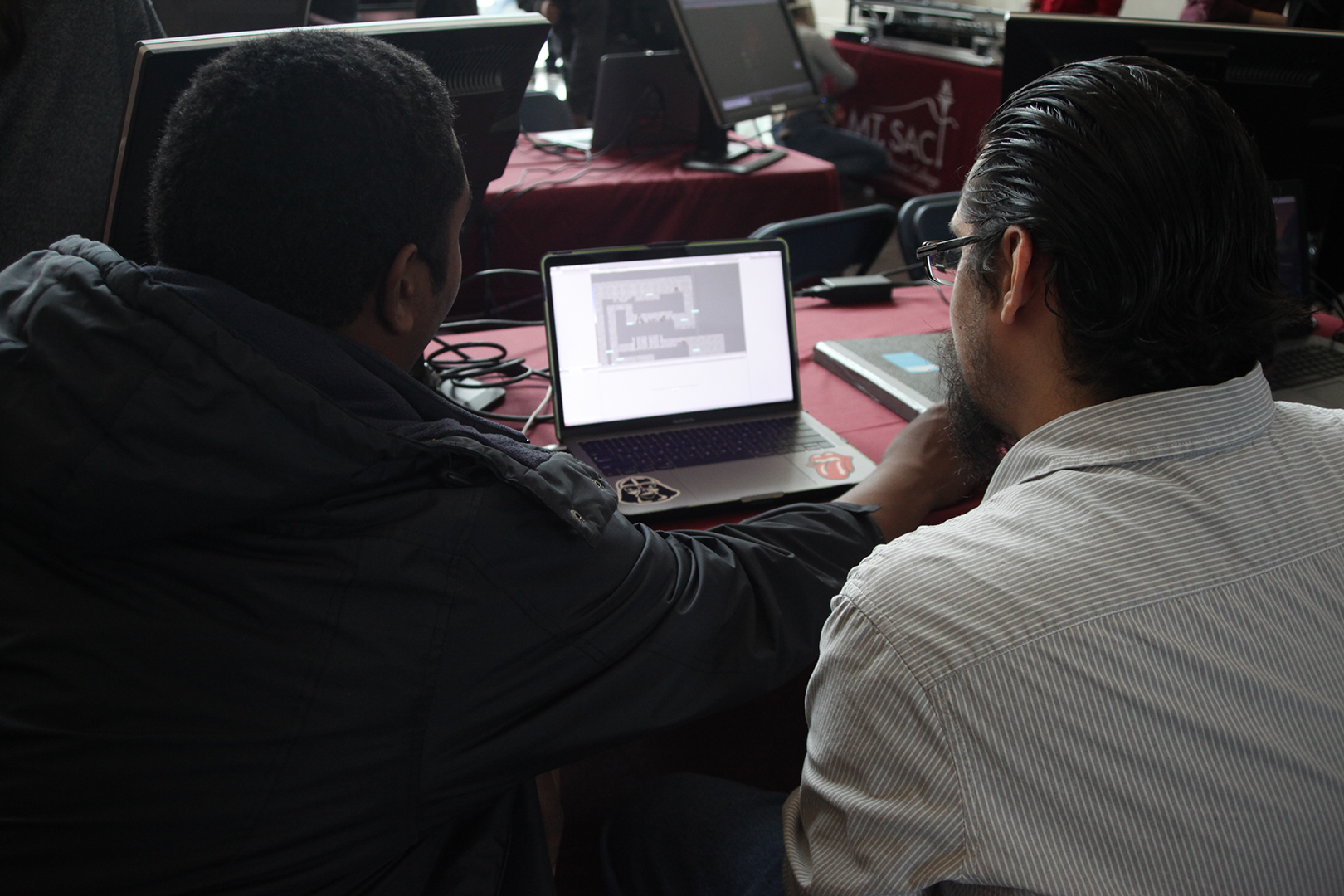 The first game I got my hands on was "Escape," by 23-year-old animation major, Omar Abdelrhman. The plot was centered former soldier James Harper, a man trying to escape his prison after being falsely accused of kidnapping a member of a royal family.
The premise was simple: make it from point A to point B. The game itself, as promised by Abdelrhman, was not. Blinding smoke, unforgiving platforming and enemies hiding just off-screen made for a challenging experience that I did not survive. In fact, Abdelrhman showed the full map of the game, and I'd say I made it maybe 5% of the way through. An under-powered Macbook was partly to blame, however, as it couldn't handle "Escape" and suffered from very low frame rates.
Next, I hit the board game table for some Apocrypha, a game developed by Anthony Mesta, a computer programming student. Inspired by Japanese board game Onitama, Apocrypha is a four-person, free-for-all board game where each player has a warlord and three soldier units to do battle with. Players must also draw cards that each display distinct movement options. Using these cards and their units, players must wipe out all opposition by either landing on spots occupied by enemy soldiers or by invading the warlord's grid.
I soon found myself embroiled in a lengthy battle of wits. I started out playing aggressively, and it worked for a time. I rather swiftly knocked one player out of the game. One of the other players mentioned that he took an aggressive approach the last time he played, and that didn't work well for him. That was a warning I should have heeded.
That player employed the waiting game while Mesta and I duked it out with me eventually coming out on top. However, I saw my chances of victory fading away as it became apparent that I was outnumbered and outmatched by my remaining opponent. My movement cards did me no favors, and I watched helplessly as he strolled straight into my warlord's grid space, ending the game. Although I lost, I enjoyed Apocrypha thanks to its insistence on breaking a mental sweat.
To someone who has never been, Gamefest may sound like a place more fitting for gamers, artists and musicians. But according to animation and gaming major Alfredo Lozano, Gamefest can benefit anyone who attends, not just the aspiring game developers.
"I think Gamefest is good for anybody. You're presenting your work, getting feedback, but it also kind of opens up people's views to gaming," Lozano said. "It's not just gaming, there's other applications for education. For me, it allowed me to get over the fear of presenting your work."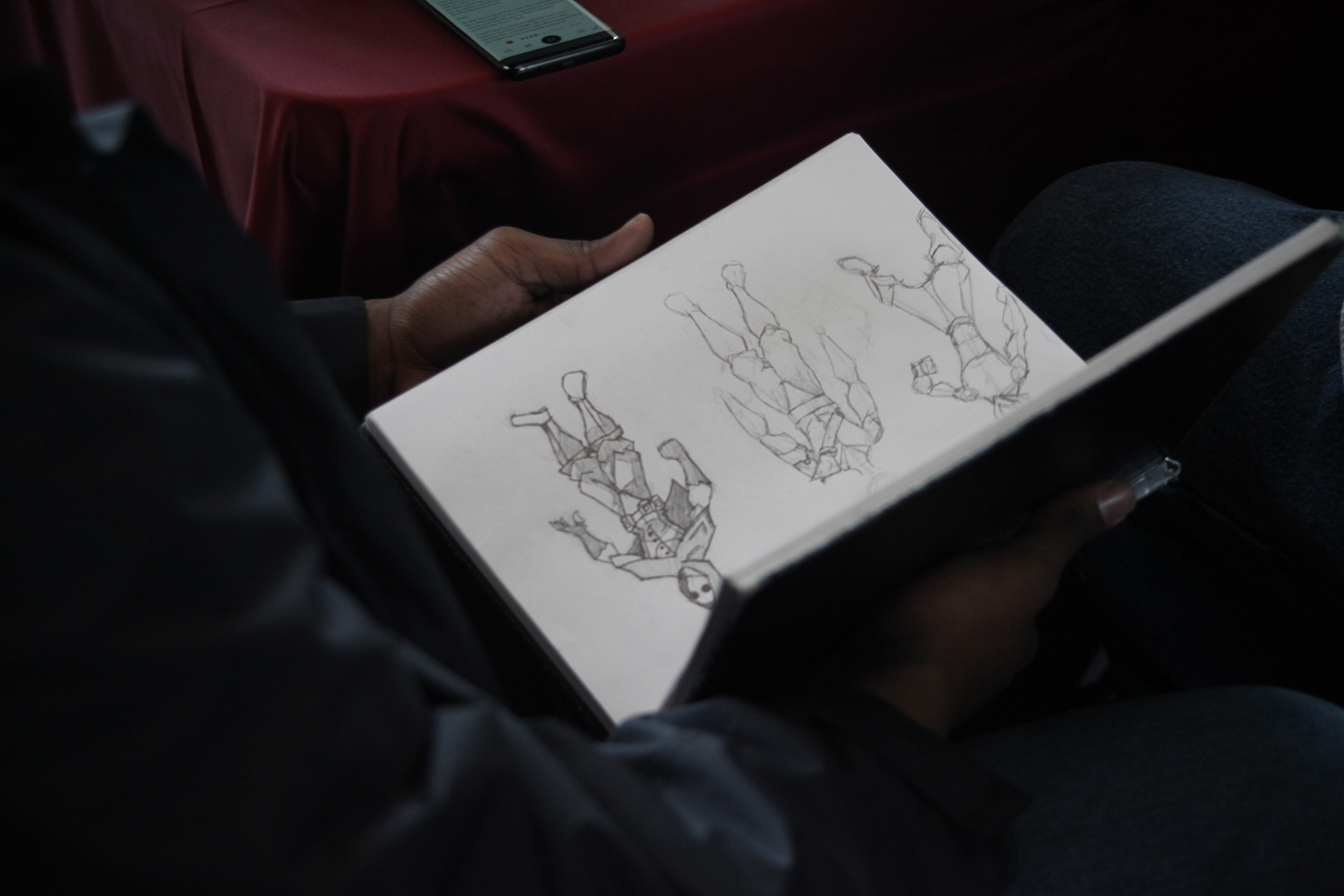 There was still plenty to see and play, but alas, the event came to a close before I could see it all.
Gamefest 2019 has come and gone, but it will be back next year with more student creators. Gamefest number seven is already slated for the Thursday before finals week of the fall 2020 semester in the building 13 lobby once again.
For more information about Gamefest, contact Sunil Thankamushy at [email protected] or (909) 274-4451, or Hector Rivas at [email protected] or (909) 274-4769.
Leave a Comment