Live Presidential Election Updates
Live presidential news updates as ballots are counted nationwide
Update 8:30 a.m.:
Several networks have called Pennsylvania for Joe Biden, giving him 20 addition electoral voted and the emerging victor of the presidential election.
Nov. 7
Update 8:35 a.m.:
Georgia's Secretary of State Brad Raffensberger said today that due to the the narrow margin of votes they would be doing a recount. Raffensberger said that the process would remain open and transparent to monitors.
Raffensberger denied any false claims of voter fraud, telling reporters that there has been, "no irregularities."
The candidates must be within a half of a percentage point in order to trigger a recount.
Update 8:25 a.m.: 
Joe Biden is ahead in multiple key states so far which have not yet finished counting votes. In Georgia Biden is up by a little more than 1,500 votes. In Pennsylvania, Biden is ahead by .1%, and in Nevada, Biden us up by 1% in Nevada. President Trump holds North Carolina at 50.1% to Biden's 48.7%. 
Trump continues to spew falsehoods through social media on Twitter, many of which have been flagged disputed and misleading.
Nov. 6
Update 3:50 p.m.: 
President Trump held the first press conference since early Wednesday morning to address the continued counting in various swing states. During the conference, Trump lied on multiple occasions, causing many major news organizations to cut him off.
"If you count the legal votes, I win. If you count the illegal votes, they're trying to steal the election from us," he said. "We were winning in key locations by a lot, and out numbers started miraculously getting whittled away in secret."
He also acknowledged the seats Republicans were able to maintain in the Senate, despite highly funded campaigns from Democratic competitors. He criticized polling numbers that predicted a high possibility that a blue wave will take over Congress and that Joe Biden will easily win the presidency. He called the pollsters, "stupid people."
Update 12:30 p.m.: 
Judges in Wisconsin and Georgia dismissed the Trump campaign's lawsuits today as Joe Biden inches closer to the 270 electoral votes to win the presidency.
The Trump campaign won an appellate ruling to get party and campaign observers closer to election workers who are processing mail-in ballots in Philadelphia, according to the Associated Press.
Update 10:15 a.m.: 
Election officials in Nevada hold a press conference and announce that they expect to finish counting mail-in ballots this Saturday or Sunday. Pennsylvania, Arizona, Georgia, and North Carolina ballot counting continues.
Nov. 5
Update 4:33 p.m.:
President Donald Trump and the Georgia Republican Party have sued against the Chatham County Board of Elections. This is the third state in which his campaign has sued, following Pennsylvania and Michigan.
Lawsuits are demanding better access for campaigners and observers to locations where ballots are being processed, according to ABC7 Los Angeles.
Update 3:04 p.m.:
The Associated Press has called Michigan for Joe Biden, putting him at 264 electoral votes, leading the race ahead of incumbent Donald Trump, who remains at 214 votes.
Update 1:10 p.m.:
Joe Biden went live from his home in Wilmington, Delaware saying that he thinks he will win the election once all the ballots have been counted. He suspects he will win Pennsylvania with remaining ballots, many of which were mail-in ballots. Biden suspects that Michigan will tally final votes by tonight. He emphasized that though he ran as a Democrat, he will govern as an American and fight for those who didn't vote for him.
"I'm not here to declare that we've won. But i am here to report when the count is finished, we will be the winners," he said.
SAC.Media ended its live election coverage at 10 p.m. last night with the presidential election and several states still too early to call. Many states are still counting ballots into today and it could be weeks until a clear winner is announced in the presidential race.
SAC.Media will be adding live news updates as states continue to count ballots to determine who will be the next president of the United States of America.
This is an ongoing story.
Leave a Comment
About the Contributor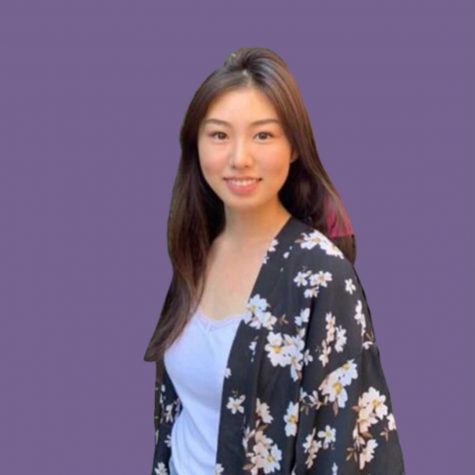 Louisa Guo, Illustrator
Louisa is an illustrator and designer for SAC.Media and Substance Magazine.