Being a Student, Parent, and Teacher in One
Some parents have been forced to double as their child's teacher while being in school themselves.
You sit down to write an essay and as your computer opens, your child screams your name and asks for help on a math problem you haven't looked at since you were their age. After Google helps you answer "simple" math, a little voice from the other room needs help with their Zoom call. Once all the problems are fixed, you finally sit down and write a couple sentences for your class, when the internet goes out. These problems are what Mt. SAC parents face as they struggle to manage not only their own classes and work, but also their children's online classes.
When the Stay-At-Home order went into place in March, it not only forced Mt. SAC students to transition to online, but for the parents of school age children, they also unexpectedly took up the role of teacher for their children.
For Nursing major Alyssa Perrera, 25, transitioning to online school with her two boys, a 7-year-old and a 10-year-old, has not been easy.
"The hardest thing is keeping them focused for more than 30 minutes at a time," she said. "The older one gives me more independence, but I can tell for my second grader it is hard to pay attention when learning through the screen."
When schools first closed Perrera struggled with finding child care for her children. She not only goes to school full time, but also has a full time job.
"As a single mother I had to figure it all out myself," Perrera said. "When they were in school I'd drop them off and I'd go to work. After they finished school they would go to an afterschool program. I would pick them up once I finished both work and school, but all that has changed."
Since schools closed, Perrera was no longer able to leave her children at the afterschool program either.
"I was lucky. My job let me bring my children to work. They do their schoolwork in one of the back rooms and when I have time I help them," she said. "I'm so grateful. I know for a lot of people that isn't an option."
Even though she was able to find somewhere for her children, the problems with online school have just begun.
"It's really hard to balance my classes with theirs. Sometimes I need to focus on doing my homework, but they are having problems understanding their work," Perrera said. "I don't get to stop being a mom when I'm doing my own work. There is always a kid peeking over my shoulder or asking for something. Professors seem to be assigning more work and it makes it so much harder because I feel like I don't have time to do it all."
When dealing with technology there are bound to be problems and there is no expectation when it comes to online school.
"The kids' school gave them each a Chromebook which I was happy about because I didn't have to worry about which devices they were going to have class on, but we still have been having a lot of problems with them. Sometimes they are really slow and we are constantly losing connection," she said. "When it comes to my classes, the hardest transition is that if I have questions I can't just go ask my professor. I have to send an email. Sometimes they respond quickly and sometimes it takes a few days."
The transition has not only been difficult for Perrera, but also for her children. Perrera's oldest son said, "I hate doing school online. I can't concentrate as much. I miss my friends. I miss playing on the playground. I feel like I don't have anyone to talk to except for my brother."
For Perrera, classes have gotten harder.
"I feel like since we are doing classes online some professors are assigning more work, but I just don't have enough time. Right now I'm taking Chemistry and I can barely keep up," she said. "I know if I were in class the professor would be there to answer any questions I have. Right now, I watch Youtube videos just to help me understand the material."
Perrera's youngest son seems to be having the same issues as her. He said, "Sometimes I don't understand what they are trying to teach. I ask my mom, but she doesn't always know. I want to go back to school."
Perrera also wants her kids to go back to school. She said, "I miss our old routine. Right now they do their schoolwork at my job. I try to help them, but I get busy. Then when I do get a spare moment I do my own class. It's been so overwhelming I feel like I want to drop out. Sometimes I stay up until 2 a.m. getting my work done."
Even though online school hasn't been easy Perrera plans on graduating this upcoming Spring in hope of transferring to Azusa Pacific University. She said she hopes that this hard time is only temporary and it will be over soon.
Leave a Comment
About the Contributor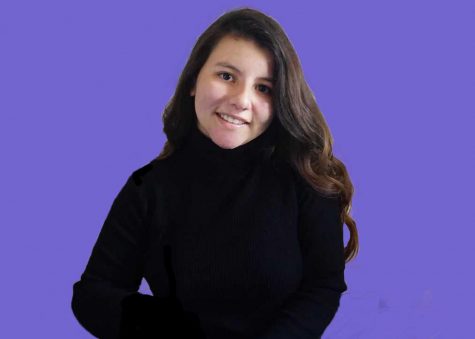 Vanessa Feliciano, Somos Editor
Vanessa Feliciano is the Editor of Somos, SAC.Media's Latinx platform. She can usually be found at the nearest country concert or baseball game. Vanessa hopes to one day be a sports broadcaster.