Kanye West Grapples Personal Stardom On Latest Album
Ye's 10th studio album is long, winding, and sprinkled with hidden gems that flaunt experimental sounds
Boasting a lengthy 27-track playlist, Kanye West delivers his 10th studio album Donda, amidst a slew of controversial artistic choices, and a public persona that has often overshadowed his art.
Named after his late mother Donda West, the album portrays a more personal side of Kanye than we have seen from him in quite some time. He touches on his marriage, and subsequent divorce, from Kim Kardashian, his struggles with being a controversial figure, and his ever-present love for Jesus.
After three official listening parties and multiple delays from the album's original release date, Donda was officially released Aug. 29. Star studded yet deeply personal, West integrates contributions from Jay-Z, The Weeknd, Lil Baby, Travis Scott, Roddy Rich, Lil Durk, Playboi Carti, Ty Dolla $ign, Chris Brown, Young Thug, Kid Cudi and more.
The album is Kanye's first solo LP since his 2019 studio album Jesus is King. Yet despite the familiar themes of religious praise with choral voices and experimental beats, the album offers more introspection and reflection on what it means to be Kanye.
The album opens up with a chant of Kanye's deceased mother's name. The aforementioned song then segues into an upbeat track entitled 'Jail' that features Jay-Z and has lyrics talking about being arrested and taken to jail. A general distrust of law enforcement is a common subject in Kanye's music.
Other tracks like "Off the Grid" and "Jesus Lord" show Kanye in a contemplative mood while searching for meaning from his depression and religious mission. These tracks highlight the demons Kanye has been fighting and feel raw and intent upon addressing the internal struggles the rapper has been faced with.
In regards to Kim, Kanye divulges the hardships that had befallen his marriage. On "Lord I Need You" and "Come to Life" emotional lyrics revolving around the deterioration and emotional consequences of his divorce are played out for fans to hear.
The song entitled Donda features a recording of Kanye's late mother and essentially places his mother's stamp of approval on Kanye's latest project, "And you know I am my son's mother. The man I describe in the introduction as being so decidedly different, my son." This dedication to Donda only further solidifies the influence his mother had in Kanye's creative ambitions.
However, with 27 songs on the album, there is undoubtedly a lot of filler among the gems. Whimsical breathy tracks such as "Jonah" and "Moon" fall short in aiding the album to be cohesive. Tracks such as these could have benefited the album by being cut, in order to deliver a more concise project.
Donda would not be a Kanye album if there was no controversy entangled within the music. The artist received backlash after featuring DaBaby, who is currently in hot water over homophobic remarks, Marilyn Manson who is facing multiple lawsuits for sexual assault, and Chris Brown who has been notoriously reprimanded for domestic violence.
With complex and unique sounds, Donda is an overall reminder to audiences as to why Kanye West is a generational icon. His ability to push the limits and reimagine the confines of what hip-hop is will forever cement West into musical history.
There is speculation that the album that has been released is not the album that will be the finished product. Kanye's 2016 album Life of Pablo, was continuously tinkered with, re-recorded, and re-worked weeks after its original posting on streaming services. With such a lengthy project, it is hard to imagine that this will be the final product of Donda, however only time will tell what Kanye will decide.
The album can be found on all major streaming platforms.
Leave a Comment
About the Contributor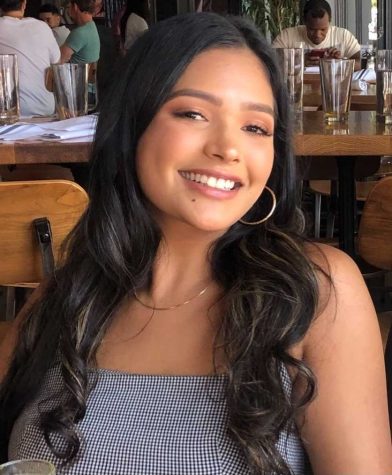 Natasha Castanedo, Senior Staff Reporter
Natasha Castanedo is the former Arts and Entertainment Editor of SAC.Media and a senior staff reporter.