Green Day, Fall Out Boy and Weezer Return From Postponed Tour
Hella Mega Tour rocked a sold out Dodger Stadium, making it clear rock is still alive
As the days carry on, and the COVID-19 virus finds new ways of thriving, concerts continue. Being an avid music lover, I shall continue to attend until the government tells me I cannot as the temptation of becoming intoxicated with concert adrenaline is far too great. Especially when that temptation is reminiscent of adolescence: Weezer, Fall Out Boy, and Green Day.
Like many fans in attendance, these bands signify a certain time in my life. Their music played a role in creating the soundtrack of my youth.
So when Green Day originally announced their Hella Mega Tour back in 2019 I eagerly bought a ticket. Of course this was before the world knew that we were about to face a global crisis resulting in large death tolls and a torturous quarantine, and so the Hella Mega Tour was sadly postponed until further notice.
Yet as we slowly inched our way out of complete uncertainty, the possibility of seeing some of my favorite bands became real again.
For 2021, Green Day announced new tour dates which were tentative on the status of the pandemic. As Sept. 3 grew closer, however, I realized there was a strong likelihood that I would be in attendance at Dodger Stadium. The thought of seeing such iconic bands overshadowed my fear of the virus, though the thoughts of the unknown consequences were still very much present.
Masked up and prepared to poorly attempt any sort of socially distancing, I went on to the concert. I became immediately aware of just how packed the stadium was on arrival, as I quickly discovered that it was a sold-out show.
With this in mind my anxiety began to accelerate, but was instantly subdued when Weezer opened up their set with their classic hit "Hash Pipe."
My dopamine levels reached insurmountable heights as the iconic band started off the show with one of their grittier songs. The edgy opening riff seemed like the perfect way to grab Dodger Stadium's attention.
Though after a few minutes of being completely enveloped by the band, I looked around and realized that half of the stadium was still empty and those who were already there were sitting in their seats.
The crowd was not giving Weezer the respect they deserved.
However, I was intent on letting my love be known – its fucking Weezer! Admittedly, I was slightly thrown off that they were the opener, rather than Fall Out Boy, but nonetheless I was completely enthralled as the band settled into their set.
Lead singer Rivers Cuomo dressed in a white tee, loose fit jeans, red high tops, and a hairdo that suspiciously resembled a mullet. He sounded exactly as he does throughout Weezer's extensive discography. The energy of the band was undeniable, and I sensed that they had truly missed performing.
As they played fan favorites such as "Beverly Hills" and "My Name Is Jonas," I watched with glee and danced along with every song. It was magical to remember how it feels to be free and connected to strangers over our shared love of music.
However, I was rudely interrupted when my not-so-enthusiastic neighbors behind me asked if I could "please sit down because they could not see."
I was perplexed for two reasons.
The first was confusion at how they were not standing up and dancing, and the second was their sense of entitlement to ask a stranger to sit down at a concert.
I did not let the languid concertgoers interfere with my time seeing Weezer, however.
As the band finished out their set with their hits and new songs from their latest album "Van Weezer," night fell and more attendees trickled into the stadium. They closed out their performance with "Buddy Holly" and told the audience how much fun it had been. Despite the behavior of some of the other concert goers, I wholeheartedly agreed.
About 30 minutes later it had gotten completely dark, and the stage became flooded with red lights as Fall Out Boy began their set. The band opened up with their energetic drum heavy song "The Phoenix" which got the crowd pumped.
The stadium was much fuller for their performance and more fans stood up to dance. The band played songs such as "Sugar, We're Goin Down," "Dance, Dance" and "I Don't Care" just to name a few.
Bassist Pete Wentz addressed the crowd a few times noting what a difficult year it has been due to the pandemic, and the crowd appreciated his short address. Yet I could not help but find it ironic that the people who were cheering the most during his "COVID sucks" spiel were also the ones not wearing masks.
Alas, the concert ensued and Fall Out Boy sincerely put on a good performance and masterfully engaged with the audience. After nearly an hour on stage, the band said their goodbyes as the lights went dark.
As I looked around, it was clear the majority of the attendees were there for Green Day. Dodger Stadium was packed with everyone anxiously awaiting to see the notorious Bay Area band. Then all of a sudden to our surprise, Green Day ran out onto the stage with their hit song "American Idiot" from their 2004 album of the same name.
That song was such a great choice as their opener. Most of the crowd was on their feet and the fast-paced song set the tone for the rest of the show. With pyrotechnics, engaging visuals, and their expert stage presence made it clear as to why Green Day is one of the greats. Known for bringing the punk scene to the mainstream, Green Day will go down as one of the most famous bands of our time.
Lead singer Billy Joe was having the time of his life as he mentioned several times that Los Angeles was one of his favorite places to perform. It was obvious that the crowd loved the band just as much. Playing their greatest hits, Green Day commanded the stage and put on one hell of a show. Moving from upbeat songs to ballad songs like "Boulevard of Broken Dreams" and back again to songs like "St. Jimmy," the band did not disappoint.
With a staggering 21 song set list, Green Day surely made up for their time away from the stage, and Dodger Stadium was captivated. Billy Joe even brought up a fan to play a guitar riff on stage, which might have been my favorite moment of the whole night. Thank god the guy knew how to play.
As the jam-packed concert came to an end, it was only right that the show finished with one of Green Day's most beloved songs, "Good Riddance." Fireworks lit the sky and I felt a calmness wash over me. Knowing that this experience was definitely worth the wait left me feeling so grateful to be in attendance.
Reflecting back on the concert, it has become clear to me that there is no easy way to completely ensure one is safe during a pandemic, but most people enjoy this chance to escape. The inviting opportunities to make new and fun memories, after nearly two years of gruesome ones we'd rather forget, has been a welcome change. Only time will tell what the future of live music will be, but there is no question that there will most definitely be fans in attendance.
Leave a Comment
About the Contributor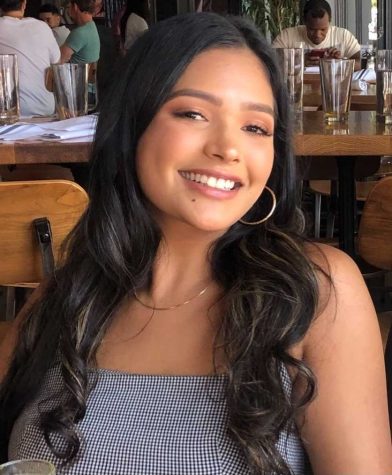 Natasha Castanedo, Senior Staff Reporter
Natasha Castanedo is the former Arts and Entertainment Editor of SAC.Media and a senior staff reporter.