The Rolling Stones Christen SoFi Stadium With No Filter Tour
The band played at the Los Angeles stadium for the first time and paid homage to their late drummer Charlie Watts
The Rolling Stones owned the stage on Oct. 14 in Inglewood, California as part of their 15 day fall tour through the United States.
The iconic band proved why they are considered one of the greatest, if not the greatest band of all time. Playing for a little over two hours, the legendary rock stars put on one hell of a show.
The concert began with a brief photo montage of the late drummer and original band member, Charlie Watts, who passed away on Aug. 24 of this year. Mick Jagger, Keith Richards, and Ronnie Wood walked on stage afterwards.
"It was great to see those images of Charlie up there on the screen just now. It reminds us of all the years that we all spent together," Jagger told the crowd. "I'm sure lots of you guys have memories of Charlie and seeing him play too, so we want to share that with you. So, we'd like to dedicate this show to him. Here's to Charlie!" The crowd roared and the concert ensued.
When I heard this opening dialogue, I silently acknowledged what an amazing opportunity it was for me to see such a historic band. As I looked around the crowd, it was clear that the average age of the concert attendee was about 50 years old and up, and that in this stadium I was a "youngster."
Playing for over six decades, The Rolling Stones have endured as musical pioneers and pop culture legends. Considering the age of the band members, this longevity has allowed someone as young as myself to be able to see them perform.
The greatness that I witnessed at SoFi stadium did not go unappreciated. I grew up in a household where music was an integral part of daily life. I received "pop culture training" as my mom would call it, and you best believe that the Stones were a band that was on rotation during my lifelong musical bootcamp. As I have gotten older, I have come to appreciate just how important my parents' music taste was for me, and the influence that this has had on my life. Many people of my generation have not been exposed to music from the generations before them, but my childhood was filled with listening to music that was long before my time. So, being able to see The Rolling Stones with my parents for my mom's birthday was truly special to me.
And let me just say, they exceeded my expectations and then some. It is hard to believe that Mick Jagger is 78 with the way that he danced around the stage. His presence and command of the crowd was like nothing I had ever seen, and the audience ate it up.
The band opened up with "Let's Spend the Night Together" and then moved into "19th Nervous Breakdown," which the crowd thoroughly enjoyed.
Their discography is enormous, but they still managed to play so many fan favorites. Yet it was clear that they could have easily played for at least another hour with how many songs they have released in their extensive career.
They graced SoFi stadium with songs like "Miss You," "Sympathy for the Devil," "Paint it Black," "Start Me Up," and "(I Can't Get No) Satisfaction." They even played "Ruby Tuesday," which has not been performed by the band for over five years.
When they returned for their encore they played "Gimme Shelter" where backup singer Sasha Allen did the original version proud. The original background vocals were famously sung by gospel singer Merry Clayton. And while it would be impossible to perfectly encapsulate the sound of the 1969 version, Allen still performed the song with grit, soul, and gumption. Her voice was raw and full of power, and it was clear that Mick Jagger was moved by her vocals as they danced together at the head of the stage. Hearing the rendition live sent goosebumps down my spine.
Jagger also briefly addressed the crowd throughout the extensive setlist, most notably when he remarked that Paul McCartney was in attendance. "Paul McCartney is here," Jagger added. "He's going to help us – he's going to help us in a blues cover later." This comment was in response to McCartney recently being quoted in the New Yorker saying that the Stones were "a blues cover band."
It is true that the Stones took inspiration from blues music, but their sound evolved past blues, and became what would now be considered classic rock. The Rolling Stones, and their unique sound helped to pave the way for the rock bands of the 1970s.
Perhaps McCartney wanted to squash the ancient Beatles/Stones rivalry by attending the concert, or maybe he went as a fan despite the ancient feud between the two iconic bands. Nevertheless, Jagger's sly comment made me feel a part of the mix, like I was witnessing a quintessential rivalry of epic proportions.
Ever the fashionista, Jagger changed his jackets at least four times, and strutted around that stage like the star that he is. In comparison, Keith Richards and Ronnie Wood only had one outfit change each. However their brightly colored jackets that were adorned with shiny patches perfectly matched the colorful stage, and managed to make a couple of old guys look jovial and lively.
I must admit that I was a little sad that the Stones did not play "Beast of Burden" but I still feel lucky to say that as a mere 24-year-old, I experienced the legendary Rolling Stones. The stage presence, the visuals, the energy, everything about the Thursday evening that I spent with my family listening to The Rolling Stones was perfect.
Mick Jagger, Keith Richards, and Ronnie Wood are symbolic of an era in music that can never be replicated. Their legendary star quality has not dissipated, rather, the Stones have aged like fine wine.
Leave a Comment
About the Contributor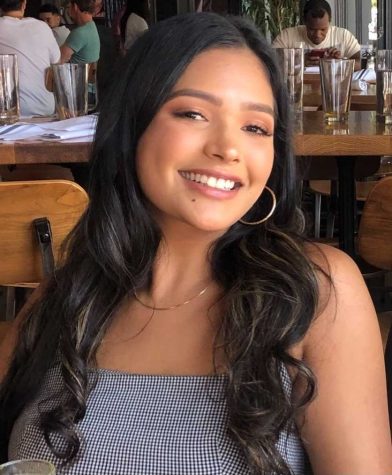 Natasha Castanedo, Senior Staff Reporter
Natasha Castanedo is the former Arts and Entertainment Editor of SAC.Media and a senior staff reporter.