The Hidden Beauty In Our Culture
Folkloric dancing is more than a tradition — it is a generation of love
The music blasted as the people began to cheer as the group of dancers dressed in beautiful colorful dresses walked in as the crowd's cheers died down.
Silence.
Then just as they walked in, the music began again and the tap of the dancer's shoes can be heard echoing. As the music continued, the spinning of dresses and the movement of dancers left the crowd watching in awe and amazement.
Among one of the watchers was 26-year-old Steven Hernandez. Wearing a black headband with his curled black hair neatly tied into a bun and smiling, he clapped as the dancers wrapped up their first performance, the spinning of each dancer at the same time was something he always enjoyed.
And then it was over.
He used his cane to pull his small black medical backpack towards him. The inside of his backpack rattled as the multiple bottles of pills clashed together when he set it down. The air filled with the clicking sound of the cap as he struggled to open it, until a loud pop was heard as the cap jumped up signifying its defeat.
"For muscle pain," he said.
Reaching for a water bottle he set his medication down, being careful not to spill onto the table. A new struggle began as he attempted to open the water bottle with a new sound filling the air once more.
Taking one tiny white oval pill out of the container, he carefully placed it into his mouth and opened the water bottle. After a few gulps, he swallowed the pill and put everything back into his backpack.
Then the sadness washed over.
Looking towards the dancers, his face scrunched up lost in thought. He said that the dance reminded him of the time he studied at Cal State Long Beach before he got sick. He fondly remembered attending festivities during his time in college. Folkloric dancing was one of the festivities that he would attend.
Folkloric dancing, also known as ballet folklorico and baile folklorico in Spanish, is a traditional Mexican dance that highlights local culture with ballet characteristics. While many different folkloric groups use a variety of music, with traditional Mexican folk music being the most common, the dress style remains the same. The dancers would wear pointed character shoes with low heels; while every dance group represents their state differently, their dresses would almost always be colorful and vibrant.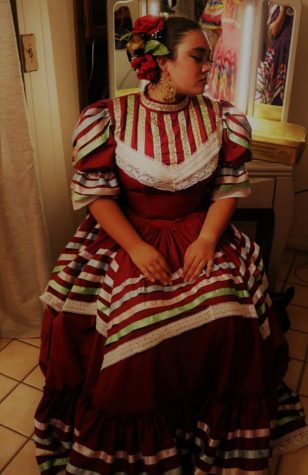 "Seeing these dances makes me remember all of the good times I had with friends. They're not in my life anymore," he said while using his cane to stand up. "But I remember appreciating the fun times we had together when we would go clubbing. It also makes me feel proud to see people being exposed to something new."
At age 23, Hernandez suffered his first seizure which then led to a more serious derailment in health. Aside from carrying a small medical bag filled with pain medication, a cane used to help him walk, he also suffered from a year's worth of depression in 2019.
"I can't walk without my cane, I can't dance. I broke two of my spine bones and have even broken my nose. I went through a lot after graduating…I couldn't find a reason to live," he said. "After seeing these dances and remembering the good times I had before all of this happened, I wake up every morning happy to be alive."
Hernandez viewed folkloric dancing as a reminder to see the beauty in life. He's not alone.
Sitting in her kitchen, coffee mug in hand, Gabriela Ortiz, 60, smiled as the memories came flooding in through the open window.
"Folklorico is not just about dancing," she said as the aroma of coffee filled the air. "It's about tradition. Just like food, they're not all the same."
With roots coming directly from Puebla, Mexico, Ortiz described the type of folkloric dance from the state of Puebla. She said, "This type of dance is called the dance of the Quetzales. The dance is mainly performed by the members of indgenous groups, the most common being the Nahua group."
Wearing similar vibrant colored dresses, Ortiz described the difference between each folkloric group.
"In Puebla, the women wear very beautiful vibrant colored dresses," she said. "Instead of wearing a flower crown in their hair like most groups do, they braid their hair with colorful ribbons."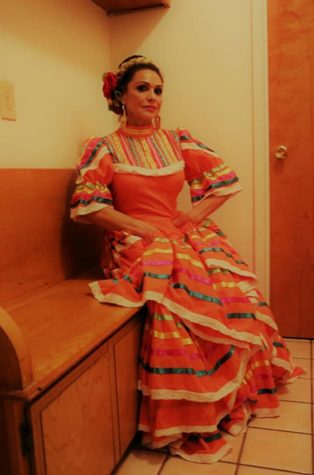 A sudden laugh filled the air as she remembered something from her childhood. She said that she remembered her parents always speak and sing in Nahuatl, the language of the Aztecs.
"Very beautiful music that I didn't understand but seeing these dances reminds me of my parents," she added.
The laughter faded away.
Seeing these dance groups always reminds her of her time in Mexico. She enjoyed seeing the faces of people who have never seen these groups because their faces are filled with such awe and amazement.
"It's nice to see that even while I'm not in my native land that there are still people continuing the tradition elsewhere. Mexico holds a lot of beautiful traditions and many of them, like folkloric dancing," she said. "The dances, the music, all of it. I really enjoy seeing the different choreographies of different groups and the way every state is represented differently."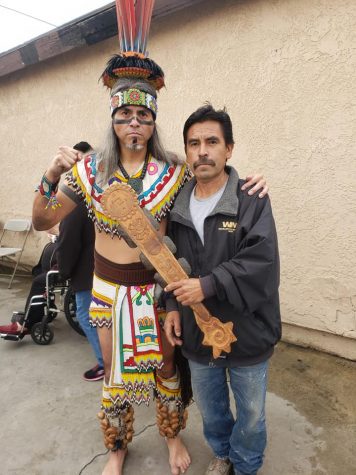 A smile formed on her face as she tapped the mug. Tap, tap, tap.
"Dancing has always been something I enjoyed as well. Although I don't know the steps like the folkloric dancers," she added. "I love the way the music brings the crowd together. It makes me want to get up and try to follow along."
She laughed before bringing her coffee mug to her mouth. Standing up, she began to stomp her feet mimicking a folkloric dancer.
As the dancing continues, the tradition continues to pass from generation to generation. From the colorful vibrant dresses, the tapping of heels, the clapping and cheering and the sound of music, the beauty in this traditional dance continues to enchant those who are lucky enough to see it.
Hand in hand, that's how Fabiola Tafoya remembered her first folkloric dance.
"I was a young teenager when I attended my first folkloric dance with my mom and aunt," she said. "It was my aunt who invited us to her church. They were having a spring celebration around Easter."
The memories came washing in as a huge smile filled her lips.
"They had a huge stage and when the dancers walked out hand in hand with their partners, the crowd immediately began to fill the seats," she added. "The children's faces lit up in awe with curiosity filling their eyes."
She adjusted her mask and pushed a button to call an elevator up.
"You never forget your first time seeing a Folkloric dance."
She mentioned she is also looking forward to showing her son the importance of the roots of the culture they are surrounded in.
"I love these dances and seeing the kids' faces and new people who have never seen a dance like this always makes me laugh," she said. "Their reactions remind me of me."
The tradition of folkloric dancing is kept alive as every new generation is exposed to the dance. Like a flower that blooms in the spring, a new generation of dancers emerges. The true treasure lies within the heart of those who are willing to continue the tradition.
Leave a Comment
About the Contributors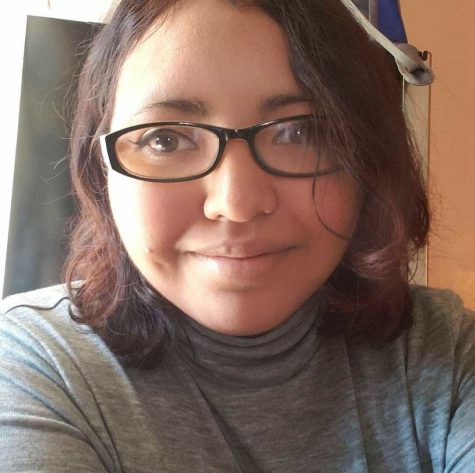 Gabby Flores, Staff Reporter
Gabby Flores is a staff reporter for SAC.Media. She is a journalism major who loves to write and listen to music.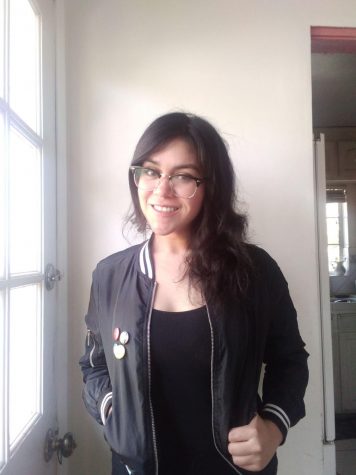 Megan Cansino, Senior Staff Reporter
Megan Cansino is the Editor and Chief of Substance Magazine, staff writer and reporter for SAC.Media, and the former Features Editor of SAC.Media.