A Little Place Like Home
Fonda Don Chon is the Mexican restaurant you need for a cozy dining experience
As soon as you walk into Fonda Don Chon, the scent of cheesy enchiladas hits your nose. Then you hear the sounds of different conversations from tables all around the restaurant and see the rush of waiters working swiftly between tables. This is the experience you get when you enter Fonda Don Chon.
Fonda Don Chon is a Mexican restaurant in the city of Covina, it first opened its doors in 2009. It began as a small family business, owned by Jimmy Roman and his father-in-law, Jose Asuncion Hernandez. The two partnered together to create this family-owned and operated business. "Fonda" describes a small restaurant in Spanish.
Walking through the restaurant, the servers and cooks are all familiar faces, the restaurant runs with a staff of primarily family members. Some workers have been there since opening day.
"I remember my first day here, I was so intimidated by the fact that everyone was related," Berenice Gil said. "After seven years working here, I truly feel like family, we all know each other so well."
The restaurant is always busy.
Whenever you walk in, there is a constant rush of people, it's rare to come in and find the chairs empty. One might wonder what it would be like to work in such a fast-paced environment.
"This place is a full-time job, but I love seeing my returning customers," Gil said.
She added that it can be a bit hectic, especially when the kitchen has 20 plus orders to fulfill and customers are constantly asking where their food is.
"I find that families love to bring their children here," Gil said. "There's no loud music in here or even televisions. It's just a place to bring your family and catch up."
She added that she often comes to the restaurant with her own family too, and she enjoys the environment to socialize with them.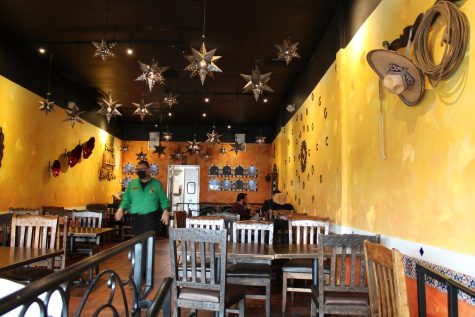 Fonda has several employees who have been there since opening day and many feel that Fonda is a second home.
"I started working here over 10 years ago, and I have been a waiter since I first arrived in this country," Daniel Herrera said. "I think what keeps me here is my clients. I love seeing their families come, and being able to be part of their family nights."
Fonda is a place where families come together to make memories and enjoy an authentic Mexican meal together. It is well-known for its authentically prepared dishes and delicious food that keeps customers returning time and time again.
"The chile rellenos are a favorite for myself, and my wife always gets the molcajete with a margarita. It's our favorite," Herrera said. "On my time off, I always [come here] to have dinner with my wife."
After all these years working at Fonda, he has seen many creative versions of customized dishes that people order. He loves to try them all.
Fonda is a family-friendly, authentic Mexican restaurant that keeps customers coming back for more. With a team of servers and employees who work alongside each other just like a family, the atmosphere is always friendly and inviting. This restaurant will remind you of what a fun night out with friends or family should be.
Leave a Comment