Super Bowl Week Festivities Come To SoCal
Celebrate this historic game in style and on a budget!
Super Bowl Sunday is coming home to SoFi stadium where the Cincinnati Bengals will take on the Los Angeles Rams in SB LVI on Feb. 13.
The fun will not be limited to the big game if you live in the Los Angeles region, as several venues are hosting different events for locals beginning Feb. 9 through Super Bowl Sunday on Feb. 13.
The Super Bowl is synonymous with Disney. Not only does the mouse own the rights to ESPN, but the company has also paid players that win the Super Bowl $30,000 to say "I'm going to Disney World!"
Starting off as a Star Tours campaign slogan back in 1986, it has turned into a staple response for the last 35 years after New York Giants quarterback Phil Simms gave the response following his victory over the Denver Broncos in Super Bowl XXI.
For your own taste of the Super Bowl at Disney, you can visit the Disney California Adventure Park from Feb. 9 to Feb. 13 to view ESPN productions live at Paradise Bay, while Downtown Disney will create its own fan experience between Tortilla Jo's and Splitsville Luxury Lanes.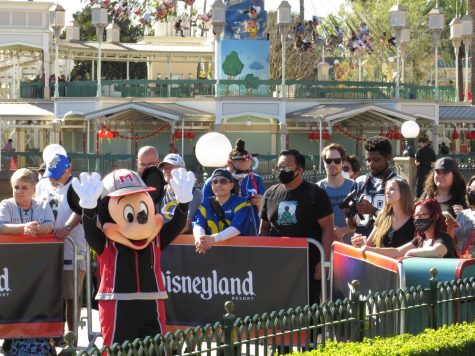 Downtown Disney will host free daily games, giveaways, and a limited number of ESPN's "Postseasoning" spice blend while supplies last.
ESPN productions include "Postseason NFL Countdown," "NFL Live," "NFL Matchup" and "SportsCenter" segments. Attendees may even get to see their favorite personalities in person.
Hall of Famer Randy Moss, Super Bowl Champions Tedy Bruschi and Ryan Clark, Pro Bowl Quarterbacks Brian Griese, Robert Griffin III, Matt Hasselbeck, Alex Smith, "Swagu" Marcus Spears, Dan Orlovsky, Booger McFarland and Rex Ryan, former NFL GM Louis Riddick, NFL insider Adam Schefter and many more are expected to make an appearance.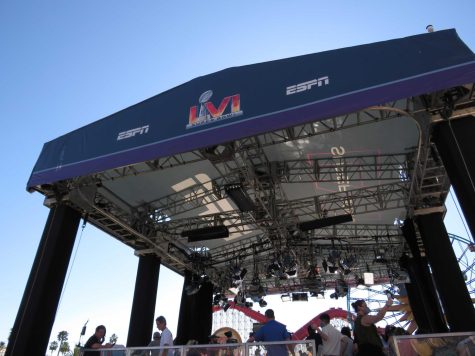 For those unable to make it to Disney, there will be several chances to enjoy a live event, including at the Shrine Auditorium and Expo Hall on Feb. 11.
Los Angeles icon and Laker legend, Shaquille O'Neal, aka DJ Diesel is bringing his Shaq's Fun House Super Bowl Party to Los Angeles for the first time. Shaq's Fun House is a must-see experience that turns the dancefloor into a full-fledged theme park experience. To help host the party and turn things up, rap legend Lil Wayne is co-hosting the event along with a star-studded line-up of Lil Jon, Diplo, Zedd, DJ Irie, and many more!
Shaq is going all out with the carnival theme and is cutting no expense. The festival grounds will include a merry-go-round, giant slide, and full-size Ferris wheel. The iconic Shrine Auditorium will transform into a carnival for one night only to give fans the opportunity to play games, experience thrill rides, and watch show-stopping performances. Tickets are still available for purchase.
The NFL Honors Awards Show has become one of the more popular Super Bowl events since 2012 and its ceremony will take place in Los Angeles at the YouTube Theater at the SoFi Entertainment District this year.
The league's best are crowned and honored here: NFL MVP to the league's best player this season, the Walter Payton Man of the Year award for exemplary performance and leadership on and off the field, NFL Comeback Player of the Year for the individual who's bounce-back performance defied all odds.
Notable nominations include quarterback Joe Burrow for Comeback POY, edge rusher TJ Watt of the Pittsburgh Steelers for Defensive POY, and quarterback Aaron Rodgers for League MVP.
Normally, the NFL Honors take place the night before the Super Bowl, but this year it will be held on Feb. 10.
Jack Daniel's Tennessee Honey, in partnership with SoFi Stadium, is hosting their Arts, Beats, and Lyrics tour on Feb. 12.
This traveling urban art and music exhibition supports ground-breaking artists and musicians who display creativity, authenticity, and individuality across all platforms. Moving from city to city, these uniquely curated showcases blur the line between artist and audience.
They have featured performances from the likes of Kendrick Lamar (who is performing in this year's Super Bowl Halftime Show), Rapsody, Scarface, and Bun B and will host Los Angeles as the first of many tour locations to come this year. You have to be 21 years and older to purchase a ticket on a first come, first served basis.
This is the eighth time that Los Angeles, the city of angels with superstar glitz and glamor galore, has found itself at the epicenter of the sports world.
The inaugural Super Bowl I was played at the LA Coliseum featuring Vince Lombardi's Green Bay Packers routing Hank Stramm's Kansas City Chiefs 31-10. Six bowl games later, LA birthed a new era for the Dallas Cowboys when they crushed the Buffalo Bills for their first of three championships in four years.
As storied and rich a history as the previous Super Bowls have entailed, this iteration, perhaps its most intriguing and star-powered. The host city will be participating in the Super Bowl for the second consecutive season, though most headlines seem to be focused on the quarterbacks.
A win on Sunday would put Bengals quarterback Joe Burrow (9) in Hall of Fame-type company in just his second year. He would join Tony Dorsett, Charles Woodson, and Reggie Bush as the only players to win a Heisman Trophy, national championship, and Super Bowl. Burrow would also be the only first overall pick to win all three in their career. To illustrate how difficult it is to win all three, "Broadway" Joe Namath and Joe Montana are the only quarterbacks to accomplish this feat, but neither were first overall draft selections.
On the other side, Rams quarterback Matthew Stafford (9) looks to end the lulls of playoff mediocrity from the snakebitten Detroit Lions and cement his Hall of Fame legacy. A win for the Rams would bring the franchise their second title since the Greatest Show on Turf dominated the league.
As the late country music star Phil Ochs once said, "The final story, the final chapter of western man, I believe, lies in Los Angeles." Two gunslinging quarterbacks. One Lombardi. We are in for a shootout on Super Bowl Sunday.
Leave a Comment
About the Contributor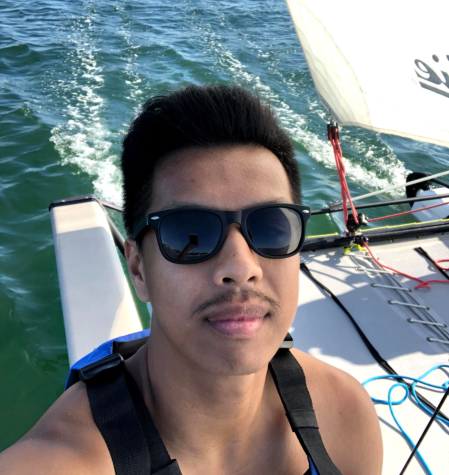 Robbie Doctor, Staff Reporter
Robbie Doctor is a staff reporter and writer for SAC.Media.