ESL Makes New Students Feel At Home
An experience shared with ESL's yesterday and today
"Thump, thump…"
I could hear my heartbeat while I walked toward Building 66 to meet the staff of the department of English as a Second Language.
My heart was beating even faster and heavier as I walked closer to the door of the main entrance on Oct. 8, less than a week before midterms. It has been three years since I finished my last VESL class, a part of the ESL program.
I came back to visit the program because I wanted to see how the pandemic has impacted ESL, and whether my teachers were still instructing.
I wondered why there were so few people in the building and where my former teachers were.
Where were Luisa Giron, Vaneetha Christopher and Kyu Ashley Lee – the ones who taught me in Writing C? Or where were Mike Malley and Barbara Mezaki, who taught me in ESL 80 and ESL 90?
I had not seen Laura Bishop, Anna Powell, Dana Miho or Cindy Bonilla in four years either. They taught me in Speaking C, TOEFL, VSLE, and Career and Life Planning, respectively. Bonilla was even my ESL counselor.
I missed all of them and I think they were the stars of Mt. SAC's ESL program.
The building made me miss "ESL Good News" as well. It was an eight page publication that was issued every semester with ESL Director Jody Fernando's welcoming and inspiring greeting speech. I liked to read and collect as many editions as I could find. There were three or four pieces by students in the publication and I always dreamed about having my writing printed in one of their editions.
I studied in Building 66 for three years and took a series of ESL and AMLA courses from many different professors. I met many classmates from different countries and places. The ESL program meant a lot to many new immigrant students and it still means a lot to me.
Entering this building four years later, I saw the same decorations and pictures on the lobby's walls. I walked around the first floor and saw all the classrooms, but most classrooms were locked with no one inside and there were few people in the corridor. The ESL library was open, but I saw only a librarian sitting there.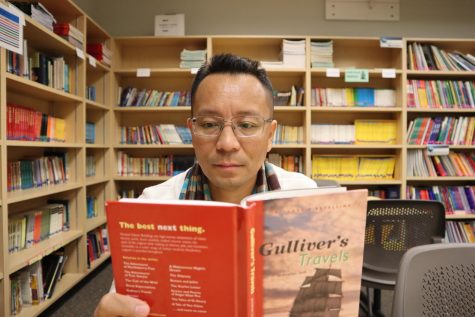 The second floor was empty except for one Spanish class. This was due to Fridays not being a typical class time for ESL because most of their classes are from Monday to Thursday.
On the wall outside Professor Barbara Mezaki's ESL classroom, I saw some student work hanging that I was very familiar with as she had even hung up my work there before.
Looking inside through the small door window, the classroom was empty and dark. It made me sad that I could not see her, but I did see that the desks were still laid out in the same way I remember.
I also remembered Heidi Alcala, Michael Ngo, Chong Hee Min and Yuan Deng, from the ESL Registration Counter.
Excited, I waved my hand to Alcala at a 10-meter distance, and Heidi nodded her head to me. I then went through a short side door and walked to Heidi's office.
"Hi, Heidi, I am so happy to see you again," I said emotionally.
"It's been a long time since you finished ESL, three years?" Heidi asked with a familiar smile.
Her black Hijab matched her outfit so well and I remembered how much I missed her glittering big eyes.
After all these years, she was still as nice and kind as I remembered.
I told her she was right before asking her why the building felt so empty. Alcala calmly explained the reasons to me.
"We have both in-person and online ESL and VESL classes this fall, and many students like to choose the online classes because of the COVID-19 pandemic," Alcala said. "Online classes are always full, and some students have to wait on the waiting list while the in-person courses still have a few seats left. About 60 percent of students choose online classes, and another 40 percent choose in-person classes. After ESL, about 60 percent of ESL students will take credit classes."
Alcala then reminded me of the program's demographics, about half are in their 20s and the other half are in their 30s to 40s, with most students coming from Asia, South America, and Mexico.
She recommended I visit Director Jody Fernando in the administration office or send the director an email for further information. She added that I could also contact Katalin Gyurindak, the ESL instructional support manager.
Fernando said they currently have about 2,000 students studying in the ESL program and that they had between 4,000 to 5,000 students before COVID-19. With students slowly returning to on-campus classes, there has been a lot of interest for online classes in the program.
"We recently reopened the ESL library and also a Career Guidance Center with ESL counselors to help students access any resources they may need," Fernando said. "We're also working hard to follow up with students who may have challenges to attend classes to help them overcome any barriers they're facing in their lives."
Compared to three years ago, when all ESL and VESL classes were on campus, Building 66 was much busier and always jam-packed with students.
It still maintains a strong staff for the program despite the pandemic, with about 30 staff and 60 faculty members. The LLC also has around five staff and five faculty members.
Nevertheless, many former ESL students still have fond memories of student life on campus.
Former ESL student Monica Chin still remembers what it felt like five years ago when she was taking ESL classes.
Chin described ESL as a first home for new students mastering English as they adjusted to a new life in the United States. She had level and skill classes everyday, writing classes on Mondays and Wednesdays and speaking classes on Tuesdays and Thursdays.
"I was excited to come to school every day. I got up early in the morning and left home at 6:30, driving to school to find a good parking space shaded under a big tree in the parking lot," Chin said. "We had classmates with different cultural backgrounds, so coming to school was like joining a big party full of joy and fun, and the teachers were very supportive."
Monica Chin was a primary school teacher from Hong Kong, and she is now a preschool teacher for 5 to 7-year-old kids in Hacienda Heights.
"I liked the learning atmosphere where our teachers encouraged us to ask questions and actively participate in the discussion," Chin said. "I also like the big family feeling at ESL, and students were very friendly with each other."
Former ESL student and physical therapy major Susan Huang described ESL classes as a less stressful environment that made her happier and opened her up to different cultures.
Nursing major Selina Hu, who is also a former ESL student, felt that the program is well made for non-native English speakers and supports them as they master English.
Hu added that the level courses taught more than English basics, at Level 3 she was taught how to write a resume, how to search for and research jobs at Level 4 and how to prepare for job interviews at Level 5. VESL, the vocational component of ESL, also taught her how to write in the business world and how to use programs like Microsoft Word and Microsoft Excel.
"They were practical and helpful for me as a new immigrant student," Hu continued. "Now I've finished most of my GE courses to get an AS degree and prepare for my nursing program."
Aside from life on campus for students, life changed for many ESL professors.
"It was difficult for students and teachers to adjust to the new learning environment," ESL Level 4 professor Luisa Giron said. "It was difficult to teach to black screens as many students did not turn on their cameras, and it was tough to encourage participation. I had to remind myself that this was temporary and that one day, I would see my students in person on campus."
Although the number of students might be down, the quality of the programs has not.
The ESL program has even added AMLA 80 for Level 5 and Level 6 students as well as AMLA 90 for VESL students. These courses give ESL students a solid foundation to connect with the credit classes.
Mezaki takes a lead position in these courses alongside two other professors. Mezaki has taught writing for many years and has always tried to help her students to be better writers.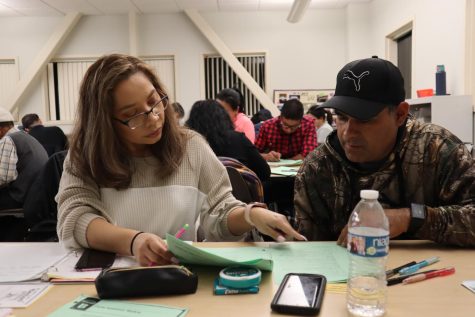 "The teacher's job, at least to me, is to give feedback to each student to allow the writer to stretch beyond the current level to the next level (or two) above where they are now," Mezaki said. "If I can help students do that, then I feel that I have done my job well."
Miho also adjusted to a new teaching experience during the pandemic.
"Before the pandemic, when we had students in a classroom, we became a big family. We took the class every day, and we shared different things, cultures, experiences. If the students needed help, they could ask the teacher right away," Miho said. "We were like a community and it was a great learning environment, but after the pandemic we had to move everything online."
Miho discovered that despite initial struggles, these online classes also benefited her students.
"The online classes were difficult at the beginning, but they also gave ESL students one more choice as a result. Some students actually liked it," Miho said. "In addition, some students realized that they could also use online to learn English."
ESL students belong to a big community of over 2,000 students. It connects Mexican, Chinese, Korean, Vietnamese, Indian and South and Mid-American families into one large campus community.
In the ESL community, on the last day of each semester, each class hosts a farewell party with food and drinks. Students voluntarily brought their favorite homemade or traditional food to share and celebrate together.
"I still miss the last day of the class when we had potluck, and sometimes you learn different cultures from the food students made," Miho said. "I really miss that we celebrated the accomplishments we made in our classroom."
In ESL, studying together every day for one or more semesters, students became good friends.
This inspiration was not limited to just professors.
"I love working in ESL because I believe in opening doors for students who want to be part of the goodness of our country. I learn so much from our students and staff about perseverance, resilience, generosity and flexibility," Fernando said. "They're a great inspiration to me. And it makes me proud to serve in a program that helps them learn how to better communicate with people around them and become full participants in their communities."
Every year in ESL, some old students leave as more new students come.
One new member to the ESL program, Elsa Zhou, was very pleased with her progress so far despite having not been on campus.
"As a new immigrant student, I started at Level 1 in Spring 2021, at Level 2 in the summer, and I am studying at Level 3 this Fall, and all my courses are online," Zhou said. "I am so surprised that I have made such progress in listening, reading and writing in these three semesters. I am getting closer to my goal to take an accounting course in the coming years."
My heartbeat became calm and steady when I walked out of Building 66.
I was not nervous or embarrassed about coming back to the ESL department. It offered me the opportunity to reconnect with the professors and staff of the program. Knowing the actual situation of the ESL program today, I know that my time in ESL is not only a fond memory that I will always recall, but it is also a sweet home for new immigrant students.
Mt. SAC's ESL program will always be a memory for the students no matter how far they go or how high they fly.
View Comments (1)