Top 5 K-pop Songs with Latin Influence
With K-pop groups expanding their audience of different cultures, here are 5 different artists who have created songs with Latino influences
Korean Pop, otherwise known as K-Pop, has long been a trending industry since the mid to late 2000's due to its outrageous and experimental concepts dabbling in different world genres. Many of these K-Pop artists have experimented with Latin music, borrowing instruments and even the Spanish language to test the waters. As a celebration of the music of Latino and Korean fusion, here are the top 5 K-Pop songs that unify the two completely different genres.
1. Si Solo Fueras Mia – D.O.
With lyrics depicting a one-sided love using the Spanish language, D.O. – member of boy group EXO and solo artist, sings a beautiful ballad that tells the story of the woman he pines for in his dreams. D.O. enchantingly narrates that he would move the world for this woman in exchange for her happiness and undivided love, but only watches from afar.
D.O.'s debut album "Empathy" is composed of romantic R&B and acoustic ballads that emphasize the singer's talents and charismatic vocals.
The artist-actor passionately expresses his desire to make the woman of his dreams happy, singing the words, "Si solamente fueras mía, oh/Los lugares que te llevaría/ Para verte feliz y verte sonreír/No hay nada que no haría/Te daría todo el mundo en un segundo/Si solo fueras mía," which translates to "If only you were mine/The places I would take you to/To see you happy and see you laugh/There is nothing that I wouldn't do/I would give you the entire world in a second/If only you were mine."
"Si Solo Fueras Mia," with hindsight, is one of most deeply captivating Latin-Korean songs released not only due to the fact that it implements Latin instrument influences, but that it is sung entirely in Spanish as well.
D.O. and the entirety of EXO have continuously paid homage to Latin artists by covering songs such as "Sabor a Mi," a beloved Spanish song in the Mexican community.
2. Senorita – SHINee
Beloved second-generation boy group SHINee have participated in creating Latin inspired songs as well. With their song titled "Senorita," the group originally released the song as a b-side for their second mini album "ROMEO – The Second Mini Album" back in the year of 2009.
Opening up with "Hola/Damas y Caballeros/Yo amigo, baila conmigo/Somos SHINee," translated to "Hello/Ladies and gentlemen/Yo friend, dance with me/We are SHINee," the five-piece group demanded attention from listeners as the band recollects their experience with a mysterious, beautiful woman who calls out to them. With instruments such as Spanish guitars, SHINee created a romantic atmosphere followed by the lyrics, "Like a lie, I stupidly fell in love/I zoom in and my eyes are only filled with you/I can't catch her like I want to, my Señorita/What are you trying to tell me?"
B-side "Senorita" has captured the hearts of many, with SHINee fans, also known as "Shawols," have expressed that more of the group's older b-side songs deserve the hype than their more popular songs.
Here's my own: SHINee's older albums/songs deserve more appreciation than they get. Go educate yourselves and listen to the classics like Best Place, Romantic, Señorita, Jo Jo, Y.O.U., Your Name, A-Yo, In My Room, Electric Heart, Up & Down,,, old SHINee isn't just RDD and Lucifer

— check pinned pls! (@kiisbum) May 28, 2018
SHINee also has another mini album titled "AMIGO – The 1st Album Repackage" that featured b-side "AMIGO,"friend in Spanish. The album showcases the striking vocals of member Jonghyun with his rendition cover "Y Si Fuera Ella," originally released by Spanish singer
Alejandro Sanz.
3. Regular – NCT 127
In 2018, multinational boy group NCT 127 –a Seoul based subgroup of the much larger brand NCT, made their American debut with their first full-length album "NCT#127 Regular-Irregular." Their title track "Regular" is an up-tempo hip-hop Latin infused song that features Latino Urbano elements and some Spanish words along with English and Korean.
The song revolves around the group's aspiration to accelerate their road to success, as vocalist Jaehyun sings, "I be walkin' with the cheese/That's that queso (Queso, queso)." In the English language, "cheese" is a slang word for money, which in this song is translated to the Spanish word "queso". The lyric signifies the emergence of a distinct group that oozes confidence with how they want "dinero, peso, yen, lo quiero, I want it."
The Neos, the nickname given to NCT 127 by their fans, prove that they are goal oriented and hungry for success both financially and in terms of popularity. The group also proves that not everything is materialistic and the importance lies within one's self with the main chorus being "VVS my diamond, I don't light to shine," signifying that they shine bright with or without their riches.
4. Demente – Chung Ha
Korean-born American raised Chung Ha has released a purely reggaeton track titled "Demente," which features Reggaetonero Guaynaa. Heavily influenced by Reggaeton, the song features a dembow beat and bongos which is commonly found in a large majority of Reggaeton songs.
The song is purely sung in Spanish that tells the story of chasing love, singing "Cada vez que me acerco tu amor se escapa/Y me deja' toda sola, empapada/Con las lágrimas como llamas/Ay, ay, ay, ay, ay/," which translates to "Every time I get closer your love runs away/And you leave me all on my own, soaked/With tears like flames/Ay, ay, ay, ay."
The lyrics are beautifully tragic, with the expression of the burning desire of love which can be found in Reggaeton songs revolving around love and relationships. The love interest who finds themselves hesitant in this relationship, narrated by Guaynaa, raps along to the gritty Reggaeton beat. In response, the rapper expresses his longing disguised by hesitance with the words, "Y quisiera estar ahí contigo/Mami por si tú te caes/No sé si es juego o es serio/No sé qué es lo que hay/Así que see you later baby bye-bye."
Translated to English, the rapper questions the severity of the commitment towards him, as he expresses, "Mami in case you fall/I don't know if it's game or it's serious/I don't know what there is/So see you later baby bye-bye." Reminiscent of Bad Bunny's "Si Estuviesemos Juntos" which also tells the story of an unrecruited love on the narrator's side. "Demente" is a song that is a prime example of a Reggaeton track done correctly by someone who is not of Latino descent, with singer Chung Ha and her team taking the time to research the intricacy of Urbano Music and properly paying homage to the genre and culture.
5. Lo Siento – Super Junior
Super Junior's "Lo Siento,"translated to "I'm Sorry," is a track from the group's album "REPLAY – The 8th Repackage Album" that features Dominican-American singer Leslie Grace.
Incorporating guitars and an infectious percussive beat, the multilingual track blends the languages of Korean, Spanish and English to create a song listeners will never forget. The 7-member-group, alongside Leslie Grace, create a conversation between the narrator and his love interest who has no interest in forming a relationship.
Singers Yesung and Donghae share the second verse in which the narrator confesses his desire to impress his love interest, soothingly singing, "When the night is dark, kiss you one more time/We'll dance all night, oh oh oh/I promise, you won't be disappointed, no no no/No need for words/We can take it slow." Failing to impress said lover, Leslie Grace who narrates as the love interest responds with "I'm sorry, I'm sorry, I'm not in a hurry/I'm sorry, I'm sorry, let's take our time/If I kiss you today, tomorrow I'll go, I'm not crazy for you."
The love interest, with regret, tells her fling that she will ultimately leave, expressing that this is the reason why she declines his interests. "Lo Siento" by Super Junior is a prime example of what an urban Latino track sounds like as it uses instruments and lyrics that many Latino songs possess. The group has also ventured into the world of Latin Pop with reggaeton track "One More Time" featuring Mexican Pop group REIK.
Leave a Comment
About the Contributor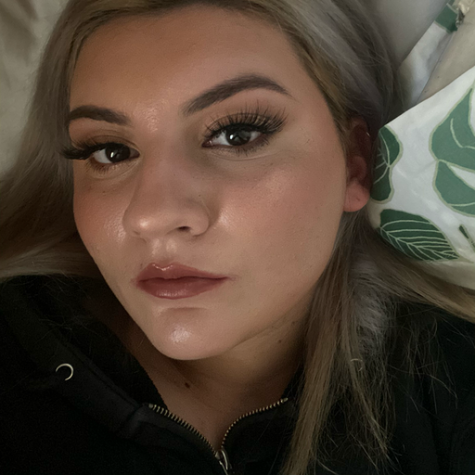 Samantha Acevedo, Staff Reporter
Samantha Acevedo is a staff reporter and writer for SAC.Media.