BookTok Has Spoken and You All Should Listen
Alex Aster's "Lightlark" is a must read fantasy novel
Alex Aster said it best: "Lightlark" is The Hunger Games meets A Court of Thorns and Roses.
"Lightlark" is set on a cursed island that only appears once every 100 years to host a game that gives the six rulers of the realm a chance to break their curses. Each realm's curse is deadly and to break them, one of the six rulers must die. Isla Crown, the young ruler of Wildling — a realm of temptresses cursed to kill anyone they fall in love with, must navigate carefully if she wants to live. Filled with lies, betrayal and forbidden romance.
"Lightlark" has attained a 6-figure book deal in the U.S., can be read in over 10 languages and will be published globally in more than 30 countries by Aug. 23.
With thousands of copies already sold, it hit No. 1 on Barnes & Noble's Top 100: Book Bestsellers list and has been blurbed by best-selling authors Adam Silvera, Chloe Gong, Marie Lu and Sabaa Tahir.
Her agent at the time dropped Aster because the agent did not see her vision for "Lightlark," but Aster refused to give up on the story about a cursed island.
She was told to get another agent.
"That was devastating, absolutely devastating," Aster said. "I had been working for over a decade to even get an agent, and then I didn't have an agent anymore, and so it was like, 'Wow, I'm back to square one.'"
At the start of 2021, she wrote "Lightlark" without an agent, not knowing if anyone would want it. She queried again and received numerous rejections even though she already had a book out with five-star reviews and had won awards.
The rejections from agents kept piling up until she landed her current agent, Katelyn Detweiler. They went on submission, pitching to various publishers, and received over 16 rejections from publishers. They were down to a few publishers, and Aster became desperate.
She knew that people would love this book because it included everything she enjoys to read: romance, court politics, magic, dresses, twists and mystery.
On March 13, 2021 Aster posted a TikTok video out of desperation, asking if anyone would read this book.
Millions said yes.
The post only had a thousand views in its first five hours, and she freaked out because she thought this proved all the publishers right – no one wanted the book.
With nothing to lose, she left the post up.
When she woke up the next day, it had over a million views, thousands of shares and thousands of comments.
Since then, the post has gained more than 1.6 million views, 354,000 likes and 8,500 comments. It is still growing. Aster now has over 827,000 followers on TikTok and 14.6 million likes.
She had no idea that the video would blow up and she was not sure that people would still remember "Lightlark" by the time it came out.
"It's been a dream come true that a year later, people still care and they still remember and they're still watching the videos and still pre-ordering," she said. "That's the most special part for me. I had big dreams. I just didn't know what was possible, and I owe so much of it to BookTok and TikTok."
BookTok is a subcommunity on the popular app TikTok. Creators discuss, review and create videos about books. According to an article on Mashable, the community has already racked up 46.6 billions views and counting. It helped push old and new titles onto the bestseller lists with stores such as Barnes & Noble, creating display tables dedicated entirely to #BookTok selections.
Aster believes there is a big disconnect between publishers and readers at times and social media helps bridge the gap.
She said publishers are trying to keep up and buy materials that readers want. Platforms such as BookTok tell them exactly what people want.
Many books fall through the cracks that would do amazing but the gatekeepers within publishing prevent them from going through.
"Publishing does an amazing job in some aspects but you just can't beat the fact that readers are able to tell you exactly what they want on that platform," she said.
Aster said that everything that happened so far feels surreal. Amazing things are happening in her career that she never thought would happen.
It feels like every week there's something else to announce about "Lightlark" that she did not believe was possible.
"Social media has literally changed my life," she said. "It's because it allowed me to get past gatekeepers a little bit and also prove that people want these types of books."
It is important to Aster that she gives back to those who have followed her journey from the beginning. BookTok is in her acknowledgments and she has chosen to sign with Amulet because they allowed 10,000 TikTok users to vote on the cover for "Lightlark" and get part of the book early. The results were revealed in Times Square.
As another thank you, she wrote an exclusive Barnes & Nobles romance edition for BookTok to enjoy. She also pushed for her readers to be able to read content early. It was a big ask for people to buy something before it comes out, but she wanted the original audience to be rewarded.
She was offered to create a map of the island, Q&A or write eight extra pages. Immediately, she wanted to include a bit more romance than what the actual book had with the eight extra pages.
Aster said that this was unique because she wrote from the love interest's perspective and she had never written from the male love interest's perspective before. She had more edits in these eight pages than anywhere else in the book.
Her editor left hundreds of notes and she even had to rewrite it. She said while the romance is satisfying for those who like it, it is not going to scar any 13-year-old that picks up the book. It is well within the YA genre, pre-teen to early twenties, that BookTok users love.
Writing the romance edition was also difficult because Aster is currently completing the second book for "Lightlark" and the eight pages hints at what's to come. She said she took a risk because once the story is down on paper, it will affect the direction of book two but the process was fun.
She also thanked readers by inserting the second place cover within the book, which is very rare.
All in all, there are three editions – the Barnes & Noble exclusive romance edition, the Waterstones edition and the Indigo edition.
Another challenge she faced is when she worked from home alongside her fiance. Since he speaks in meetings all day, she had to do something to drown out the noise.
She created a "Lightlark" playlist on Spotify and would write with the same songs on repeat until it just became background noise.
People have actually asked for a "Lightlark" playlist, but she feels it will spoil the huge twists in "Lightlark" so she does not want to give it away.
Those who pre-order their copy of "Lightlark" before June 5 will get the first five chapters early and six character page overlays. Those interested in finding out more about Aster's life can check out SAC.Media's coverage of her writing journey.
Leave a Comment
About the Writer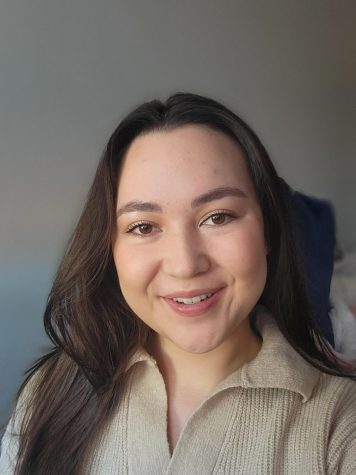 Andie Kalinowski, Features Editor
Andie Kalinowski is the Features Editor of SAC.Media.