The Chosen One
Ilias Garcia, Mt. SAC track's best-kept secret, might be the fastest runner on any track
What can you do in 10.16 seconds? Tie your shoes? For Ilias Garcia, that's more than enough time to run 100 meters.
Garcia ran a 10.16 earlier this year at the Cal State LA Invitational on February 26 for the first time in his career. A month later on March 26, he ran 10.2 flat at the Rafer Johnson & Jackie Joyner-Kersee Invitational.
Ilias Garcia has the speed to burn and records to break.
It is not a reach nor an exaggeration to say he is one of the best community college sprinters in the country. While some assume community college athletes aren't as good as D1 sprinters, Garcia is a SHARKS athlete poised to compete in the 2023 World Athletic Championship and be a member of the 2024 USA Olympic roster.
"That's the goal. Gotta get there ASAP."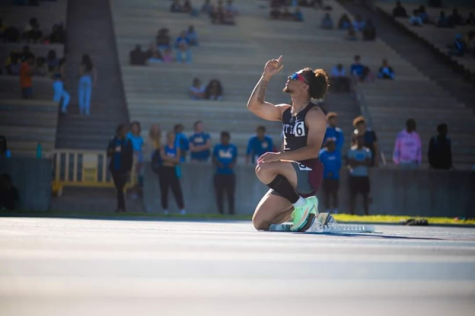 The 25-year-old has been a student at Mt. SAC for three years. Under the tutelage of Coach Ron Kamaka and Coach John "JB" Bolton, Ilias became part of a championship-dominating program. setting the standard for current and future Mounties to chase. Coach JB has especially been someone for young Ilias to lean on.
"JB is like a brother. Occasionally we'll bump heads, but at the end of the day, he wants what's best for me because he was in my position at one point so I listen. Whatever he says, I believe because he's the best sprinting coach out there!"
Though originally a basketball player who compares himself to an efficient Russell Westbrook, Garcia made the transition to track-and-field beginning his junior year in high school. It was while attending Bonanza High School in Las Vegas, a school known for producing pro-athletes like Kris Bryant, Gerald Riggs, and Jonathan Jackson, that the light began to flicker.
During his junior year attending Bonanza, he ran a personal best at the time of 10.71 in the 100-meter. He won both the 100 and 200-meter events at the Richard Lewis Invitational.
This would become the first of many track meets Garcia dominated in signature fashion. The obsession and competitive nature of athletes sometimes blind them to realize how great their performance was.
"It was a slow time," Garcia said while reflecting on the experience. "I mean it was my first time running track but that's terrible. I had a 6.1 behind me."
Shaking his head in disgust, he realized that all athletes start somewhere. Ilias knew dominating in high school and listening to his coaches would enable him to attain success as a professional sprinter. Running alongside his best friend and brother Joey Fox during his high school senior year, it planted the seeds which established and rooted itself as the core of a dynastic program.
It was not until Mt. SAC that Ilias' full potential would be realized and developed.
Earlier in the season, Garcia ran a blazing 6.45 seconds outdoors at Mt. SAC, which was the fastest time in the world at the time. This result was unexpected, but he had prepared for it. It has been on his mind since he started running for Mt. SAC.
Certain records are more sacred. For baseball, home run records are hallowed. In track, the 60, 100, and 200 meters are what every sprinter chases.
Now holding the 60-meter sprint record, Garcia has reflected further on his accomplishments:
"Honestly I didn't expect to run that but I knew (at some point) I was going to break the school record that day. I just didn't expect it to be that fast, but I don't think anyone is going to come close for a while."
While holding a record is impressive, sometimes the doubters motivate great athletes. The mark of a transcendent athlete is when the praise and compliments turn into criticism and doubt. No longer are your performances safe; constant questioning of your accomplishments.
Opposing sprinters believe he false-started to attain the record.
"It's bittersweet but you can't take that time away," Garcia said. "I went on the smoke (from the gun)." By the rules, the sensors must not be set off otherwise an NT can be awarded. At times, I almost feel as if all of the competitors are off to a false start a majority of the time and officials can selectively enforce time rulings."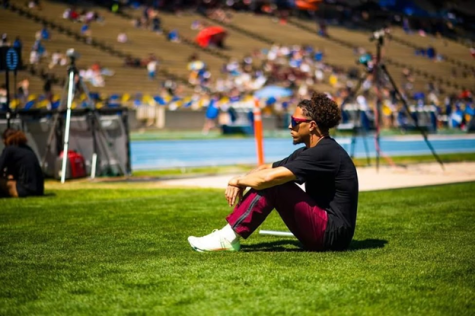 If one record is a fluke, two is a pattern.
On April 1, Garcia ran an incredible 9.88 seconds in the 100 meters dash during the Arnie Robinson Invitational at San Diego Mesa College. Although the feat was at the time a top thirty world lead time, Garcia's results for both his 100m and 60m finishes were changed to an NT ruling (No Time).
If it's one thing Ilias gets up for, it's competing against D1 programs and serving them some humble pie. Seeing SDSU, CSUF or UCLA motivates him more. It adds fuel to the scorching flame.
"Oh yeah! I love seeing a big program. I run harder when I see them. I'm here to let them know Mt. SAC is here and we're gonna compete!"
His time is currently the fastest 100M time and the first among qualifying times for the 2023 World Athletics Championship, which puts him in an even better position to secure a spot on the US National sprinting team.
With this time, Garcia shattered the previous college record of 10.09 by Gerald Williams in 1999.
Garcia had hundreds of thousands of eyes on him while he competed in the USATF Golden Games portion of the Mt. SAC Relays on April 16. His event, the men's 100 meters, was one of the 21 featured "Golden Games" races that were televised live nationally on CNBC and NBC Peacock.
Though not off to the ideal start he envisioned for his pro debut, Garcia will look to bounce back and set his sights on Oregon for the 2022 World Athletics Championships. Ilias was successful in qualifying in the Top 9 of official times for the Oregon Invitational.
A championship mindset, forged through adversity and motivated by doubt, drives Garcia forward.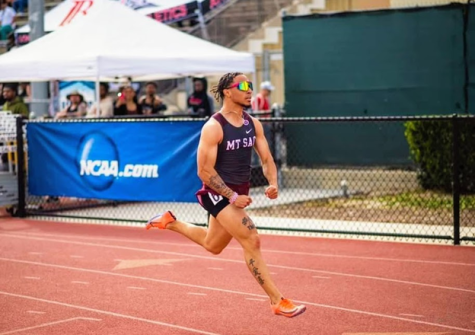 Garcia looks to join Tyson Gay and Jeff Henderson in the elite group of community college track runners that have competed in the Olympics.
"I want to be known as the greatest runner in Mt. SAC history," Garcia added. "Period."
Leave a Comment
About the Contributor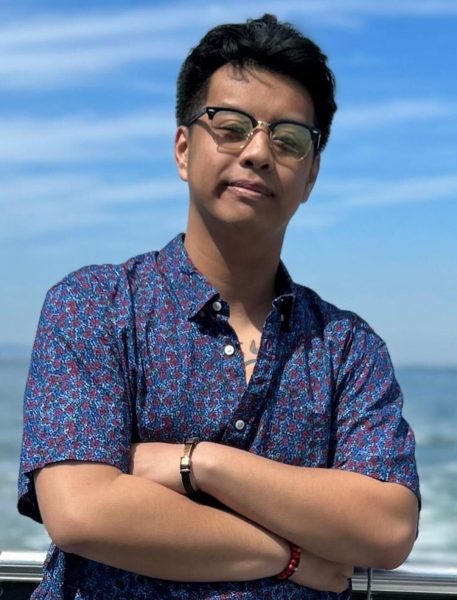 Robbie Doctor, Managing Editor
Robbie Doctor is the Managing Editor.