Love me some celebrity spirits
Celebrities have been trying their hands in liquor, let's see what they're hitting for!
"Whatcha drinkin on? Jagerbombs! Lemondrops! Buttery Nipples! Jello Shots! Kamikaze Rewindin'! F— all that s—! Get me some gin!" – Lil Jon.
Hey! I'm back, but this time with a spin on our last rendition of trying celebrity made alcohol: liquors and spirits.
Much like before, four products that I'll give my honest feedback, flavor profile and opinion on how worth it buying this bottle is.
To reiterate, if you're looking for 4Lokos, White Claws or Truly's, this isn't your article. You're welcome to read more, but these bad boys carry eight-times the horsepower of your 4-5% ABV (alcohol by volume) brewski or seltzer.
To fully enjoy these beverages, think more of enjoying these at a nightclub or lounge in Las Vegas in a solo booth, basking in the ambiance of the live jazz band. Of course drinking them in the comfort of your home with friends and family is acceptable too, but with some of these bottles, when you hold them, it makes you feel like a baller in the club.
As long as it goes down smoothly and it doesn't break my bank account, I'll drink whatever! Whether you prefer dark or light, there's an abundance of spirits to select from.
Here are the celebrity spirits I have tried and reviewed on a scale of 0-5 glasses, zero being you spit it out as soon as you try it and five being pour me 5 more glasses of these.
Cîroc by P. Diddy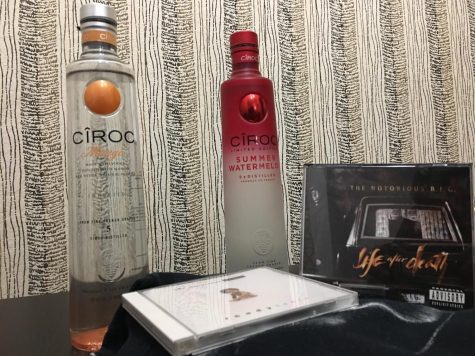 Ah, good ole Cîroc. My introduction to anything celebrity owned and baller status. Cîroc was it! All the rappers had bottles of Cîroc or Hennessy in their music videos and it's what everyone orders for bottle service.
Much to my surprise, P. Diddy doesn't own Cîroc, but rather shares a 50/50 split on profits from Cîroc. The French vodka label is based in London, England, and is owned by Diageo. It is at the usual 40% alcohol by volume and sells for $24.98 at Walmart.
I enjoy high quality vodkas but not all vodkas are high quality. For example, cheap vodka plandle, meaning a plastic handle/bottle is a red flag for me. It tastes like straight rubbing alcohol and is the catalyst for several head-burying toilet moments.
Good vodkas include Stolichnaya, Hammer & Sickle, Grey Goose and Cîroc.
Cîroc expanded on its product to craft nearly a dozen unique flavors, including, peach, coconut, mango, apple, red berry, pineapple, French vanilla, watermelon, white grape and citrus. There are even some limited edition flavors that are released during the various seasons.
My first impressions were, "I feel like I should be popping this at the club and I know this is going to taste like holy water if I'm not careful." Again, I cannot emphasize this enough, I don't drink vodka anymore, but when I do, it's most likely Cîroc.
It's smooth to drink in a mixed drink, martini or however you drink your vodka. In shot form, this is one of the smoother vodkas on the market. Because it has so many varying flavors to choose from, I decided to try the two flavors, Summer Watermelon and Mango.
Between the two: I prefer the watermelon in shot form but I would use mango as the base for my martinis going forward just because I love mango. Not just because I'm Filipino. Both go down smoothly and are enjoyable.
Rating: 4.5 glasses! Pour the extra half for Biggie! We miss you BIG.
Lobos 1707 Joven tequila by LeBron James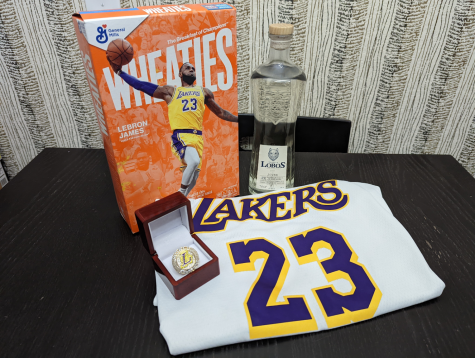 To be honest, I would've thought because of LeBron's soft spot for wine, he'd opt for that route. But tequila – I'll level with you, although I'm not the biggest tequila fan. It really depends on the quality of the agave plant and if it's been aged or it's joven, which is Spanish for young.
Lobos 1707 Joven tequila by LeBron James is young in spirit, old in soul.
It comes from premium aged Blanco tequila that is mixed with a measure of Lobos 1707 Tequila, Reposado. It is carbon-filtered, then finished in the brand's historic Pedro Ximénez (PX) wine barrels using the solera system method.
It is 40% alcohol by volume, a typical proof for tequila. It is $89.99 at Cask Cartel, and it's still on sale for $54.99 as of Sept. 23. It's on the higher price range scale compared to the other spirits/wine on the list but it is quickly becoming the choice of tequila amongst NBA circles.
"Hey Bron Bron, we got that Lobos in this cup." 🍾

Draymond Green, Kevin Durant out here drunk dialling LeBron James all the way from Tokyo #TeamUSA pic.twitter.com/VI0fzRuSTx

— R.P. Salao (@RPSalao) August 7, 2021
Honestly, $55 compared to Michael Jordan's tequila priced at $110, Ace of Spade priced at $260 or Close Azul priced at $170, this is pretty cheap. Patron is $15 cheaper but burns.
The bottle is bold and embodies King James. You have to love the lion emblem etched into the bottle.
Upon opening the bottle, the tequila had an unexpected cake batter, vanilla spice aroma. The flavors are well balanced, and reminds me of a Clase Azul Plata with slightly more heat at the finish and less sweetness. For a young tequila, it's very smooth. I can easily see myself drinking too much and this tasting like water.
After drinking a few shots, I don't feel full or the urge to gag, as there is zero burn down the hatch. It's excellent and balanced body with slightly fiery balsamic tones. I'm not the biggest tequila fan, but I'm definitely a believer now. Not going to lie, being about six or seven shots deep makes me wanna text my ex and tell her I'm coming down to San Diego. Which is a good thing because that's how I know the tequila is A1 grade and an essential for tequila connoisseurs and casual consumers alike. I'd definitely want to try the other tequilas in the Lobos 1707 line!
Rating: 4.5 glasses! A spirit fit for a king! Salute!
D'Usse VSOP Cognac by Jay-Z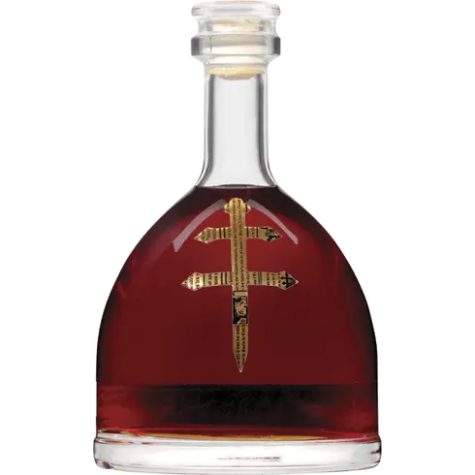 "Oooooh! Hold up, that D'Usse is the s— if I do say so myself!" – Beyonce.
Normally, I prefer Hennessy if I were to choose between the cognacs but I don't discriminate between my dark liquors. Founded in 2012, the Bacardí owned by Jay-Z collaboration is a fine French cognac that is distilled in Château de Cognac, Cognac, France, for at least four and a half years. The best kinds of Scotch, cognacs, or wines are aged.
D'Usse VSOP is 40% alcohol by volume and currently priced at $45.99 at Total Wine. This falls into the typical price range for quality cognacs so you can't complain too much that it's $10 more than Hennessy.
The bottle is one of the prettiest and most distinctive bottles of any cognac, and is instantly recognizable once you see the golden "Cross of Lorraine" emblem, which symbolizes courage, honor and perseverance.
The body is a bright copper with a golden-orange hue, as most cognacs employ caramel coloring. On the nose, the dried fruit, especially the figs, are the star of the show, with caramel, honey and just a hint of wood polish among the secondary aromas.
Its flavor profile is quite velvety on the tongue; this is a cognac that caresses the taste buds. There are also hints of the dried fig and date notes, followed by a very rounded sweetness, somewhat reminiscent of a port. It tends to dry out somewhat towards the finish, with a woody/oaky spice kiss at the end. This is versatile, performing well both as a sipper and a mixer.
The word "smooth" is a loaded one in the world of spirits. Many more casual drinkers, or those new to drinking alcohol neat with no ice or chaser, crave smoothness — meaning a spirit is easy to drink, with a soft, relatively straightforward flavor profile and little to no alcoholic kick on the finish. The more seasoned drinkers tend to court more complex and intense spirits. D'Ussé's VSOP expression is definitely for fans of the smooth. It has complexity if you're looking for it, but for those who want something pleasant to sip without having to give it too much thought, this cognac definitely fits the bill.
It's not your usual bold and exciting brandy, as it's a tad soft and unchallenging, but it can help make your day a little more enjoyable. At the end of the day, I'll prefer Hennessy over D'Usse.
Rating: 4 glasses! I got 99 problems but my D'usse ain't one!
Bumbu Caribbean Rum by Lil Wayne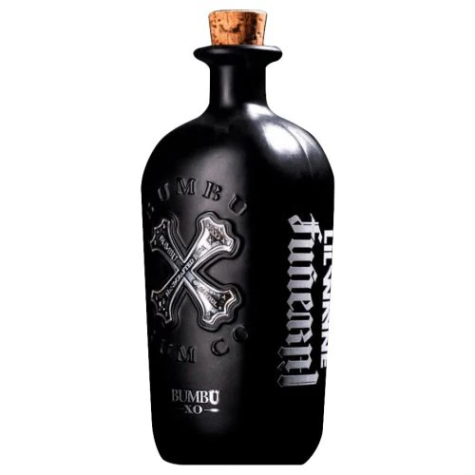 Young Mula baby! I love dark rum! In my experience, white rum has a light and sweet flavor profile, while dark rum has a deep, smoky-sweet, aged flavor.
Bumbu Rum Tha Carter V is a collaboration by Grammy winning rapper Lil Wayne, based on the original recipe created by 16th and 17th century sailors of the West Indies, who blended native Caribbean ingredients into their rum and called it "Bumbu."
Bumbu is made at a historic Barbadian distillery founded in 1893 and operated for more than 120 years. Their rum is distilled using two continuous stills and the yeast used during fermentation is a distillery secret that dates back as far as 1840, when some of our original iron pot stills were cast.
It is 35% alcohol by volume and the current price tag is $44.99 at Cask Cartel. They are currently sold out of the Tha Carter V label for $149.99.
My initial thoughts: "I feel like a pirate holding the bottle." The bottle reminds me of something Jack Sparrow would drink. It literally looks like I'd find this floating in the ocean and it'd have a treasure map in it. I love the aesthetic!
The body has a nice maple hugh from the barrels they were aged in; usually a coppery or mahogany color accompanied with a taste of caramel. On the nose, you get strong accents of vanilla, soft caramel and toasted oak from the barrels.
The rum itself is pretty smooth. As stated earlier in the D'Usse segment, smooth can be a loaded term. This rum gets its smoothness and texture from the barrels. Unlike wine, air is your enemy when it comes to rum. So when tasting, take a small sip, then swoosh it around in your mouth. There's a mild sweetness to it, as it is a dark rum, but then you're blindsided with a sweet wave of banana. There is a slight burn but the flavor profile and quality mask the burn well.
Actually, the more I drink it, the sweeter it becomes and the less I enjoy it. The banana flavor presence morphs into a banana Laffy Taffy-esque flavor as I go further down the bottle, which sort of ruins the rum experience for me.
Perhaps, enjoying a glass would be fine but I can't drink too much otherwise I'll hate it more. Shame. I actually wanted to enjoy this.
Rating: 3.4 glasses. I'm being nice because I stopped myself from drinking more which would've lowered it even more. Sorry Weezy.
Overall
I'll raise a glass to these fine liquors with some class! Overall, the liquors graded higher than the wines.
Does this mean all celebrity wines are inferior to celebrity spirits? Absolutely not!
Although the price points of hard liquors in comparison to wines are substantially higher in most retail websites and stores, I can stomach the price points more so with liquor because I typically won't be drinking all of it in one setting.
If you've stayed to read this long, I'm taking a shot for you right now as we speak!
Salute! And always drink responsibly!
Leave a Comment
About the Contributor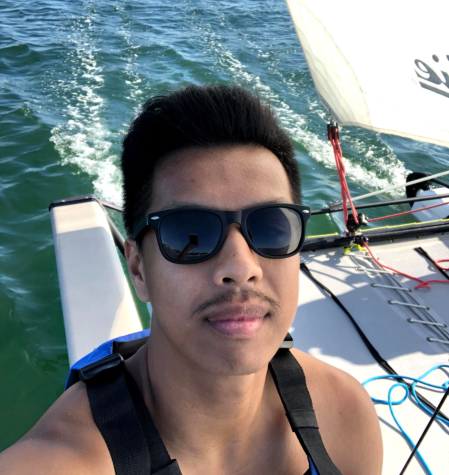 Robbie Doctor, Staff Reporter
Robbie Doctor is a staff reporter and writer for SAC.Media.