The rose that grew from the concrete: Yasmeen Delgado
Meet the student balancing two worlds: Athletics and motherhood
"My hard work is finally catching up with my timing." – Future
Born in Silver Springs, Maryland, a neighborhood just outside of Washington D.C., Yasmeen Delgado grew up in a single-mother household, where an inseparable bond was rooted and forged. Young Yasmeen and her mother Soledad would move to Montebello, California, where she would spend a majority of her formative years finding activities to keep her busy.
Delgado has been a natural athlete since birth. She explained the plethora of sports she dabbled in, beginning with figure skating, swimming, ballet, martial arts and many more. However, just because you play a bunch of sports growing up doesn't mean you'll love each and all of them the same.
"I was a very active little girl and I honestly did not like all the sports I was in," Delgado explained as to why she played a variety of sports while growing up.
She began figure skating in Culver City, California, at the age of 10 together with her mom. Having a parent who doubles as your best friend is a dynamic many envy.
As a symbol of their strong relationship, she described how they always do things together.
"It was just me and my mom. Even when we first started skating, she was in the same class as me. Having her be there was truly a blessings," she said.
It wasn't till she moved to the westside of Los Angeles where she was exposed to her beloved sport: running. Not knowing there are track programs in her own city and finally getting an opportunity to join became a revelation in her young athletic career.
"Running was my first [athletic] love because I didn't have the resources to run. So when I finally did get an opportunity to, I did run in high school," she said. "And it just hit me like, 'Oh I love this!' My mom did not know of many track programs in our area but she made it happen."
You have to love the grind of practice.
"I always tell my teammates, I truly love training more than I do competing," Delgado added.
Growing up, Delgado admired Allyson Felix. Felix, the 2012 Olympic champion in women's 200 meter sprint, instantly became Delgado's role model the second she saw Felix compete on TV.
"I was just enamored by her story. Plus the fact she grew up in the area was the coolest thing to me. Like 'Oh my gosh, we have a neighboring Olympian!' It's awesome," she said.
But her biggest inspiration is her mom. Growing up with a single mom had its challenges, but fruited a foundation for life.
Delgado recounted on the sacrifices her mom made.
"She always did her best and found a way. She took care of me and getting to spend time with her was some of the greatest memories I have," she recalled.
Originally Delgado intended to attend Cal State Sacramento, but the pandemic forced her to pivot and ultimately chose a place with family roots – Mt. SAC. It was an easy fallback.
"I had a coach recommend [Coach John Bolton] because they knew each other very well. So I was excited to go. My mom ran track here at SAC '96 or '97 as well," she said. "So it was kind of a full circle moment like 'Hey me too, mom!' I guess you can say it was an easy choice then."
Coach Bolton has carried the championship DNA instilled in the program onward and passes on the support and knowledge onto his athletes, willingly and often.
"It's great having him as a coach because if you talk to him about something, chances are he's been through it already," Delgado said.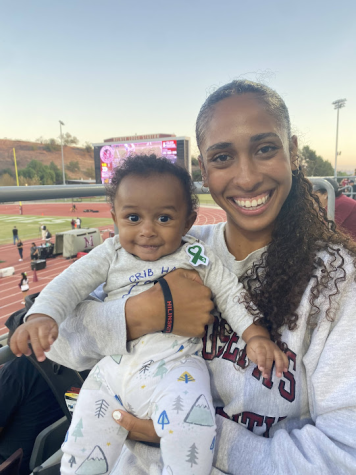 Of course, Delgado knew of the lineage and history, but as she puts it, "I didn't understand how great of an environment and place this was until I got here."
Self-sacrifice is being willing to set aside one's own desires for the good of others. And the ultimate sacrifice is setting personal needs aside to fulfill the role of a mother.
"There's honestly not enough time in the day. I think one of the things I'm struggling with is time management. And not getting enough rest. You're not running on your schedule. You're on baby schedule," she said.
Motherhood is an exercise in sacrifice even on the best days. Money, time, appearance, comfort, sleep, sanity — all of it, gone. On a good day, sacrifice it all up for those little people you created who make your heart full and your teeth tight.
Transitioning into parenthood is never easy, but it has its rewards and opportunities for growth. When asked about her newfound drive, her response was simple. "It's no longer about me. And I feel that I'm not the same person I was a year ago. It's for the better but it has its challenges," she said.
"It's motivating. I wouldn't change anything about it. I'm doing what needs to be done and I look forward to those challenges. It's exciting because I know everything I'm doing is not just for me, but for my son too!" she continued.
Challenges include finding a babysitter. It's not just cost, but scheduling and commuting too. Delgado sometimes brings her son to practice. And the team loves it!
"Sometimes my teammates will be wondering where he is. 'I haven't seen him in so long.' It's wonderful having that support system," she said.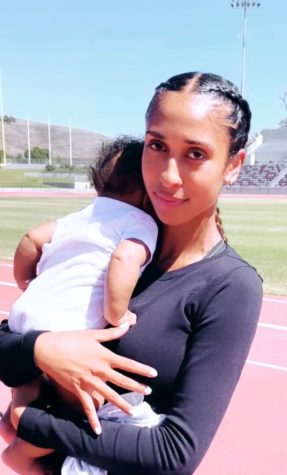 Mt. SAC is family.
Through practice, those bonds are built on blood, sweat, tears and passion. After missing last season, Delgado is chomping at the bit to get back onto the track. It's apparent she misses the grind, the conditioning, the mental and physical preparation to aspire for greatness.
"This year we are a lot more competitive. We're aware of the controversy surrounding our program. We know there are a lot of people who want to take us down and we're constantly reminded by our coach," she said. "Even though I wasn't here last season because I was pregnant, as an outsider looking in, you're always rooting for your teammates and all of the outside noise doesn't matter."
Her endgame, like sprinters past and present, is to make it to the Olympics.
Delgado explained, "As a kid, my dream was to go to the Olympics. I want to go to the Olympics! I want to go to the Olympics! I didn't know in what sport, but I wanted to go there."
Being at Mt. SAC, surrounded by teammates who constantly push her to better herself daily, a coaching staff that motivates her to run harder for not just for herself and to follow in her mother's footsteps provided Delgado the opportunities she's always wanted.
"It just felt like home. It was really the best decision for me," she lamented.
With a renewed spirit and newfound determination, she is poised to make her mark history on the track.
"I want my legacy at Mt. SAC to be memorable, to be a part of something greater than myself, and to show that being an athlete and a mom is possible!"
Leave a Comment
About the Contributors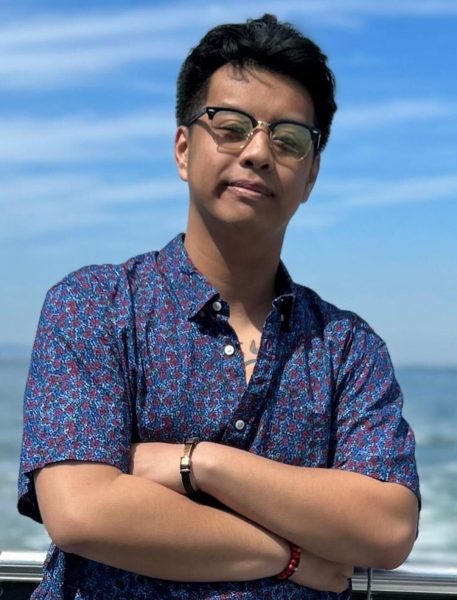 Robbie Doctor, Managing Editor
Robbie Doctor is the Managing Editor.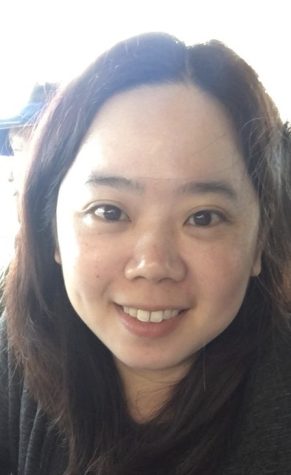 Christie Yeung, Managing Editor
Christie Yeung is Managing Editor and former features and gaming/tech editor of SAC.Media. She falls somewhere between a nerdie or a foodie, or is both. She likes to spend her spare time playing video games, listening to music, and watching funny videos on Youtube. She has a sweet tooth and has no immunity against anything with Nutella on or in it.