Opinion: How local churches influence their followers
As LGBTQ and abortion rights have been a point of contention in this year's politics, many Christian churches have taken a side
As Christmas draws near, many of those who observe the holiday will be heading to their local churches as a part of the many traditions and festivities of Christmas alongside their loved ones. Over the years, support for making the United States a Christian nation has increased in popularity, especially among registered Republicans, as the debates surrounding LGBTQ and abortion rights have become more prominently discussed topics.
Many churches have followed suit and are turning up the volume, leading their followers to take a side through subtle messaging or in some instances, outright support for certain political positions. This Christmas, those attending church services should be aware about the possibility of harmful messaging being preached by the local pastor.
Across the country, Christian pastors from many denominations have made headlines with their hateful remarks speaking at sermons on LGBTQ and abortion rights issues. One pastor in particular, Dillon Awes, who preaches at Stedfast Baptist Church in Watauga, Texas, caused an outrage for his statements at a Sunday service on June 5, where he called for gay people to be "shot in the back of the head." His loud and anger-filled tirade was just one of the many instances throughout the country of increasingly hostile and violent rhetoric aimed towards the LGBTQ community.
One local church, Calvary Chapel Golden Springs, is showing a more subtle and light-side of the recent upsurge in anti-LGBTQ rhetoric. The Diamond Bar church is a part of Calvary Chapel, whose international network operates over 1,700 evangelical churches, according to their website.
According to Calvary Chapel's website, the church is an evangelical and complementarian organization. While the many churches within its organization can vary in their messaging and beliefs, these core aspects are what unite them all under the same umbrella.
In a 2016 blog post on the Calvary Chapel Golden Springs website titled "Marriage Matters," ministry publishing writer Claire Wren, expressed her disapproval towards former President Barack Obama's 2016 historic proclamation to designate June as LGBTQ Pride Month.
In the post, she said: "It is a political absurdity that has been shoved down our throats. It is hard enough for us adults to swallow, let alone our innocent children, who have now been thrown in the mix of a revolutionary, sexual identity crisis."
Wren continued, "This confusion is not forward thinking but backward––a step back into the dark ages of barbaric behavior that will always be an abomination to God. Understand these sexual practices between men and men or women with women are not a natural love but a debase lust."
Abortion rights is another topic commonly discussed in churches far and wide, but, one local church, Calvary Chapel Chino Hills, has taken this stance openly, while also expressing support for prominent conservatives in American politics.
Back in 2020, as the election results came in, Calvary Chapel Chino Hills Pastor Jack Hibbs toed this line. During a mass on Nov. 4 , Hibbs is seen on his knees and audibly weeping in response to Joe Biden's electoral victory.
"God, you are pro-life and one man is and one man is not," Hibbs said.
Hibbs continued, name-dropping then-Secretary of State Mike Pompeo and Supreme Court Justice Amy Coney-Barret, pleading and questioning in prayer why they as pro-lifers were allowed into power in the first place despite the election results showing a different result.
Then, Hibbs prayed for former President Donald Trump, saying, "Father, tonight, President Trump is entertaining in his mind, I'm sure it's almost impossible for him to entertain this in his mind, but rumor has it he's never lost anything before."
Hibbs then prayed for President Joe Biden and Vice President Kamala Harris, pleading for Biden's "salvation" while praying for Harris who he said has "had such a crazy exposure to spiritual things, none the truth."
Many people attending church to celebrate Christmas will be going alongside their loved ones as a part of observing the tradition, or as a more deeper held connection to their faith. Nonetheless, it is important to be aware of the ways that local churches preach their political views and could have an influence on their followers' politics while instilling harmful views in them.
Leave a Comment
About the Contributor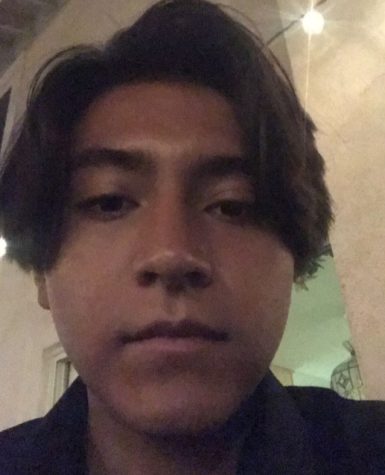 Ruben Montoya, Opinion Editor
Ruben Montoya is the Opinion Editor for SACMedia. As a journalist, he enjoys spicier, hot takes on the news. In his free time, he is a huge hyperpop and EDM listener, gamer and major fan of the Dodgers, Lakers and Arsenal FC.