Opinion: When the children of privilege cry, we can't help but roll our eyes
Recent conversations surrounding "nepotism babies" has prompted some people to push back in response
"Nepotism babies" or "nepo babies," as they were dubbed on TikTok, are as much a part of Hollywood as the red carpets and the paparazzi. Whether your parents were movie stars, CEOs or board members, those who come from an affluent background have had many advantages in their careers in the entertainment capital of the world.
Nepotism babies are not new. They have been around since the entertainment industry's earliest days and have been a part of it ever since. The list of "nepo babies" in Hollywood is extensive. It includes Maya Hawke, Lily Collins, Dakota Johnson, Timothee Chalamet, Willow Smith and Jaden Smith, all of whom have well-known parents that were and are a part of the entertainment industry.
One recent example that sticks out is Lily-Rose Depp. Depp's mother is Chanel Ambassador Vanessa Paradis and her father is the famous Pirates of the Caribbean actor Johnny Depp.
In September 2012, at just 16 years old, Lily-Rose was chosen by German fashion designer Karl Lagerfeld to model for Chanel. In 2016, she became the face of Chanel No. 5 L'Eau, Chanel's signature perfume line. She became and still is the youngest ambassador ever for Chanel. However, many pointed out that this decision was out of the ordinary.
In an interview with Elle Magazine published on Nov. 16, 2022, Depp said, "It's weird to me to reduce somebody to the idea that they're only there because it's a generational thing, it just doesn't make any sense."
Ever careful, she's quick to add that she is by no means comparing her own work to that of someone in the medical field.
"If somebody's mom or dad is a doctor and then the kid becomes a doctor, you're not going to be like, 'well, you're only a doctor because your parent is a doctor,' it's like, 'no, I went to medical school and trained,'" she said.
Also mentioning that she believed that criticism surrounding her had been especially amplified because she is a woman, Depp continued, "I just hear it a lot more about women, and I don't think that it's a coincidence."
A Buzzfeed article from Aug. 2022, highlighted how many "nepo babies," including Lily-Rose Depp, have strangely claimed that having famous parents has made getting jobs harder. In a 2019 Vogue Australia interview, Depp took her issue with the "nepo baby" discourse a step further.
"I've always been under the impression that I have to work twice as hard to prove to people that I'm not just here because it's easy for me, I feel like you're not what your name is," said Depp.
In her case, whether it is her proximity from "normal" people, ignorance or a more calculated PR move to cover for herself, her statements were out of touch.
But could you really blame her? That's up for debate, the reality is that Lily-Rose Depp, and countless other "nepo babies" who spoke out against the narrative have benefited from this system. Perhaps, they would be better off taking the route that others have by acknowledging their privileges and moving on instead of making themselves even more unlikeable.
The hard truth is, children with famous and wealthy parents have an easier time and the advantage of getting jobs in Hollywood before aspiring actors regardless of how good their talent is.
Leave a Comment
About the Contributor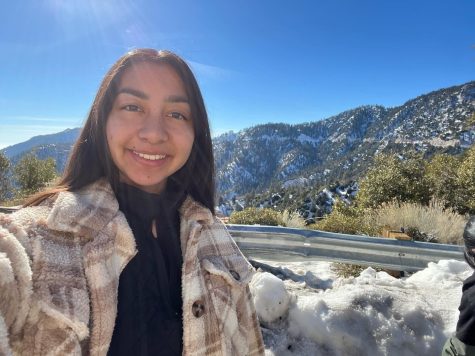 Emily Fernandez, News Editor
Emily Fernandez is SACMedia's News Editor.