Herschel Greenberg: Professor of critical thinking, but also cars and collectibles
A more personal look into the life of Mt. SAC professor Herschel Greenberg
Providing instructions on how to write in MLA format free of error, discussing some of the most transformative works of literature by influential writers and speaking about the philosophies of great thinkers such as Plato, Thoreau and Kant is how Professor Herschel Greenberg, 48, spends most of his days.
Lecturing to hundreds of students from his home in Chino Hills, he usually utilizes a Zoom feature that allows meeting attendees to change their video background, but once the background is turned off, Greenberg can be seen surrounded by a plethora of nick knacks and trinkets, however, these are not just his choice in decor, but rather parts of his prized action figure collection.
Born in Los Angeles and raised in Whittier, he attended Whittier High School and graduated in 1993. He then went to California Polytechnic State University San Luis Obispo. Originally, he majored in computer science in hope to work in the video game industry, but then he decided to switch paths and pursued a degree in philosophy. After he obtained his bachelor's degree, Greenberg attended California State University of Fullerton and graduated in June 2006, with a master's in English, Comparative Literature and Linguistics.
Shortly after he graduated, he was hired as an adjunct English professor at Mt. SAC, and in October that same year, Greenberg married his wife who he had known since high school. Then in August 2009, they welcomed their son Alexander into the world.
While he has experienced many different life changes, one thing has always remained the same, and that is his love for collecting.
As a young boy, he collected baseball cards, and when his father had caught on to his interest, he, too, began to collect them, which led it to become a father-and-son bonding activity of sorts for Greenberg and his father.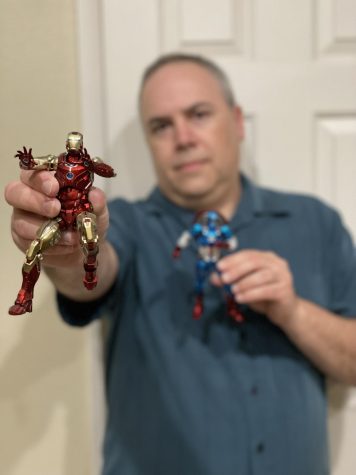 "My dad and I had a hobby of basically going after all the Angels baseball players and every baseball card by the Angels that existed from 1961 we would try to buy at hobby stores and baseball card collection events," he said.
In addition to baseball cards, he also recounted that he had collected Magic: The Gathering cards in college.
"I had a massive collection of Magic: The Gathering card collection worth at one point, probably 036;10,000 to 036;20,000," Greenberg said.
Although he stopped collecting cards, Greenberg has shifted his interest to collecting action figures and his contemporary collection began in 2002, with a Transformer figure that was in the model of a Subaru WRX STI.
"[The Transformer] was an amazing action figure, and I was like 'wait, what are these?' and 'I want more of them,' so I went to find more of them," he said.
In total, he estimated his collection consists of about 50-60 action figures. When asked how much he has spent on the collection, he laughed.
"I can't count that high," he said.
Despite this, he was able to acknowledge that each figure is worth 036;100 or more, with his most expensive items being from brands Hot Toys and Sideshow Collectible, both that have figures ranging from $300 to $800.
While this is the average range for the brands, Greenberg said he has gotten his most expensive figures on sale, so he didn't have to pay the full price. He listed his most expensive figures as being a Star Wars Rey at $250 , a Star Wars BB-8 at $250, a Crow from Alex Proyas' The Crow film at $240 and an 18-inch Optimus Prime that was $250.
As he began to collect, however, he realized that figures from foreign countries were of a much better grade than those in America. He noticed that there is a huge difference between figures from Japan and figures from traditional American stores like Target or Toys R Us.
Action figures of good quality cannot just be bought from anywhere, and because of that Greenberg relied on a particular website to get his figures; Big Bad Toy Store, an e-commerce site for collectors that was established in 1999 by brothers Dan and Joel Boblit. When he couldn't buy from Big Bad Toy Store, he would opt for Frank & Son Collectible Show in City of Industry, California.
The newest addition to Greenberg's collection is a Deadpool figure from a line called Sentinel Fighting Armor.
"The latest in the collection is a new line of action figures. They're called Sentinel Fighting Armor and the idea behind it is, what if Iron Man made suits of armor for his friends? So everyone in the collection is wearing armor like Iron Man. So I have Captain America, Iron Man, Spiderman and Deadpool, and Deadpool would be my most recent addition in the Fighting Armor. They're fully metal. They actually are very heavy figures, and their ability to pose is probably the best of any figure I have. So right now, they're my favorite brand," Greenberg said.
The hobby of collecting also runs in the family, asides from Greenberg, his younger sister, wife and son also have collections of their own. His sister collects Breyer Horses and My Little Pony figures and his wife collects nutcrackers. As for his son, he has taken an interest in KiwiCo crates, which provide various STEM and STEAM kits for children.
Greenberg believes that his son's interest in collecting will later expand.
"My son is probably going to inherit my addiction to collecting. My guess is he will eventually collect action figures or he'll inherit all mine," he said.
His reasoning for collecting is related to his childhood.
"I collect because it connects me to the things I had when I was a kid. It's the things I could never have as a kid but now I can afford them. If I said to my dad, 'I want 036;100 action figure,' it would be 'hell no.' Yeah, you go buy that yourself," Greenberg said.
40 years later, he has the "adult money" to satisfy the dreams and fantasies he had as a child.
"It's nostalgia, but on a very expensive level," he said.
He also jokingly referred to his collecting habits as an "addiction."
"I would say [collecting action figures] is the same kind of addiction that anybody has. Anything they're addicted to, whether it be coffee, sugar, drugs, you feel that rush, you get that high, and then it wears off and you want it again. So it's the same part of the brain is being triggered by any kind of collecting or addictions," he said.
As for the collection that he is most proud of, he claimed that they are a Robotech figure and his Optimus Prime. He found that while there was not a huge emotional connection to collecting, the act is therapeutic, and three words he would use to describe how he feels about collecting action figures were "fun, poseable and art."
In addition to a love of action figures, Greenberg also has a passion for cars, more specifically, muscle cars.
The first car he ever drove was his dad's 1970 Mercury Cougar which was a family heirloom of sorts, and it sparked his love for Mercury Cougars. In fact, he said that in addition to his action figures, he also has 20 Hot Wheels that were all of Mercury Cougars.
The power, performance and handling are what he loves the most about cars, and if he were to have his dream car, it would be a Mercury Cougar.
"I'll tell you that right now. If I had money, I would go right to the guy who was on TV called Counting Cars, count customs in Las Vegas and say, 'Please find me a 1969 Cougar Eliminator, and I want it to be as modern and as safe as possible, but look like the original, without a doubt.' I want that body with the original engine, but air conditioning and windows and a radio and that kind of thing," he said.
His passions are big parts of his identity and never fail to entertain.
"The joy never ends," he said.
Leave a Comment
About the Contributor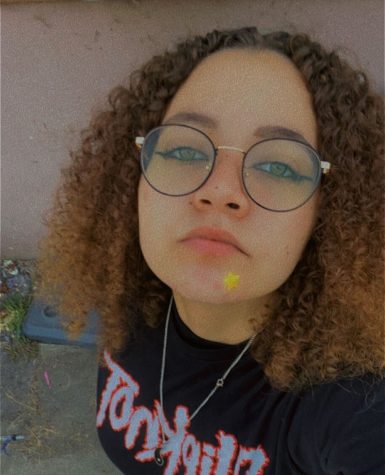 Delila Grubaugh, Features Editor
Delila Grubaugh is SACMedia's Features Editor. She is a first generation college student majoring in journalism and social justice. She dreams of being able to write a book one day and successfully make at least one short film in her lifetime. As a current peer navigator for the EOPS/CARE program she finds it to be incredibly important to work to help others, and she loves journalism as it can at times be democracy and social justice at its finest. She believes that if we are granted the right to freedom of press and freedom of speech we should be able to utilize it to benefit the people. She loves tea, Halloween, sunflowers, rock music and poetry. She is a California girl at heart and supports almost any Los Angeles team there is. A lover of journalism and advocacy, naturally someone she looks up to is Kara Danvers-aka Supergirl. She hopes to be as strong as her one day.