Mullins Family Farm shares expertise on growing avocado trees
Learn about avocado species and how to take care of them
On March 4, Linda Mullins, a farmer in the Temecula Valley, conducted a workshop called All about Avocados at the Land Use Learning Center in Riverside where she shared her vast knowledge on how to grow and maintain thriving avocado trees.
Linda Mullins and her husband, Andy Mullins, established the Mullins Family Farm in 2012 when they moved to Temecula and purchased their small avocado grove. They practice sustainable farming techniques like creating their own compost to prevent the increase of water absorption through soil, using a state of the art computerized water monitoring system and planting wildflowers for bees that they have attracted and built hives for.
In addition to avocados, the farm also grows four kinds of organic Arabica specialty coffee, organic Tahitian Winter squash and Eureka lemons. In 2019, their farm was recognized by the United States Department of Agriculture USDA, as a member of the California Certified Organic Farmers.
"There are three things that need to be considered when starting to grow avocados," Linda Mullins said in a room mixed with novice gardeners and expert growers. "Which species of avocados are best to be grown in a certain habitat, understanding the texture of the soil being used, and daily upkeep of monitoring a strict watering schedule."
"The Reed, Lamb Hass and GEM avocados are best to be grown in Southern California because of their ability to withstand optimal sun exposure or changes in temperature when a cool breeze flows through," Linda Mullins said. "Avocado trees prefer a loose, sandy soil and they love decomposing plant matter or mulch, helping to capture moisture and reducing evaporative water loss from the soil surface."
"Farmers may even include crushed limestone, which contains calcium sulfate, in their soil to help regulate acid levels," she continued. "However, too much calcium in the soil can go hand in hand with a high pH, which means the soil is too alkaline, affecting the absorption of macronutrients contained in other fertilizers."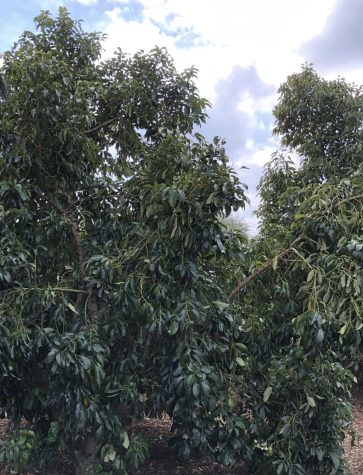 Managing the water schedule for avocado trees is most crucial to ensure survival.
"Avocado trees have very shallow root systems, making the trees susceptible to damage from overwatering," she said. "Constantly wet soil can lead to a fungal root or crown infection known as Phytophthora rot, which reduces growth and fruit production and may eventually kill the tree. Two hundred gallons of water per week is ideal for a mature avocado tree with a 20-foot canopy. If you're unsure of the moisture, stick your finger in the soil and check how damp it is. If it's too wet, then no water is needed."
With spring around the corner, now is a good time to show off that green thumb. The best way to learn more is by attending one of the many free workshops at the Land Use Learning Center, located at 4500 Glenwood Dr., Riverside, CA 92501. For more information, contact Erin Synder at (951) 683-7691.
Leave a Comment