Investigation spotlights friction within West Covina City Council following event dispute
Findings of the third-party investigation will be presented at today's council meeting
Heated exchanges on social media, packed council meetings, increasing political animosity and now a concluded third-party investigation.
The West Covina City Council is set to revisit the city's Feb. 18 centennial celebration which ended in controversy after Gabrielino-Shoshone representative Jamie Rocha's planned land acknowledgment was scrapped after members of the council, the night of the event, pushed back against her involvement, calling it political.
The investigation of the night, which the council approved in February, has concluded.
The summary of the investigation, published by JL Group, LLC, claimed that there was no "implicit bias" or "overt discrimination" towards Jamie Rocha by the council members involved.
However, the summary also stated that Rocha "was given permission by the Mayor to perform the ceremony, but too much back and forth about her inclusion tainted her opinion about the invitation and she declined."
The 10-page long summary discerns information regarding the exact details of the Feb. 18 incident, however, text messages and other details not included in the investigation offer a closer look into the council members and their communications with each other in the aftermath.
The report
On the night of Feb. 18, the city of West Covina hosted a festival to celebrate its centennial anniversary. The festival included a variety of live bands, vendors and performances by different cultural groups, including the Gabrielino-Shoshone nation.
The Gabrielino-Shoshone tribe, a late addition to the event, had received approval from Assistant City Manager Roxanne Lerma, who was in charge of organizing the event.
The investigation stated that Lerma was not accountable to the councilmembers in organizing the event and that she had received instructions to be inclusive of all cultural, racial, religious and ethnic groups in planning it.
When Rocha arrived at the celebration, Lerma was not present. She was instead greeted by Recreation Services Supervisor Vanessa Ibanez. Ibanez met with Rocha and Mayor Pro Tem Brian Tabatabai at the main stage at the event after which they were approached by Councilman Tony Wu, the investigation stated.
According to the investigation, Wu asked questions such as, "Who approved of this?" and "Why wasn't the council told about this?" regarding Rocha's participation.
This prompted Ibanez to call Lerma for clarity on the matter. Lerma then called City Manager David Carmany, who explained that he fully supported the land acknowledgment, the investigation read.
It then stated that Carmany called both Wu and Mayor Rosario Diaz. However, Wu didn't respond but Diaz did, so Carmany informed her about the then-developing situation.
Carmany texted all five councilmembers, saying that he spoke with Diaz and that he had approved for the land acknowledgment ceremony to take place, the investigation said.
Wu then said that Rocha's land acknowledgment would be "too political," and told Diaz that approving the land acknowledgment was "her decision to make."
Rocha's land acknowledgement reads as follows:
"The city of West Covina acknowledges the Indigenous people as the original caretakers of the lands we now reside on. We acknowledge that the City of West Covina is located on the traditional, ancestral and unceded territories of the Gabrielino-Shoshone, Tongva and Kizh Nations. We not only recognize the importance of acknowledging our ancestral history of our city but also acknowledge that these Indigenous communities still thrive here to this very day. While the history may be painful and violent to recall, it is not only necessary but vital to acknowledge this so history will not repeat itself."
According to the investigation, Diaz then approached Rocha. She explained to Diaz that she had been personally offended by Wu's comments and was aware that Wu was in opposition to allowing the land acknowledgment ceremony to take place.
Days later, Rocha told SAC Media that Diaz had compared performing a land acknowledgment ceremony to " asking for a 16th birthday party at someone's quinceañera." This statement was also pointed out on the record by Rocha at the Feb. 21 council meeting and was confirmed to have been said by Diaz during the investigation.
Rocha "became emotional" from the comments while Diaz told Rocha that she approved of the ceremony, the investigation claims. Rocha then declined to move forward with the ceremony, citing spiritual reasons, and left the event.
"I cannot go to prayer with that kind of [negative] energy on me," she said. "This is ceremony, this is prayer and I'm not going to go up there when I'm feeling disrespected," Rocha said.
Main takeaways?
Aside from establishing a timeline of what happened on Feb. 18, the summary of the investigation also offers key details which give further context to the events that night.
For example, the investigation confirmed that Carmany had indeed contacted all councilmembers via text message stating his approval for the land acknowledgment, even calling Wu and Diaz individually.
This contrasts with prior comments from Wu and Diaz in which they claimed they hadn't received adequate notice and the incident was the result of a miscommunication among them and the city staff.
"I don't even know we had the program, we really don't know, the city manager or our assistant city manager never told us that this had been arranged," Wu said at the Feb. 21 council meeting, responding to the more than 35 public comments.
In addition, the investigation also affirmed that those in charge of overseeing the festival, Carmany, Lerma and Ibanez, did not require any approvals from any of the five councilmembers.
While the investigation reached the conclusion that Rocha had not been overtly discriminated against, the incident on Feb. 18 sparked the outrage of many local indigenous people after she posted to Facebook just 90 minutes after the event.
Diving deeper
As the summary is 10 pages long, many details have been obscured.
According to the methodology of the investigation, emails were used as evidence in reaching a conclusion. Notably, text messages were not listed as evidence used in the investigation.
Text messages obtained by SAC Media through West Covina resident Angie Gillingham, who made a public records request, reveal more details of the conflicts that arose.
Gillingham told SAC Media that she made the public records requests after seeing Councilman Ollie Cantos' motion to consider removing Tabatabai's title as mayor pro tem.
"I wanted to hear exactly what might have taken place to provoke him to request Mr. Brian Tabatabai to [be removed] from the mayor pro tem position," Gillingham said.
"The problem with the investigation, the law firm did not do what I felt due diligence by requesting public records in the public records request as I did, they might have come to a different conclusion if they had about the indigenous people, how they were treated as well as the conclusion on how Mr. Wu and Cantos were attacking of the [mayor] pro tem," Gillingham continued.
Firstly, a text conversation between Wu and Carmany showed where Carmany had explicitly given permission for the land acknowledgment to take place, but also included a response from Wu.
"None of you are here and put this thing on without our approval, I have no part of this and you can do anything you want I am going home," Wu said.
Wu later texted Carmany: "Mayor overrode your decision. No political statement in our centennial celebration."
Cantos and Wu then contacted each other via text starting at 10:09 p.m. on Feb. 18. The conversation revealed how they both believed that the land acknowledgment was part of a political act orchestrated by Tabatabai to stir drama within the council.
"[Tabatabai] wants his political [beliefs] to force down our throats and approved by our incompetent [city manager] at the most [joyous] time of the centennial celebration to create hate and separation among us," Wu said.
"He is just a bad, evil person," Wu continued.
Cantos had originally motioned at the March 16 council meeting to consider stripping Tabatabai of his title as mayor pro tem but later voted against doing so at the March 21 council meeting.
"If we are to do this with Native Americans, then what about slavery with African Americans or Chinese ancestors who were exploited through the building of the Chinese railroad or etc. etc. That is political because it is espousing a philosophy that is not non-partisan," Cantos wrote.
He continued: "It is the equivalent of conservatives using the festival to say that Democrats are the reason why our economy and businesses have been suffering, etc. For either side, liberal or conservative, there shouldn't be political statements at an event that is supposed to bring everyone together."
"Also California was belong to Mexico, how about that, never end," Wu responded.
"And before Mexico and Arizona there were dinosaurs that were destroyed by a large comet that created the Grand Canyon, so we need to remember that dinosaurs came before people from Mexico," Cantos said.
"But even before dinosaurs, there was god who created the earth. Then who created the universe? It just goes on and on," Cantos said.
Later in the conversation, Cantos and Wu discussed the political makeup of Tabatabai's constituents, district one.
"From what you know from [Political Data Intelligence], what is the political makeup of district one?" Cantos asked.
"If it is filled with people who have his ideology, then it will be difficult for any other opponent to win him in two years," he continued.
Wu then responded with his last words of the night before ending the conversation.
"D1 had no different [political makeup] than other districts, he won the last election by lying about his true agendas, defund the police, support Gascon and soft on crime, he also supports tiny homes and homeless right, he always talking about we need give land back to Tongva people, very fanatic extremist," Wu wrote.
Responding to the release of the investigation summary, Tabatabai said that he expected more to come from it.
"I'm disappointed that its a summary of an investigation, we asked for a full third-party investigation and we were told that the public would receive the entire investigation to then make up their own minds as to what occurred," Tabatabai said.
"I still haven't seen the full report," he added, "If it's going to be agendized, we the community and the council should have already seen the full report."
Tabatabai also pointed out what was not included in the investigation.
"The San Gabriel Valley Tribune printed a story that included text messages between Councilman Cantos and Councilman Wu and from what I understand the investigation did not ask for any of those messages, so again I also wonder how thorough the investigation was," he said.
Rocha, since the Feb. 18 meeting, told SAC Media that she has since moved on, but appreciates that it gave her an opportunity to spread awareness of Native American issues regardless of the circumstances.
However, she also pointed out her grievances with the text message conversations between Wu and Cantos.
"[The messages] absolutely showed a very ugly side that didn't show on the surface, I feel like that was served as a chain reaction of what really down to the core what was the problem, what the issue was," she said.
"There was some ignorance and there are certain agendas that people were supporting or they say that people were supporting among our leaders, I didn't realize how uglier it was until those text messages came out," Rocha said.
Addressing the council, Rocha said, "People are watching you, you got to be very careful what you put out there and keep your story straight, but I also learned that West Covina is a very tight-knit community and people watch out for each other, at the end of it it made me really proud of being from West Covina."
SAC Media could not reach Wu for comment.
Additionally, both Diaz and Cantos declined SAC Media's request for comment.
The next West Covina City Council meeting is scheduled tonight at 7 p.m. at West Covina City Hall.
View Comments(1)
About the Contributor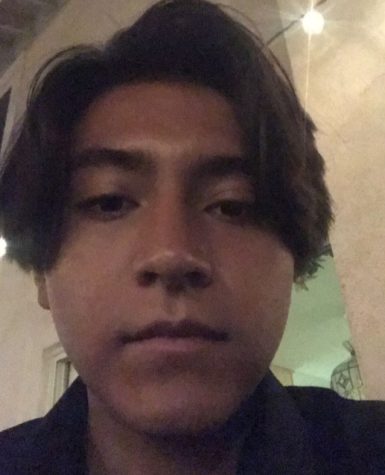 Ruben Montoya, Opinion Editor
Ruben Montoya is the Opinion Editor for SACMedia. As a journalist, he enjoys spicier, hot takes on the news. In his free time, he is a huge hyperpop and EDM listener, gamer and major fan of the Dodgers, Lakers and Arsenal FC.