'KaytrAminé': The album of the summer is here
KAYTRANADA and Aminé collaborated for an 11-track album
It all started with a Twitter direct message back in 2014.
"Yo, thanks for the follow. You're one of my favorite producers and I'd love to work with you sometime," Aminé wrote.
"Fo sho. Was impressed of what you did," KAYTRANADA responded.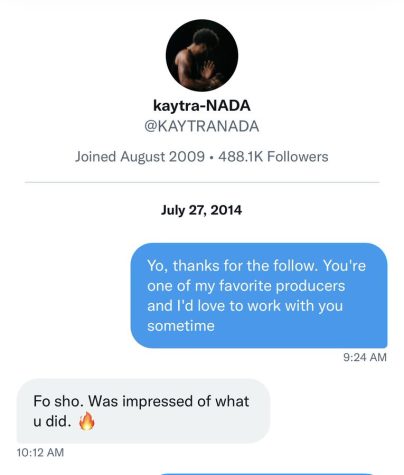 Now, the two teamed up with the collaboration name KaytrAminé and dropped the self-titled album of the summer on May 19. Aminé is known for his raps delivered in a flowery upbeat hip-hop tone that puts listeners in a positive vibe.
He released his debut mixtape in 2014 and then released his debut single "Caroline" in 2016. The single announced the Portland-raised artist's arrival, as it peaked at No. 11 on the Billboard Hot 100. Since then, he has seen success with his later albums, with the most recent being "TwoPointFive" which was released in 2021.
KAYTRANADA is a DJ producer that specializes in creating experimental house music involving complex samples and creating unique sounds.
He has released over a dozen projects, with his second studio album "Bubba" in 2019 being considered among one of his best. The Haitian-Canadian producer is coming off his visually impressive Coachella performance in April.
Altogether, the 33 minute-long album is on the shorter end but it makes up for it in the experimental, J Dilla-type beats that make up this summer's soundtrack to hear at the beach.
"4EVA" featuring Pharrell Williams is the biggest hit single out of the album so far, reaching over 18 million monthly streams on Spotify already. The song has a dominant pop presence that gives it a catchy hook. Pharrell saying "forever" repeatedly in the song gives the listeners a simple catchy lyric while the melodies are easy to hear without being overstimulating.
Other special features include artists Amaarae, Freddie Gibbs, Big Sean and Snoop Dogg. The guest artists suit the style of the song they are featured in perfectly. Amaarae is in the house track "Sossaup," where he raps about how he will spoil his girl with money and a nice time.
Gibbs brings his technical proficiency and gangsta rap abilities in the second track "letstalkaboutit."
Big Sean raps on "Master P," which emphasizes that due to their massive successes and fortune, they are legends in their cities, therefore they do not need to take any criticism from broke or unpopular artists.
Snoop Dogg raps over the synth remix track "EYE," which is not surprising, considering he will rap over almost anything, including Larry David's "Curb Your Enthusiasm" title song.
By combining their musical styles, KAYTRANADA and Aminé are bringing out the best of each other in KaytrAminé. This album's music is full of positive vibes that are definitely strong enough to handle the heat of the summer.
Leave a Comment