This story was updated at 3:53 p.m. on Nov. 20.
Aggressive crimes that punctuated the beginning of the fall 2023 semester have brought into question the campus' vulnerability and the efficacy of safety measures, security personnel and ultimately who to hold accountable.
On Sept. 20, two students got into a fight in building 26 that escalated into a stabbing and was eventually categorized as an attempted murder. There were also two separate instances of women being sexually assaulted, one in building 2T and the other in a women's restroom of 26D.
Weeks later on Oct. 5, a woman was attacked in parking lot A with a sharp object. Later that month, a suspect robbed a woman's backpack at knifepoint near the elevator at 26G. These crimes were handed off to the Walnut/Diamond Bar Sheriff's Department and are still listed as "Open" on Mt. SAC's Daily Crime Log.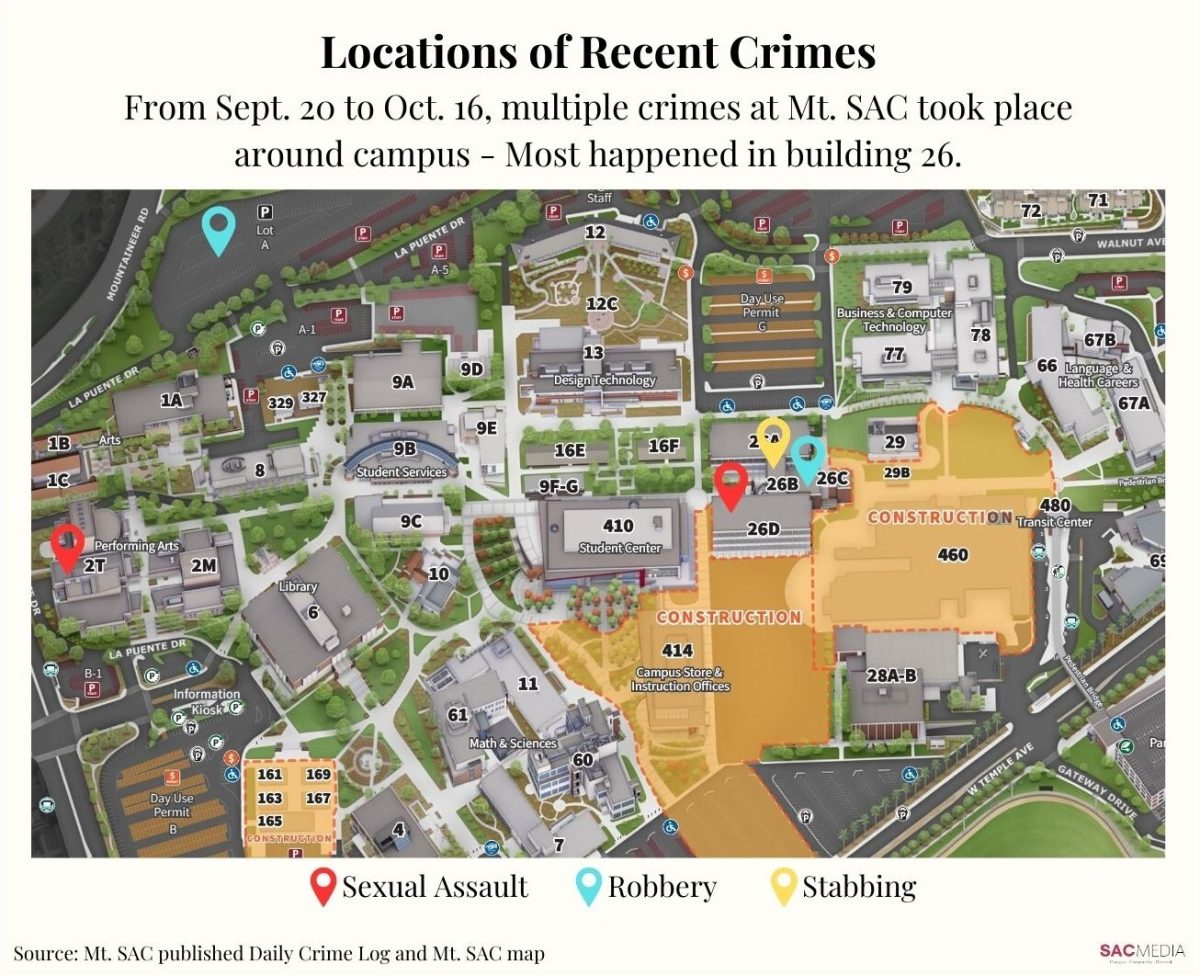 Several faculty members involved in the stabbing incident vocalized their concern at the following Academic Senate meeting and with the college president. Additionally, the following weeks' alert notifications of the aforementioned crimes appeared to be the driving force behind heightened concern over campus safety.
According to Mt. SAC's crime log, in the 2022-2023 academic year, numerous egregious crimes were reported. In 2022, there was one murder and two rapes reported. From February 2023 to April 2023, there were two rapes, one sexual battery, one spousal abuse, and one battery against a significant other reported.
Since the return to campus from COVID-19 closures, each semester has averaged 4.5 aggressive crimes. However, this semester experienced its five aggressive crimes in three weeks, a shorter timespan than throughout a 16-week long semester.
The outcry from the campus compelled Mt. SAC to conduct a campus safety forum. The forum garnered general disappointment as attendees felt there wasn't enough time to properly address the campus' concerns.
Consequently, a second campus safety forum was held two weeks later, allowing more people to address their concerns in person, especially the ACCESS and other people with disabilities whose concerns were not discussed during the first forum. Information about newly implemented safety measures was also provided during both of the forums.
After the first forum, SAC Media began to holistically examine how the campus felt about safety, its existing protocols and how our college's safety compares to similar campuses.
Campus perspectives
SAC Media talked with over a hundred people across the campus to get a pulse of their sense of campus safety. A survey of 55 students was later conducted on campus, "What could the campus do to make you feel safer?"
Many said officer visibility made them feel safer, while others said they wanted proper security in parking lots and more lighting for night classes.
In a survey asking students how safe they feel on campus on a scale from 1 to 10, a score of 1 meaning feeling very unsafe while a score of 10 meaning very safe, women ranked their safety lower than men.
Professor Shiloh Blacksher, who was on scene during the Sept. 20 stabbing, gave a statement during the Sept. 21 academic senate meeting. In her statement, she called out Police and Campus Safety, construction obstructing emergency medical services' response, the slow response time for trauma counselors and a slower emergency alert response time.
Additionally, many within ACCESS and the Deaf and hard-of-hearing community on campus questioned their safety.
During the second campus safety forum, many within these communities expressed sentiments of feeling like an afterthought in not only emergency protocols but in the development of safety protocols as well.
Incidents like the Sept. 20 stabbing and the arson incident on Oct. 14 have occurred at an alarming rate and the campus is growing more concerned with the lack of action taken and accountability of the school's head officials to bolster its safety measures and provide students and staff a safe environment.
This heightened focus on campus safety from all communities begged the question, "Are Mt. SAC's safety protocols adequate and do they take into account all communities within the campus?"
Though its validity is challenged, Mt. SAC has had protocols and procedures that have existed since its inception and new protocols have been added as necessary.
Analyzing existing protocols and procedures
Before additional measures were implemented, Mt. SAC's existing student and staff-facing safety protocols included the emergency "blue light" phones across campus, the Text-a-Tip Line, an emergency alert system, timely warnings, evacuation procedures, a safety escort service and Mt. SAC Police and Campus Safety.
According to the Mt. SAC map, there are 44 emergency "blue light" phones across campus. Each phone has a blinking blue light at the top to increase visibility. When the button on the panel is pressed, it will display the phone's exact location and connect to Police and Campus Safety dispatch to assess the situation.
In the first campus safety forum, an audience member mentioned that one of the emergency "blue light" phones did not work at the athletics center.
It was brought up in the second campus safety forum that emergency blue light phones are not accessible to certain communities like DHH, who have no means to communicate once they are connected to dispatch.
Another safety measure is the Text-a-Tip Line. This is a phone number anyone can anonymously text suspicious or criminal activity to and information will be relayed to campus safety officers to investigate the report.
Mt. SAC's emergency notification system will alert the campus, via text message, phone call and email of a dangerous situation or emergency that poses an immediate threat.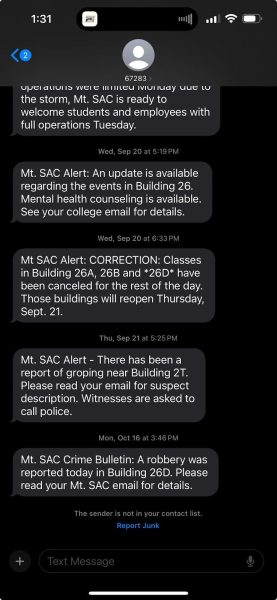 Timely warnings are notifications including information about crimes that have occurred on campus. The alerts are disseminated via text message, phone call and email. Crimes that warrant a timely warning are criminal homicide, sexual assault, robbery, aggravated assault, arson, burglary and hate crimes.
To receive emergency and timely notifications, students can opt-in during registration and staff can sign up to receive alerts on their portal.
Some have argued that the alerts take too long to receive. In Blacksher's statement, she criticized the slow response updates, citing the first emergency notification that came nearly 40 minutes after the stabbing.
According to Mt. SAC Director of Public Affairs Jill Dolan, the timeliness of alerts depends on several factors. "Administration is not notified right away as soon as an incident occurs," Dolan said. "Police and safety are involved and when they are able they contact Yen [Mai] to begin the process of sending out the message."
Additionally, Dolan said that back-end issues could be the reason some people receive alerts later than others. "Technology can affect the time you receive the alert. Some people receive the message at different times and phone providers can play a huge role," she added.
In addition to timeliness, another criticism of the alert system is its lack of accessibility. As English syntax is not grammatically identical to American Sign Language, it is challenging for some in the DHH community to understand. This point was also brought up in the second safety forum.
Mt. SAC offers an escort service for students and staff. If requested, public safety will accompany individuals on campus guiding them to and from their car and classes at any time during the day.
Security cameras are also in place, but only in some locations. The newer buildings, like the Student Center and the Gateway Parking Structure, have cameras. However, parking lots and older buildings do not have cameras. It is also worth mentioning that most of the aforementioned crimes in September and October either occurred in the parking lots or around building 26, areas both containing no cameras.
Mt. SAC Police and Campus Safety
The Mt. SAC Police and Campus Safety oversees public safety officers and is responsible for enforcing campus safety, reporting on-campus crimes and managing parking enforcement among various duties.
The chain of command begins with the head of the department, Chief of Police Mike Williams, with 45 years of prior law enforcement experience. Second in command are two sergeants, Brian Owen and Rafael Ixco, who both have three decades of serving with prior law enforcement.
The two sergeants serve as managers, running daily operations and supervising the officers on campus.
All three are sworn police officers and are the only ones in the department who are trained and certified to be armed with guns.
Under the sergeants are the licensed campus safety officers who are certified through the Bureau of Security and Investigation Services, an organization that trains and certifies those in public security.
Also under the sergeants are the community service officers who enforce parking permits and regulate the flow of traffic on the campus.
As of October, there are currently 11 public safety officers, five community service officers and 12 temporary security officers hired from CSC, a security organization that Mt. SAC had a contract with previously for events.
The CSC temporary security was hired shortly after the first campus safety forum.
Emergency Services Risk Management
Though the focus has mostly been on campus safety, Mt. SAC's Department of Environmental Safety and Emergency Services Risk Management, headed by manager Sayeed Wadud, was called into account during the second safety forum the school held.
Mt. SAC has established protocols for responses to emergencies and natural disasters, including those that warrant building evacuations. According to the Campus Emergency Response and Evacuation Plan, each building is to have selected personnel to supervise, guide and help evacuate the building per policy or threat.
Those positions range in responsibilities beginning with the building marshals who assist in the planning, training, recruitment and equipping of selected personnel. They help evacuate the building, maintain accountability for students or others under their responsibility and assist emergency responders when needed.
Following them are the floor captains, who check and clear the entire building for any personnel left behind, from classrooms to restrooms.
However, it was unclear if all these positions were properly utilized during the stabbing incident due to the confusion of the emergency broadcast, the lack of training faculty received and the Campus Emergency Response and Evacuation Plan being outdated according to Wadud.
In addition, it is not mandated by the school that any faculty member should be trained to handle emergency incidents like the Sept. 20 stabbing.
Wadud is adamant about finding new ways to train the campus populace for potential emergencies and threats. "Probably by winter will have a completely updated website on that [type] of training [to incorporate] in digital orientation or in-person," Wadud said.
These ideas, however, come too late for many, as students and faculty realize the scope of securing an open campus. Still, the Mt. SAC community, as it is currently surrounded by construction and new facilities, wants solutions fast.
Comparing Mt. SAC safety protocols to other campuses
To assess the adequacy of Mt. SAC's safety protocols, SAC Media examined the protocols at similar institutions in the area.
East Los Angeles College and Cal Poly Pomona also have blue emergency phones, an escort service, an emergency alert system, and a crime notification system. However, ELAC, the largest community college in California with a student population of 33,397 students, has its own sheriff's station contracted by the Los Angeles County Sheriff's Department. Each officer has the authority to arrest, detain and carry a firearm.
According to ELAC's sheriff's station, the officers patrol the campus constantly, alongside a security room that continuously monitors the numerous security cameras around campus.
Next door to Mt. SAC, Cal Poly Pomona, has security cameras installed in their parking lots as well as on their buildings, which their very own police department monitors regularly. The university police department is composed of sworn officers with the power to arrest and carry a firearm. They operate 24/7.
Cal State University of Fullerton also has its own police department and a web page where college departments can make requests for camera installation and real-time viewing access to campus cameras.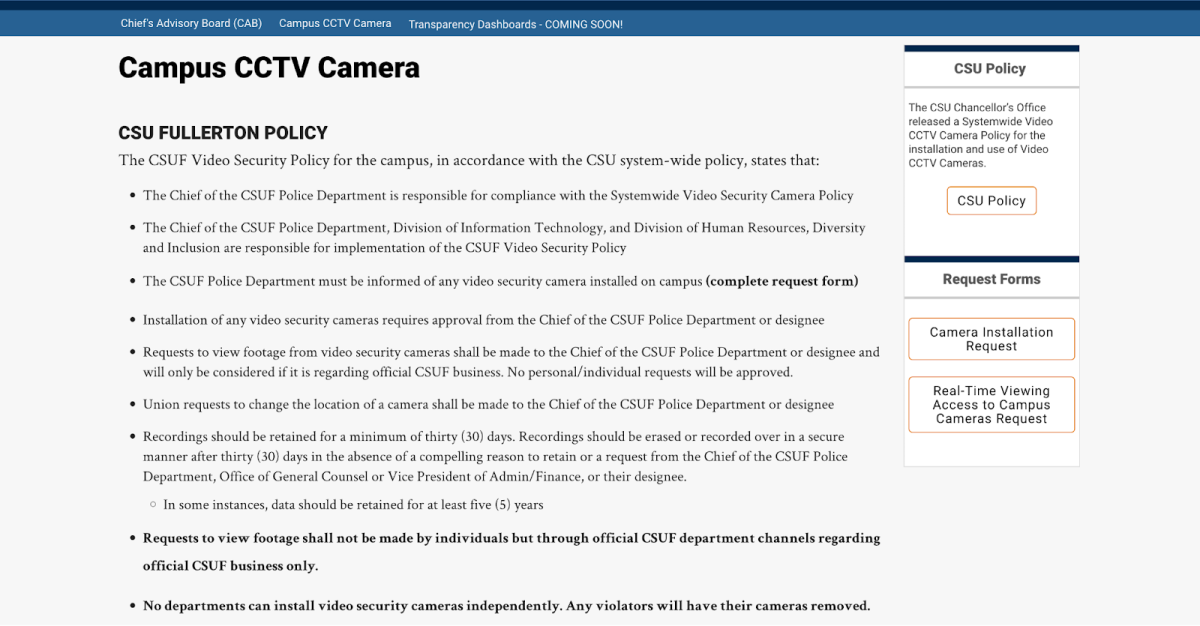 During the first campus safety forum, Chief Mike Williams said that Mt. SAC is playing catch up in installing security cameras on campus. Only new buildings and those currently under construction will be equipped with security cameras through the Measure GO bill.
Mt. SAC's Executive Director of Facilities Planning and Management, Gary Nellesen said the majority of the funding is being used to build new projects on campus that will include security cameras.
Nellesen claimed that cameras would prevent future crimes. "… our new buildings are designed using certain principles that significantly reduce the likelihood of violent crime by adding visibility, preventing blind corners, implementing good exterior lighting, and many other elements," Nellesen stated.
He added that the older buildings will also receive upgrades like cameras and other security "features" with this funding.
According to Colby Reed, a representative for Security Camera Warehouse, which has provided high-level security cameras for big corporations and colleges such as Harvard University, Oregon State and UC Davis, it would cost Mt. SAC around $300,000 to $500,000 to install cameras. For reference, Harvard's cameras and installation totaled $478,423.48 to cover half of its 5,067-acre campus. compared to Mt. SAC's 421-acre campus.
After pressure from the campus to install cameras, President Martha Garcia mentioned her history of pursuing a plan to implement cameras in other districts where she worked. She said the school has looked into it but did not cite a schedule for when the camera infrastructure will be complete.
"It takes time," Garcia said at the second safety forum. "It takes a significant amount of funding. And honestly, at this institution, for me to stand here and tell you we're going to add cameras everywhere immediately is not feasible."
As it stands, Mt. SAC is looking into placing cameras only around building 26 as it appears to be a hotspot for crime on campus.
Supplemental safety measures
In addition to adding cameras to building 26, the college has looked into and implemented other measures. The school is analyzing campus lighting as many people expressed concern over poor lighting especially those taking night classes.
Mt. SAC hired temporary CSC staff to beef up escort services as well as to patrol the campus. Additionally, public safety officers have been directed to spend at least 50% of their "discretionary time" on foot patrol and out of their vehicles. Previously, there were no guidelines for the amount of time they spent out of their vehicles patrolling.
Garcia also said that she has requested information about public safety employee training so campus safety personnel can consistently complete training "so they are better prepared to respond to an incident."
Employees can also participate in voluntary monthly training covering a range of scenarios:
Active Shooter on Campus
Stop the Bleed
Fire Extinguisher
Active Assailant
Building Evacuation Teams
Mt. SAC contends that everyone has a responsibility to keep themselves safe. "We're in this together," Garcia said.
The school advises students and staff to do their part in keeping themselves safe. They've suggested taking self-defense classes, using the "buddy system" for bathroom trips and carrying pepper spray as added measures of protection.
However, the campus community expects the college administration to take more action and make a consistent initiative to ensure the campus is as safe as feasibly possible.
Many shared the sentiment that students, faculty and staff should be able to roam the campus without fear of being targeted. Being told to always "be aware" has made some feel as though the campus is not a safe place, and by not doing so, they have made themselves a target. The responsibility for safety has shifted from the college to the community.