Trojans Rally From Behind to Defeat the Sun Devils
In the first Pacific-12 Conference game of the year, USC defeated ASU 28-27.
The first college football game of the Pacific-12 Conference 2020 season was finally played on Saturday at the Los Angeles Colosseum between Arizona State University (0-1) and the University of Southern California (1-0). USC defeated ASU 28-27, and the Trojans were lucky to come away with the narrow one point victory considering ASU led for most of the game. The first collegiate football game played in California had an early 9 a.m. start time and with no fans in attendance, the game had a peculiar feel to it.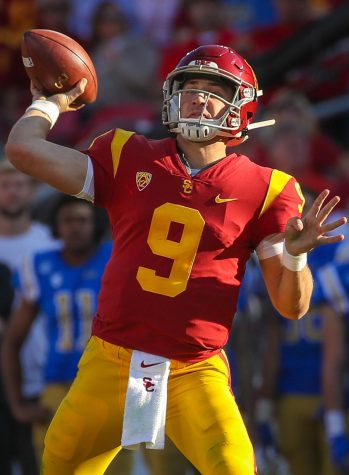 USC managed to make a late fourth quarter comeback after trailing 27-14 with 4:31 left in the game. After USC quarterback, Kedon Slovis completed a 26-yard touchdown to receiver, Bru McCoy on fourth down, the Trojans managed to recover the ensuing onside kick. The onside kick recovery gave USC the opportunity they needed for a chance to complete the comeback.
Slovis capped off a six play 55-yard game winning drive with a 21-yard pass to receiver Drake London. The USC defense did their job, stopping the Sun Devils from mounting a comeback in the final minute of the game to seal the deal and give the Trojans their first win.
The ASU offense struggled to find passing rhythm, but found success on the ground. The Sun Devils were led by running backs DeaMonte Trayanum and former Mt. SAC football player Rachaad White. Trayanum had two touchdowns on the night and White had a highlight play of his own after he took a swing pass 55-yards to the endzone for his first Division l touchdown of his career.
Together Trayanum and White accounted for 160 of the Sun Devils rushing yards validating what head coach Herm Edwards had already thought about them. "I was pleasantly surprised, but not really. In the fact that we felt when we recruited these young men if we gave them an opportunity to run the football which they were presented to today that they would play well," Edwards said in a postgame press conference.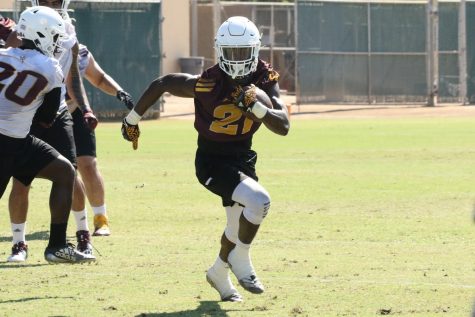 For White's former Mt. SAC teammates, it was no surprise that their former teammate shined in his debut. Mt. SAC football alumni, Treshon Pickett, a former teammate of White's, was watching the game on Saturday. "It was a good feeling seeing him perform like I know he should. I wasn't surprised by what he did at all, I know how hard he has worked for that moment on and off the field," Pickett said. "I'm just happy to see my brother eat."
Another former teammate of White's, former Mt. SAC quarterback Dylan Flenniken, echoed those sentiments. "It made me so happy seeing Rachaad play so well in his first game at the next level. No one is more deserving," Flenniken said. "He's a great teammate and a hard worker and I can't wait to see him keep it up."
"Watching your teammate go from JUCO to D1 and seeing him play so well is a unique feeling and I'm so proud of him," he added.
A loss from USC would have gotten them off to an inauspicious start to a shortened 2020 season and would have hurt their chances of making a College Football Playoff appearance. The win helped the often criticized USC head coach, Clay Helton, stay off the hot seat. Coach Edwards will look to rebound in their home opener next week against the University of California. USC will travel to Tucson to face Arizona to try to keep the momentum going on the shortened PAC-12 season.
Leave a Comment
About the Contributors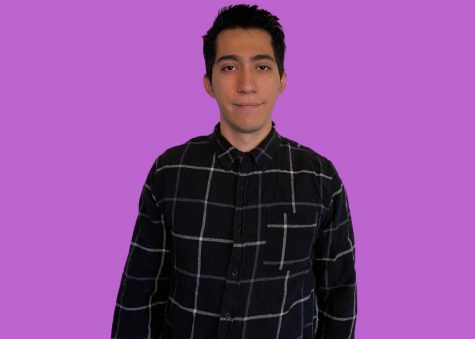 Eric Tadeo, SACDawgs Editor
Eric Tadeo is editor of SACDawgs, a sports series highlighting the Mt. SAC athletes on SAC.Media. He is also a sports and news reporter for SAC.Media.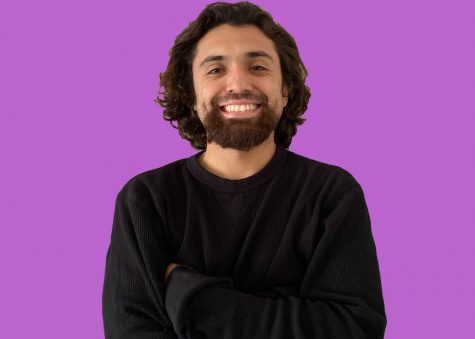 Jesse Espitia, Staff Reporter
Jesse Espitia is the former sports editor of SAC.Media. He has traveled the world to cover soccer or what he calls "futbol." He also covers other sports, politics, local/international news, pop culture and crime.