"Edge of Midnight" is Exactly what the Music Industry was missing
Although Miley Cyrus' collab with Stevie Nicks is nothing like her "Bangerz" album, their song "Edge of Midnight" is a banger nonetheless
Unexpected. Thrilling. Out of the box. These are a few ways to describe Miley Cyrus' mashup remix song with Stevie Nicks, "Edge of Midnight." The song leads in with the distinguishable guitar riff from Nicks' song, "Edge of Seventeen." Here, a nostalgic rock feel kicks in where you can't help but be taken back to the era of sex, drugs and rock 'n' roll. As the song progresses, Cyrus' raspy growl of a voice filled with power enters, which produces her unapologetic sound. Who knew that this mashup remix is exactly what the music industry was missing?
"Edge of Midnight" is composed of rock legend Stevie Nicks' 1981 hit song "Edge of Seventeen" and Miley Cyrus' recent single "Midnight Sky." Although the two songs were recorded in different decades, they come together seamlessly. Nicks' song, "Edge of Seventeen," previously recorded in the '80s, still works well today since it is a timeless classic. Nicks' sound is intense and is intentionally and effortlessly woven into Cyrus' song "Midnight Sky," bringing the two worlds of rock and pop perfectly together. Cyrus' vocal presence is unmatched throughout the song as her tone radiates confidence. Such confidence produces an explosive sound that instantly invades your body. Both Nicks' and Cyrus' voices combine to create an element of drama but still emanate an effortless sound together.
Lyrically, the storytelling between both artists' songs paints a picture of starting anew, doing what you want, and being free. Cyrus' mashup remix song, "Edge of Midnight," will be featured as a bonus track on her album "Plastic Hearts," which drops Nov. 27, 2020, by RCA Records.
Nicks is an unquestionable force that such a collaboration with Cyrus only makes sense. She has always been recognized for her distinct voice, stage persona and her poetic lyrics and such abilities are showcased in "Edge of Midnight." As Nicks is widely known for her work with the band "Fleetwood Mac," her solo artist career is not to be forgotten as she had many hits of her own, "Edge of Seventeen" being one of many. In hers and Cyrus' mashup remix "Edge of Midnight," the two artists have originated an unparalleled sensation.
Cyrus' sound has undoubtedly evolved over the years. From her Disney star image to her pop-country phase, to her "Bangerz" era, she is now less focused on theatrics and more focused on the sound of her music. Cyrus' sound now is not only befitting but is unapologetically her. In her song "Edge of Midnight," we see just that. Cyrus has voiced her idolization of Nicks as an artist, so within the "Edge of Midnight," their two sounds come together to create an unfailing pop-rock sound infused with disco. With her recent endeavors working with Nicks and covering one of the band, "Blondie's" songs, the direction she is now taking is making an homage to great artists and music alike. Such endeavors have allowed her to cultivate and mold her sound, leaving the world to wonder: what's next?
Leave a Comment
About the Contributor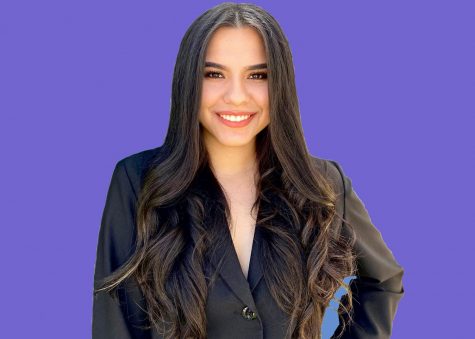 Delilah Perez, Arts & Entertainment Editor
Delilah Perez is the Arts and Entertainment editor at SAC.Media. She is also a part of the editing team of the Latinx platform Somos and is part of the public relations and social media team for the Mt. SAC journalism program and its student publications. Delilah has a passion for writing, and in her free time, she enjoys watching movies, going to concerts, and spending time with her family.