Students' picks: Games to play this Halloween
In case you run out of ideas about what video games to play this Halloween
This year's Halloween is on a Monday but don't let that discourage you from having a good time, even if you have to work the next day. We asked students for their recommendations on what's a good game to play during Halloween and they shared them with us. Keep reading and you might find a trick or a treat.
Music major Manuel Alvarado, 17, who usually enjoys playing real-time strategy and first-person shooter games said that he would recommend people to try out Subnautica.
"It's a game about deep sea adventure and the atmosphere is outstanding," he said. "Since the deeper you go into the ocean, the more the fear of the unknown grows."
The original Subnautica was released in 2014 and its sequel Subnautica: Below Zero was released in 2019, both developed and published by Unknown Worlds Entertainment. It is an open-world survival game set in the ocean. According to Steam, the two games were set two years apart but on the same planet, 4546B.
At first glance, you might think it is the typical gathering material, building and protecting the base survival game, but once you dive deep into the water, you will know there is much more underneath the surface. Within the darkness of the sea, there are mysterious creatures lurking and waiting for their prey.
This is the reason why Alvarado said this game can be a horror game.
So, feel free to give this game a try. Subnautica is a single-player game, although there is a multiplayer mod, it is exclusively for PC players. Subnautica: Below Zero is single-player only.
Both games are available on Nintendo Switch, PlayStation 4, PlayStation 5, Xbox One, Xbox Series X, Xbox Series S, PC and Mac at $29.99. They are currently on sale in the PlayStation Store for $14.99 until Nov. 18.
Quang Phung, 18, majoring in business administration, said that he is into soft horror games.
"Games that are really creepy and dark," he explained.
He said during the pandemic, a game called Carrion came up and that game is a good example of what "soft horror games" are like.
"It calls itself a 'reverse horror game' because you play as the alien meat monster that goes around killing everyone in a facility," Phung said.
But what he recommended to try this Halloween is a game called Project Zomboid.
"Project Zomboid is my favorite by far," he said. "It's the perfect mix of stressful zombie survival and more casual gaming."
Released in 2013, Project Zomboid was published and developed by The Indie Stone. It is an open-world survival with in-depth systems that require strategic planning to prolong the players' lives.
"They have super detailed farming, cooking, crafting, base building, everything," he said. "The nutrition system is massive. Every food item has carbs and fats that you have to manage if you want to fight off illness."
You can choose to play alone, with up to four friends locally or find a server with as many players as the server allows. This game is available on PC, Mac and Linux for $19.99 on GOG.com and Steam. It is currently on sale on Steam for $13.39 but only until Nov. 1.
Let's see how long you can survive.
Twenty-one-year-old animation major, Randall Albino, said that although he usually plays Street Fighter III: 3rd Strike, he had lately gotten into playing two co-op horror games with his friends. Namely, In Silence and Phasmophobia.
Developed and published by Revenhood Games, In Silence is a two to six players co-op horror game that was released in 2021.
"Like Among Us … one player is going to be acting as the monster of the game," he explained.
Albino said that if there are less than four friends around to play games, he would much prefer playing Phasmophobia.
"Phasmophobia is my personal preference," he said. "It's only four players, but I imagine staking out a building for paranormal activity is more fun with friends."
It is all fun and games between hunting the ghost and being hunted by the ghost.
"Actively hunting the ghost to the point my party starts cursing at it," he said is his favorite part of the game.
Kinetic Games released this game in 2020 while still in development, but the game quickly became popular, especially with the new major update on Sept. 27 which added new maps, customizable difficulty options and a new starting lobby.
Both In Silence and Phasmophobia are only available on PC and can be purchased on Steam. Currently, both games are on sale, In Silence is 30% off, priced at $6.99 and Phasmophobia is 20% off, priced at $11.19. These sales end on Nov. 1.
Whether you are eating all the Halloween candies alone or sharing with friends, you can try out one of these games – a good excuse for not answering the doorbell.
Leave a Comment
About the Contributor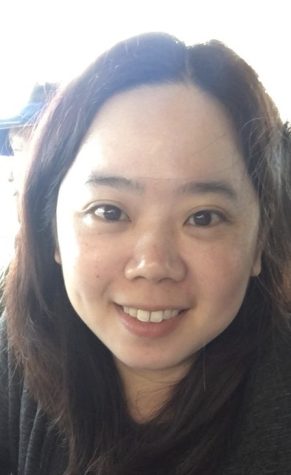 Christie Yeung, Managing Editor
Christie Yeung is Managing Editor and former features and gaming/tech editor of SAC.Media. She falls somewhere between a nerdie or a foodie, or is both. She likes to spend her spare time playing video games, listening to music, and watching funny videos on Youtube. She has a sweet tooth and has no immunity against anything with Nutella on or in it.