The Cheech Marin Center for Chicano Art & Culture creates a permanent home for Chicano art in Riverside
More than just paintings on display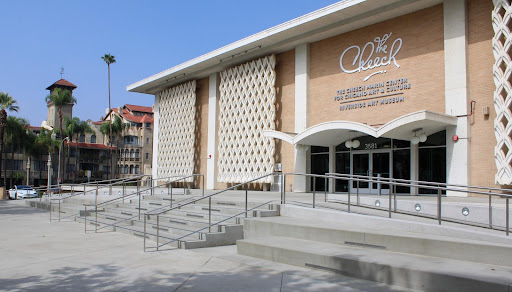 An awe-inspiring, two-story lenticular art piece illuminates the entry of the Cheech Marin Center for Chicano Art & Culture, which opened this summer in downtown Riverside. It will be one of the nation's only museums that is solely focused on representing Chicano artwork.
The Cheech is the newest addition to the Riverside Art Museum and puts a spotlight on the culture and Chicano artists represented in this one-of-a-kind private art collection from actor and comedian Cheech Marin. The museum currently features two inaugural art exhibitions Cheech Collects and Collidoscope.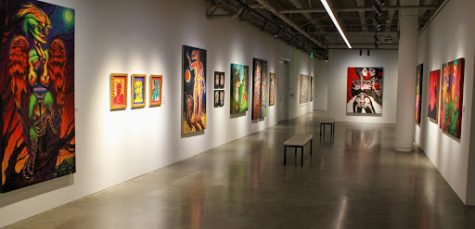 Cheech Collects is the first installment of what will be a permanent exhibition of Cheech Marin's private collection. The exhibit is on display until the museum's anniversary, June 18, 2023. This artwork tells the story of Chicano culture and history while highlighting the determination of a collector who set out to prove that Chicano artwork really does hold a significant place in art history. The inaugural exhibit features over 120 works from the private collection that includes more than 40 different artists.
Collidoscope is a limited time exhibit featuring a wide variety of artwork from the De la Torre brothers, Einar and Jamex, who were born in Guadalajara, Mexico. They spent most of their early lives going back and forth between the United States-Mexico border. The De la Torre brothers use the mastery of glassblowing, sculptures and multimedia in their artwork to take the viewer to another world in this exhibit which represents almost three decades of their work. In collaboration with the Smithsonian National Museum of the American Latino, this temporary exhibit will be on display until Jan. 22, 2023.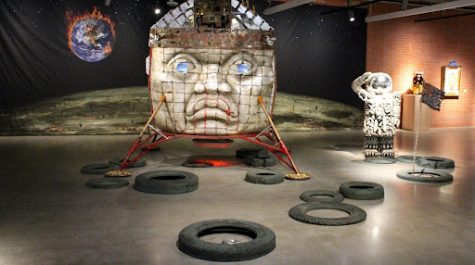 The stunning two-story entryway piece is a lenticular art piece entitled "Gaiatlicue" by the De la Torre Brothers and commissioned by the Riverside Art Museum. This towering and breathtaking artwork represents the brothers' depiction of a Nahu deity and combines the aspects of both nature and culture, as limbs of this deity are made from images of lowrider cars. Within the background, visitors can see a map covered in native flowers that stretches from Los Angeles to Riverside.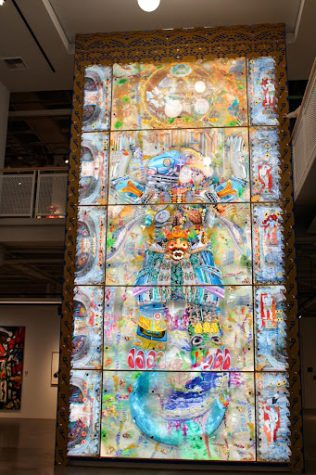 Marin – an actor, comedian and the museum's namesake – spent the past 40 years of his life collecting this art that is now being permanently featured. Due to the dedication of Marin and the artists involved, he is now able to showcase much of his private collection that includes the lesser known artworks onto the main stage.
Marin's lifelong mission to gain notoriety for Chicano art is best represented in the 2005 documentary "La Coleccion Chicana" when gallery owner Daniel Saxon said, "Museums prior to Cheech's involvement had never paid much attention to art by Chicanos."
Acceptance of Chicano art in a museum setting is still important because this artwork is a direct representation of Chicano culture and history being presented in a mainstream format.
Chicano representation is vital. As featured artist Carmen Lomas Garza said, "Other people who are not familiar with the Mexican American culture can see familiarity … and if they see that familiarity than there is less of a chance of misunderstanding, less of a chance of discrimination and racism."
Marin's dedication to putting Chicano art on the mainstage developed into this opportunity with the city of Riverside over 10 years later, after the initial documentary that first highlighted his involvement in this project and showcased each individual artist.
According to a YouTube interview with Maria Esther Fernandez, artistic director of the Cheech, the idea of this museum was actually born from a traveling exhibition in 2017 of Marin's art collection called "Papel Chicano Dos."
After a great turnout, the city came together with an idea of creating a permanent collection exhibition. Five years later, this unique museum is open to the public to visit.
The Cheech is open Wednesday through Sunday from 10 a.m. to 4 p.m. and is located on the corner of Orange Street and Mission Inn Avenue in the heart of downtown Riverside.
Admission passes can be purchased ahead of time on the museum's website. A standard adult admission is $15.95 but college students can receive a discounted entry at $10.95.
Leave a Comment