Celebrating Black joy at Mt. SAC
A look into the Black Thursday event
At Mt. SAC, Black students can find their joy being celebrated every week in the form of a mini block party on campus in front of Building 6.
The celebration, known as "Black Thursday," is an event that is meant to show appreciation for Black culture and it is hosted by the Umoja Aspire program.
Umoja Aspire is the Mt. SAC program that was made to provide support and services to improve the academic success, retention and transfer rates of Black students at the college.
The program came as a result of the problematic racial gaps in education that only worsened as the level of academia increased.
Such prominent problems generally express that Black students do not get equal representation across the varying types of educational institutes.
At Mt. SAC, the demographics show that only about 3.38% of the student body are Black students. This is accompanied with an overall national trend of a decline in enrollment among Black community college students, a downturn worsened by the COVID-19 pandemic which has disproportionately affected the retention and education of students who were Blacks and Latinos.
With such lack of representation, it can be easy for Black students at Mt. SAC to feel lost, which is one of the main reasons why Umoja Aspire hosts the Black Thursday event.
Mercedes Cunningham, the coordinator at Mt. SAC's Center for Black Culture & Student Success, spoke about what Black Thursday is and its importance.
They said that Black Thursdays is an event that began a year ago with the opening of the Center for Black Culture & Student Success, which occurred last September.
The idea for Black Thursdays was actually adopted from other schools in the state.
"I transferred to UC Berkeley and our director, Clarence Banks, went to UCLA. Both schools have a thing called Black Wednesdays. Berkeley's has been around for about 20 years or so," they said.
Cunningham shared their own experience with feeling underrepresented as a Black college student.
"As a student at UC Berkeley, I found myself spending most of my day without seeing other Black folks and similar to Mt. SAC it's a large campus. I would be in a lecture hall with like 400 people, and I might have two other Black folks in that entire auditorium," they said.
"It felt quite isolating. It wasn't like a culture shock per se because I went to Mt. SAC and I experienced a similar thing. So when I was a student here in a much smaller classroom, I was often the only Black person in class, and that came with various things. I knew that I'd always plan to return to Mt. SAC back on a staff level to kind of pay it forward and to add kind of new experiences, new resources and things like that to the next generation of Black students here."
As a Black student in higher education, Cunningham said that they knew what it felt like to feel tokenized and unseen at their college. This pushed their motivation behind Mt. SAC's Black Thursdays.
They said having Black Thursdays is important because it shows there is a Black presence at Mt. SAC, that is higher than what is perceived. Such an event like Black Thursday provides visibility.
"Having that exposure with this block party every week allows folks to see themselves reflected in their peers. They get to engage with the culture out loud in front of everybody. It's kind of a celebratory, gleeful, joyful space for two hours a week and it's been really great to see it blossom," Cunningham said.
Despite the event still being in its infancy, it has seen a greater turnout and engagement as of lately and more Black students have been coming to campus.
When talking about Black Thursday, Cunningham wanted to emphasize and define the event's mission statement of "Black joy."
They said: "Black joy for me is kind of a radical concept. It is to allow oneself to feel and appreciate the good moments around you, to appreciate the good things, to experience this happiness one has in spite of obstacles. I'm conscious that I exist in a space, in a country filled with microaggressions, macroaggressions, just general anti-Blackness, right? And so to exude Black joy and to welcome it and to celebrate it is kind of a radical concept to me."
"We always want to be in the center generally, but especially at Black Thursdays, we are trying to create a space where we are kind of cultivating that joy and creating a space where students are kind of allowed to revel in it, and so we want to provide a space where folks can be unapologetically happy to be here," they continued.
They credit their time at Mt. SAC as a moment in which they experienced Black joy and going forward she wanted to provide that joy to other students here.
"I don't think that finding that joy inside of oneself is super intuitive for everybody, and it wasn't for me and so being intentional about the space we create here, being intentional about the look and feel of the center, being intentional about my interactions with students and the music we play and the snacks we provide, like, all these things are important for me to try to help students find that joy within themselves and share it freely with others," they said.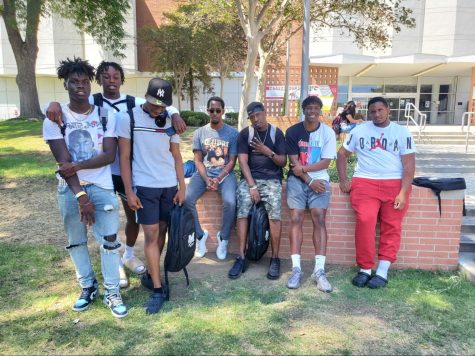 In addition to celebrating Black joy, Black Thursdays also serve the purpose of gathering attention toward Umoja Aspire and the Center For Black Culture & Student Success while providing more outreach to students.
"The other thing, I think, is like the socio aspect of existing in a space where there's such a small percentage of Black folks, it is important for each of us to know that we all exist here and so we have staff and faculty who stopped by, hang out. We have a bunch of students who, like I said, have seen the [Black Thursday] signs and stuff and for various reasons hadn't come by and so even if you don't have time to participate because you have to rush a class or what have you, just that familiarity of some dance moves or the music or just seeing students tossing a football around like that lifts the spirit," they said.
The event is to create a sense of community for Black students at Mt. SAC and Cunningham hopes students feel as if they have a sense of ownership of the space to feel like they are supported at the school.
Despite the event being primarily Black centered, Cunningham wanted to let it be known that non-Black students may also participate.
"Black Thursdays is for everybody. I think our goal of our programming doesn't change. It's still intentionally kind of like making Black culture accessible to the student population that remains intact, but we welcome other people to participate," they said.
While pleased with the current turnout now, they also hope that the Black Thursdays event will expand to the point where Black student organizations and clubs will host the event and other entities on campus will promote and support Black Thursdays as well.
Students interested in partaking in the event can expect music, snacks and various games and activities, but most importantly learning the kinship and representation of Black culture.
You can sign up for Black Thursdays here and if you are interested in being a part of the Umoja Aspire program, apply here.
Leave a Comment
About the Contributor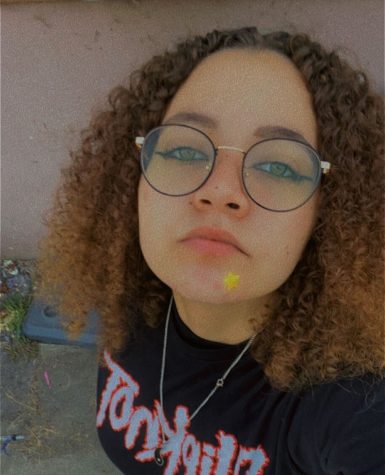 Delila Grubaugh, Features Editor
Delila Grubaugh is SACMedia's Features Editor. She is a first generation college student majoring in journalism and social justice. She dreams of being able to write a book one day and successfully make at least one short film in her lifetime. As a current peer navigator for the EOPS/CARE program she finds it to be incredibly important to work to help others, and she loves journalism as it can at times be democracy and social justice at its finest. She believes that if we are granted the right to freedom of press and freedom of speech we should be able to utilize it to benefit the people. She loves tea, Halloween, sunflowers, rock music and poetry. She is a California girl at heart and supports almost any Los Angeles team there is. A lover of journalism and advocacy, naturally someone she looks up to is Kara Danvers-aka Supergirl. She hopes to be as strong as her one day.