Preview: Mt. SAC's GameFest to showcase animation and gaming projects
Students will get to reveal their latest creations and hard work
Mt. SAC's Animation and Gaming program will come together on Tuesday, Nov. 29, in Building 13 from 10 a.m. to 3 p.m. for GameFest, an annual campus event that showcases the programs and puts a spotlight on students' work from this semester. Admission is free.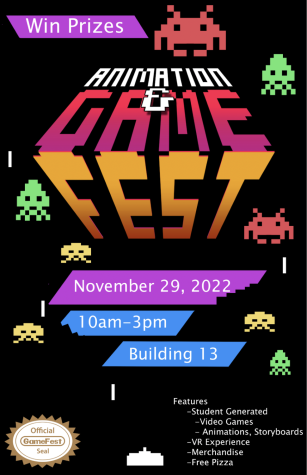 This event is going to give students the opportunity to see the creative works that have been developed by their peers throughout this semester in the Animation and Gaming program. GameFest will specifically feature student generated animations, storyboards and unique gaming experiences developed at Mt. SAC.
Besides checking out all the latest creations from their fellow Mounties, attendees will have a plethora of options to keep themselves entertained at the event through prize raffles, free pizza and various merchandise for sale.
When referring to one thing students should try not to miss at GameFest, animation and gaming Professor Sunil Thankamushy said, "The VR (virtual reality) experiences that the introduction to virtual reality class (ANIM 122) have put out. … They have done a fantastic job and these are students who are completely new to VR or even gaming."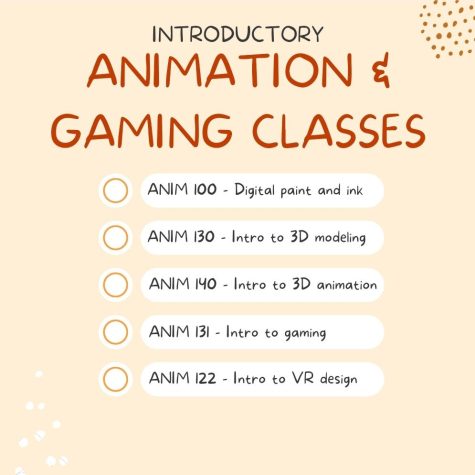 Thankamushy emphasized the inclusivity of the program for new students by explaining how any student is eligible to join introductory classes such as ANIM 122 and eventually create their own unique virtual reality experience.
In fact, Thankamushy compiled a short list of introductory classes and explained how these courses can be beneficial to any student who is showing interest in the animation and gaming fields.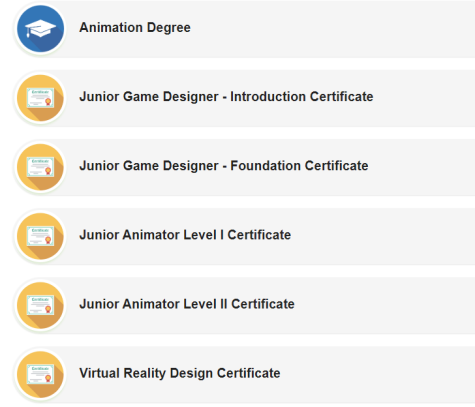 The introductory classes that are offered have no prerequisites and will be the best way to gauge if an interested student wishes to pursue this field further.
Thankamushy said, "This is the best way you can get introduced to these exciting and cutting edge fields that are a part of the gaming, animation, visual effects and VR industries."
Students who wish to continue past introductory courses can either work toward an associate degree in animation or choose from multiple gaming-oriented certificates while simultaneously gaining entry-level experience in the field.
This event is not focused on any type of recruitment for program but instead focuses on putting the students' hard work on display for their peers to experience and enjoy.
Thankamushy said, "It is for the students to have fun exhibiting what they created over the year."
The professor explained further that on top of being just a fun experience this type of event is also a relatively common practice that students should expect going into the field.
"The animation and gaming industries are all about exhibiting your work to the public," he said. "Within your interaction with the public you will learn alot more about yourself and the product you made, to then develop further as an animator or game designer."
A sneak peak of featured content courtesy of Thankamushy is a clip from a virtual reality experience created by student designer Derek Ho. This experience takes the audience to a strange world that revolves around a floating castle where the mystery of the situation fuels the curiosity of the audience.
Clip: "Floating Castle" designed by Derek Ho.
Any student who is unable to attend can learn about each program and required classes further by visiting the Mt. SAC animation and gaming website.
Leave a Comment