Feria del Caballo Espanol returns to Los Angeles County
A rich-tradition of dancing horse shows on full display in City of Industry
Despite heavy rain, over 200 show horses and riders took part in Feria del Caballo Espanol, the Spanish tradition of dancing horses, on Feb. 25 in City of Industry.
"This is a horse event. … a dancing competition," Carlos Jimenez, the vice president of the show organizer said. "We have riders coming from Arizona, California, Oregon, Washington, some various states and Nevada as well."
This traditional form of horse dancing originated in Spain with Latin roots going as far back as 500 years. With these historic roots embedded in the culture, this tradition remains popular in Mexico and the United States to this day.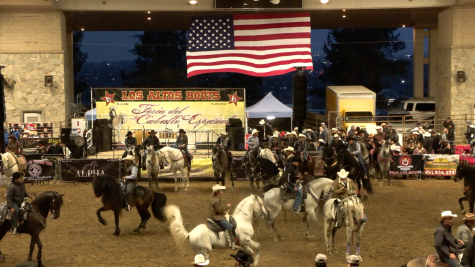 The show ran from 5 to 10 p.m. at the Industry Hills Expo Center. Although there was heavy rain, hundreds were in attendance to enjoy the show.
For Gallo Rodriguez, a professional rider, this has been a lifelong pursuit.
"I was in diapers and my grandpa had me on his horse," Rodriguez said, as he described training horses to dance. "It's never easy, nothing is easy."
Rodriguez teaches horses how to sit down, lay down and eventually dance.
"The biggest challenge is just time," he said. "Usually, it takes two years minimum to train a horse."
Jose Espinoza, a ranch holder, explained the importance of training to connect with the horses and ensure they know the meaning of commands.
"We train them by positive reinforcement," Espinoza said. "So whenever he does something that is leading in the direction that I want, I'll give him a treat for our pattern. And then when he does what I want, I reinforce it again and again and again."
For these riders, horses are not only their partner on stage, but also close friends in their life.
"You should have patience and a lot of love for the animal," Rodriguez added. "You can't abuse it, you have to be nice to it."
Rodriguez said the horses are truly smart and will reward trainers who are friendly to the animal. But they are also high maintenance. The horses take a lot to stay manicured.
"He has knee braces, but I didn't put them on today," Espinoza said. "He gets shoed every six, seven weeks. He gets a manicure every seven weeks. We do special shampoo for his hair with a lot of vitamins. He eats better than I do."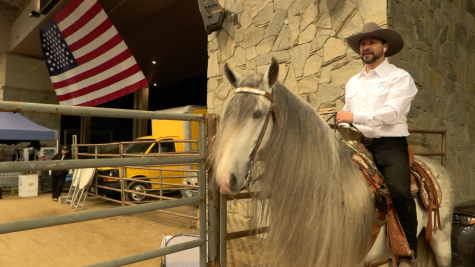 Some of the guests were wearing traditional cowboy hats, partaking in Mexican food and applauding for the dancing horse performance.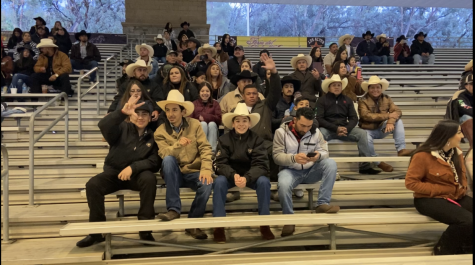 Jessica Urive, an immigrant from Mexico, was dancing with her daughter with the music. She said that this was not the first time she came to the show.
Urive said, "We love music. We love to dance and we like to eat. It's amazing! There are a lot of nice cultures and traditions from my ancestors, and then I get to pass it down to my daughter."
Another attendee, David Delgado referred to how the performance is representative of Mexican culture.
"We come from Mexico, and then we come over here and we do the same thing," Delgado said. "It makes us very happy."
The show is held five times a year at the Industry Hills Expo Center. General Admission tickets are $50 and VIP tickets and horse riders are $75. Children under 13 years of age will receive free entry to this family-friendly event.
The next upcoming event for Feria del Caballo Espanol will be from May 6 to 8. All tickets can be purchased in advance or on the day of show. Check event website for updated information.
View Comments (1)