The Taste of Walnut leaves you wanting more
Walnut Valley Unified School District's event becomes an attraction
The first-ever Taste of Walnut was held at Suzanne Park in Walnut, California, on Saturday, March 25, between 4 p.m. to 8 p.m. The event attracted a lot of attention, with lines already started forming at least 30 minutes before the official start time and cars filling the school's parking lot next to the park and street parking in the surrounding area.
Once attendees were given wristbands at the entrance, they would be able to try all the food and drinks at the event. For those that wanted alcoholic beverages, a different wristband stating "21-year-old and over" were given with proof of the driver's license. There were more than 30 vendors, from chain businesses to small local restaurants and from food to drinks, there was almost something for everyone there.
Sheree Culross, who attended Taste of Walnut with her friend, Renee Bubetz, said that she found out about this event through Facebook. She didn't buy her ticket during the pre-sale but felt fortunate to be able to purchase it at the entrance.
"[Tickets] sell out easily, we didn't know that," Culross said. "I think that needs to be said. Get your tickets, because it will sell out."
Praising the idea of the event, she was glad that she was able to get in and tried about 20 different items.
"I thought it was really good, I'm stuffed to the brim trying all the amazing different foods and I think it was really great," she said. "I think that's the best way to get people to come to your businesses. Let them know what you have to offer."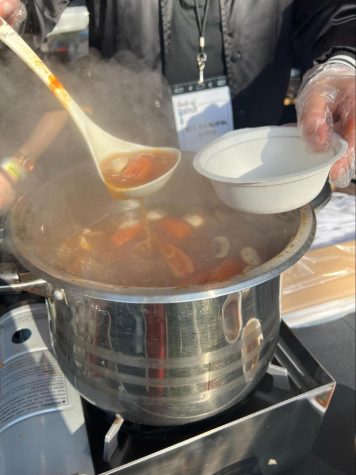 Bubetz, who attended this event with Culross, said that she enjoyed the event. Her favorite food was the Tom Yum chicken soup from Bangkok BBQ.
"I like how it's very community. … It's small," she said. "You don't need too many people."
They were not the only ones that agree events like this should happen more often.
Liz Berghaus and David Maillet attended the event after Berghaus found out about it from her father. Maillet said that it is something that should happen twice a year.
"The drink area was nice, the setup. Live music was nice," he said.
Berghaus said that she has eaten at some of the places that were at the event but some she never knew existed.
"I knew that I probably tried a few that I probably wouldn't have tried other than coming to an event like this," she said.
Adriana Oropeza said she found out about this event because her husband works for a Walnut school district.
"It was very nice, a lot of different variety of foods," Oropeza said.
The event gave an opportunity for local small businesses to be discovered. In addition, the proceeds will go towards helping students, classrooms and schools. Attendees agreed it was a win-win for everyone.
"I think it's worth it because it's also for the kids," Culross said. "They said all the money is going towards scholarships and things to help kids."
Most feedback was positive, but there were some suggestions for future events.
"Different ethnicities of food, like maybe some Indian food, my all-time favorite place is in La Puente called Deli Palace," Culross said. "There's a really good Thai [restaurant] in Walnut called Cozy Thai. There's no Filipino food."
"A little bit more diversity," Bubetz added as something to improve upon.
Despite having more than 30 food and drink options, it was still hard to accommodate everyone. There was only one booth that had organic vegetarian options.
"My son-in-law is vegetarian, so I'd like to see some more vegetarian options," Oropeza said.
Ultimately, the event was successful and was accompanied by nice weather and a positive atmosphere.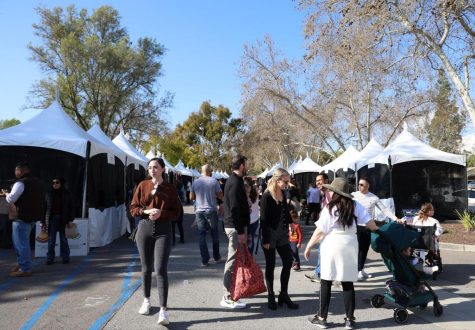 "We can't thank our amazing community, local businesses, and volunteers enough for supporting the success of our first annual Walnut Valley Educational Foundation presents Taste Of Walnut Fundraiser!" wrote Walnut Mayor Pro Tem Stan Liu on Facebook. He also serves as a board member of the Walnut Valley Educational Foundation, which sponsored the event.
"Your generosity is making a difference in the lives of students by providing them with extraordinary learning experiences that will help prepare them for success in the 21st century," the post continued. "Thank you for helping to make this event an unforgettable one – it was so amazing to see everyone having such a great time!"
Leave a Comment
About the Contributor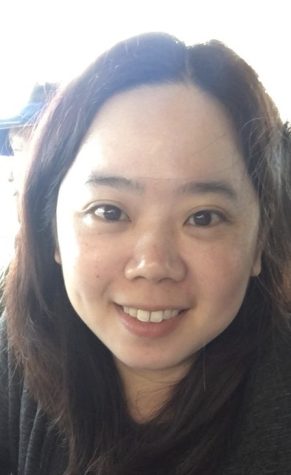 Christie Yeung, Managing Editor
Christie Yeung is Managing Editor and former features and gaming/tech editor of SAC.Media. She falls somewhere between a nerdie or a foodie, or is both. She likes to spend her spare time playing video games, listening to music, and watching funny videos on Youtube. She has a sweet tooth and has no immunity against anything with Nutella on or in it.