'The Boba Show' presents the confection's history from root to table
The Chinese American Museum pays respect to the culture surrounding boba
On Feb. 10, the Chinese American Museum in downtown Los Angeles opened their newest exhibit, "The Boba Show: History, Diaspora, & a Third Space." This installation explores the historic transformation from the cassava root to the beloved confection created in Taiwan before it returned to the Americas and exploded into mainstream culture.
Chinese American communities in LAs grew exponentially after the Immigration and Nationality Act of 1965. New arrivals to LA in the late '70s settled in suburban cities outside of Chinatown. The Chinese American population grew, eventually expanding into other parts of the San Gabriel Valley and to other cities throughout Southern California. When boba shops arrived in the U.S. during the late '90s, it was not surprising that the San Gabriel Valley became the epicenter of this new trend.
Michael Truong, executive director of the Chinese American Museum, echoed the importance of boba.
"This exhibit celebrates boba as a symbolic anchor for our community," Truong said. "Getting boba provides a reason to gather with friends and family, connecting the diaspora with spaces of belonging. Boba is why and shops are where Asian Americans, Pacific Islanders and BIPOC communities have carved out spaces uniquely their own."
In the '60s and '70s, encouraged by immigration laws, Taiwanese students and professionals began to migrate to the U.S. Many settled in the San Gabriel Valley where existing communities of Chinese Americans resided. As the diaspora grew, so too did the cities and suburbs where the Taiwanese settled.
The services, goods and community they left behind in Taiwan were transplanted to the U.S.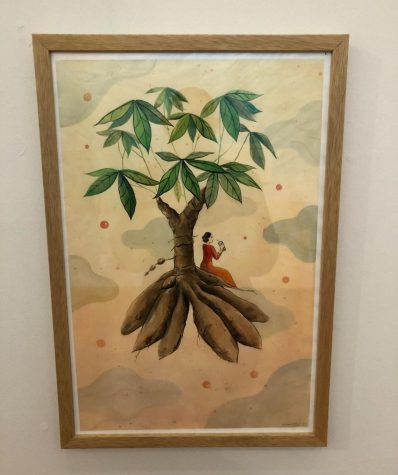 Unlike earlier Asian immigrants, Taiwanese migration was a transnational process back and forth across the Pacific Ocean. While Taiwanese in America settled into California communities, innovations happening in Taiwanese tea houses also landed on the shores of the West Coast. By the '80s and '90s, boba milk tea shops grew to satisfy those cravings for a taste of home.
Cassava, a root crop native to the soils of the Americas, was introduced to Africa in the middle of the 1500s by Portuguese traders and colonists. It made its way to Asia by the late 1700s and early 1800s during the centuries marked by colonization and slavery. Everywhere cassava has traveled, it has been indigenized. When it arrived in Southeast Asia, the pulp of the cassava root was turned into tapioca starch.
In Taiwan, tapioca starch was processed into tiny pearls, known as boba, adding bursts of sweetness and texture to milk teas and returned to America, not as an essential food product, but as a symbol of the community which it hoped to represent.
Highlights of the exhibit showcases artists from Southern California and the artwork they created, in correlation with their personal affection for boba. Visitors are also able to read where each artist pulled their inspiration, whether it be from childhood memories or family experiences. Vivian Shih and Ellie Chen are two of the featured artists, contributing intimate and insightful pieces of art which delve deeper into their heart and mind.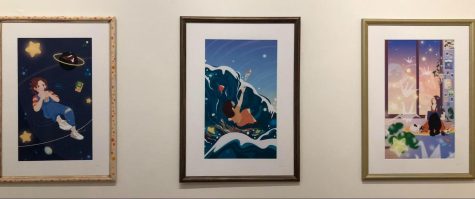 Shih, a Taiwanese American illustrator and tattoo artist who was raised in California, shared her memories of the impact boba milk tea had on her childhood.
"Growing up in Ventura County, California, my family took monthly trips into the San Gabriel Valley to visit 99 Ranch Market and during each visit, my parents treated my sister and I to our favorite drink – the classic boba milk tea," Shih said. "To me, boba symbolizes nostalgia, home, family and my culture. Boba reminds me of my Taiwanese roots and how every Asian American's history is unique, special, traveled and complex."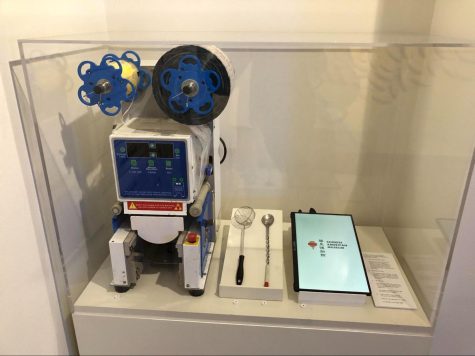 Chen, a graphic designer who currently resides in Orange County, California, is constantly reminded about how boba helped her through school.
"I remember late nights, studying and completing art projects while frequently visiting boba shops around my university," Chen said. "Between going to school full-time and working full-time, life was sometimes overwhelming. At least I had boba."
This boba exhibit will be on display until Jan. 7, 2024, at the Chinese American Museum in LA. Their operating hours are Friday, Saturday and Sunday from 10 a.m. to 3 p.m. Call (213) 485-8567 or visit their website for more information.
Leave a Comment