5 of the greatest indie video games you should play
AAA games are boring and mainstream, indie games are where it's at
When it comes to buying products, labels can be pretty important to some consumers, notably in the video game industry. People can easily be drawn to the high-profile and high-budget games because of their blockbusting popularity, but indie games are arguably just as good if not better.
Here are five of the best games that indie developers have shown the world.
Limbo
This 2007 game follows the story of an unnamed boy on an expedition to find and save his sister from the edge of hell, hence, the name of the game referring to the Catholic theological belief of limbo being a border between heaven and hell.
The game was developed by independent studio Playdead and was later published by Microsoft Game Studios. This puzzle-platformer forces players to think critically and methodically to advance to new and exciting levels in the game. Popular rating website Metacritic, composed of the weighted average of reviews from top critics, rates Limbo at 88 out of 100, indicating generally high and favorable reviews. Those interested in Limbo can purchase the game from multiple different retailers and platforms including Steam, Nintendo Switch and Google Play.
Sally Face
Solving a string of murders, fighting against a cult, traveling through dimensions, punk music with guitar solos and unknowingly eating human meat in your school bologna sandwiches. If any or all of this seems to spark your interest, look no further than Portable Moose's game Sally Face.
This game was made by one man alone – Steven Gabry, a musician from Pittsburgh, Pennsylvania. Gabry is responsible for every aspect of the game. The unsettling adventure game tells the story of a young disabled man named Sal Fisher who wears an eerie prosthetic mask. After moving to a new apartment to escape the sorrow of his mother's death, Fisher witnesses a string of odd murders occur in the complex.
Naturally, he becomes curious as to what is happening around him and soon forms an alliance with other teens and even ghosts of the murdered to solve the mysteries. Playing as Sal, your objective in the game is to solve puzzles and uncover clues that will point you in the right direction to figure out who is responsible for all the murders and how they're tied to the occult.
While there wasn't a professional critic review provided, the episodic horror game is ranked 8.2 out of 10 on Metacritic according to the general public that have played the game. Platforms to purchase Sally Face on include Steam, Xbox, PlayStation and Nintendo Switch.
Stardew Valley
Similar to Sally Face, another game that is incredibly impressive due to the fact that it was developed and created by a singular person is the game Stardew Valley. Eric Barone worked tirelessly for four and a half years before the game's release in 2016. Inspired by the Japanese Harvest Moon games series, Barone made Stardew Valley, a role-playing game in which you are responsible for taking care of a farm that you inherited from your deceased grandfather.
Cute retro art styles, wholesome storyline and animations as well as the game's ability to be infinitely playable are only some of the charms of Stardew Valley. With the addition of a multiplayer option in 2018, players can now collaborate with 1-4 others in the same world in order to complete tasks around their farms. Metacritic gave the game a critical rating of 87 out of 100. This game is now accessible on a plethora of platforms including Steam, PlayStation, Nintendo Switch, the Apple store and Google Play.
Cuphead
Cuphead, released in 2017, is a run-and-gun action video game that takes inspiration from cartoons in the '30s. After striking up a deal with the devil himself, you play as title character Cuphead and his brother Mugman to find a way to pay off your debts..
The game puts much importance on boss fights and as the player, you must learn to acquire more strength, skill and abilities in order to defeat the devil when the time comes. This game offers both a single-player mode and a two-player mode, so you can easily play with your friends to progress through the game.
Upon its release, the game sold over 5 million copies in just two years and its success is reflected in its Metacritic score of 89 out of 100. Nintendo Switch, Xbox, PlayStation and Steam are all places you can purchase this game.
Five Nights at Freddy's
Another indie success story is the Five Nights at Freddy's franchise. The inspiration behind the game is rumored to be numerous things including theories that the story came about from negative reviews of a previous game the developer released and a Chuck E. Cheese shooting. Initially, it was released as a PC game in 2014 but as it started gaining popularity the game was made available on Xbox One, iOS, Google Play, Nintendo Switch and PlayStation.
The game became so popular that the game's creator Scott Cawthon was able to launch an entire series over the course of seven years. The story changes a bit from game to game, but we'll focus on the one that started it all – Five Nights at Freddy's from 2014.
In this game, you work as a tired security guard in a prominent and creepy pizza parlor. You are tasked with keeping an eye on various animatronic characters. This doesn't seem too hard until you learn that the animatronics are murderous and move whenever you aren't looking so that they can find you and inevitably kill you.
The jumpscares and tension in the atmosphere as well as the completely complicated and tragic backstory lead to a thrilling game that creates an unforgettable experience which is a feat that is hard to accomplish by a lot of other games out there.
The Metacritic score for Five Nights at Freddy's is 78 out of 100.
Indie games are making a large impact in the gaming industry today and the thrill of these five different games attests to that. Next time you pick up a new game don't be scared to stray away from the mainstream. Take a chance and go on an adventure with a lesser-known indie developer.
Leave a Comment
About the Contributor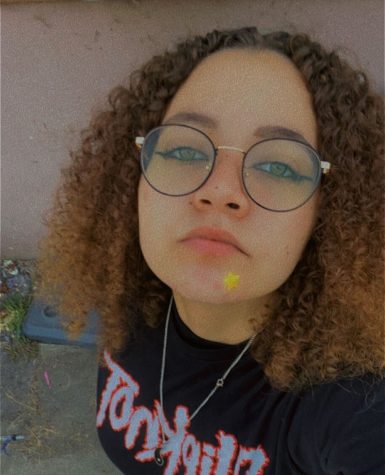 Delila Grubaugh, Features Editor
Delila Grubaugh is SACMedia's Features Editor. She is a first generation college student majoring in journalism and social justice. She dreams of being able to write a book one day and successfully make at least one short film in her lifetime. As a current peer navigator for the EOPS/CARE program she finds it to be incredibly important to work to help others, and she loves journalism as it can at times be democracy and social justice at its finest. She believes that if we are granted the right to freedom of press and freedom of speech we should be able to utilize it to benefit the people. She loves tea, Halloween, sunflowers, rock music and poetry. She is a California girl at heart and supports almost any Los Angeles team there is. A lover of journalism and advocacy, naturally someone she looks up to is Kara Danvers-aka Supergirl. She hopes to be as strong as her one day.