The latest WWE match: 2K23 vs. 2K22
WWE 2K23 is a massive step up compared to previous releases
WWE 2K23 was fully released on March 17 after much anticipation. Compared to last year's release, there have been numerous improvements in graphics, customizable superstars, game modes and playable matches.
WWE 2K23 is currently available on PlayStation, Xbox and Steam. The game offers different playable characters of both current and past WWE Superstars, with John Cena being this year's cover star. WWE 2K23 specifically offers a game mode called Showcase that is based around Cena's career, headlining moments as a professional wrestler for the WWE.
This game is a collaboration between one of the biggest professional wrestling promotions in the world and the California-based gaming company 2K, offering many improvements that are a big step up compared to WWE 2K22.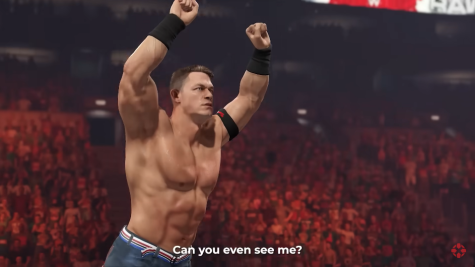 Graphics and new features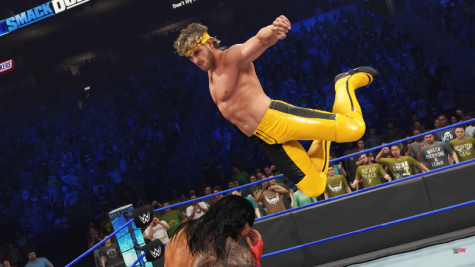 Kicking off of the various improvements to the new game is the graphics. The visual aspect has been the focus of this game franchise, it is even advertised on the game's website, which states, "Gorgeous graphics and a deeper roster make WWE 2k23 even stronger."
WWE's 2K franchise has promised and delivered some stunning graphics over the past few years, and this year, they did it again because these graphics are indeed something special. Compared to last year's game, these graphics look much smoother and more advanced.
The franchise has not only stepped up on its graphics but has also improved greatly with different advertised game features such as MyRise, MyGM, Showcase Mode, WarGames, MyFaction and more.
MyRise is a popular feature among some of the most recent additions to the WWE 2K franchise which allows players to customize their superstar. After customization, players go through the journey of becoming a rising star in the WWE, starting from NXT, you can make your own path as a star till you eventually climb the ranks reaching Raw or Smackdown.
MyGM is an additional feature in the game that allows you to call the shots of Monday Night Raw or Friday Night Smackdown. While running the show you can draft superstars, choose general managers and even book matches or strategize potential rivalries.
New and improved game modes
A new feature called Showcase Mode allows you to go through the career highlights of Cena as some of his greatest rivals. Xbox describes showcase mode on the games page of WWE 2K23's catalog by stating, "Play through the key moments and toughest opponents of John Cena's 20-year WWE career. And in a franchise-first, take on the role of each marquee opponent – some of WWE's greatest of all time – as you aim to take down Mr. Hustle, Loyalty, and Respect."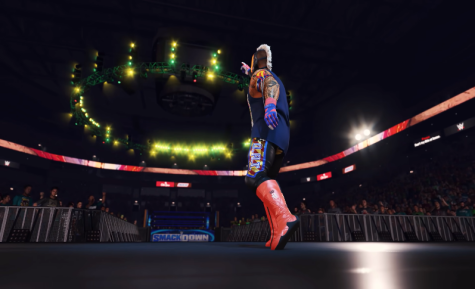 Beloved WWE legend Rey Mysterio was last year's headlining cover star on WWE 2K22. In the previous edition of Showcase, Mysterio had a similar concept. However, instead of being able to play as his rivals, fans had the ability to step into the ring as one of the greatest wrestlers in the WWE and experience some of his greatest career highlights.
WarGames, which was introduced initially on NXT, is one of the newest features of the WWE 2K franchise's latest release. WarGames. It was not released in WWE 2K22 or previous editions, but this is a special type of match in the WWE Universe that has become extremely beloved by fans since its introduction to NXT back in 2017.
Xbox describes WarGames in their description for WWE 2K23 by stating, " IT'S WARGAMES, The fan-favorite action packed Wargames makes its debut in WWE 2K23and delivers heart-pounding 3v3 and 4v4 multiplayer mayhem inside two side by side rings, surrounded by a double steel cage!"
Based on some of the descriptions of this game mode, it is clear that developers have done a great job, and this new addition has brought a lot of attention to the WWE 2K Franchise over the years.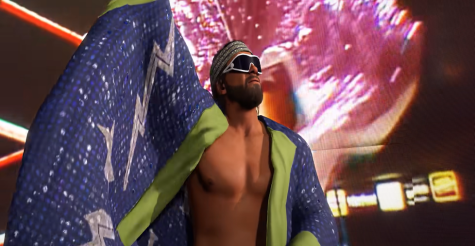 Reviews
Many have given their honest opinion on the new game like Reddit user Curse3242 who wrote: "2K22 wasn't super buggy. But yeah, it was a bit of a problem. 2K23 is just an extremely polished version of 2K22, and that's a good thing this time around. The game looks so much better in gameplay even though screenshot comparisons might look the same."
Another Reddit user, TheRetroAntonio, wrote: "Hyped for this one. My kids finally got into wrestling so this will be their first wrestling game they play." Based on WWE's audience range this video game is really good at attracting previous and new players of games to the WWE universe.
With fans sharing their own thoughts on the newest release, critics are also chiming in with their own reviews of the game. Game critic Ben Potter gave a rating of 8 out of 10 in his review, saying, "After a tumultuous few years of WWE releases, 2K and visual concepts have finally been able to begin building on the solid foundations of last year's game. … The future is once again bright for WWE and 2K, and so WWE 2K23 should be celebrated by fans as though they've just won their first world championship."
WWE 2K23 has a lot to offer this year and is an overall improvement from previous years. The goal has been to improve on different areas of previous games and give wrestling fans a game to enjoy and it seems they have reached it again.
WWE 2K23 has stepped up compared to WWE 2K22 and with WWE 2K23 being fairly new at this point we will have to see what new updates are released over the next few weeks.
From graphics to advertisements and even different offered game features, WWE 2K23 is a vastly improved game that delivers a much smoother and visually appealing experience that is definitely worth checking out.
Leave a Comment