Safety On Campus Remains A Concern
Coronavirus is not the only concern surrounding students on campus
After adjusting to the new format for classes, individuals still remained concerned regarding safety on campus.
The pandemic has brought a new sense of fear and worry as the emergence of variants continues to grapple the world. While many continued to focus on the pandemic, another safety factor was being ignored. It happened again recently with the most unfortunate shooting being reported at Oxford High School in Michigan, which left four students dead, eight injured and the shooter being just 15 years old.
The shooting sparked more debate about safety on campus at Mt. SAC. On Nov. 16, an alert was sent out via email about a false report of an active shooter in Building 26. Students and staff received that email alert on campus around 5 p.m. while the situation was reported to the campus around 11 a.m.. There was no report of an active shooter, but two classes located in Building 26 were told to shelter in place as a precaution. Although some students received an alert in their student email, not many students knew about the reported false alert.
"I was not aware of an active shooter," said Kevin Martinez, 23, a radiologic technology major at Mt. SAC. Despite not knowing of the false report, Martinez said he feels safe on campus. "If there was evidence of it then perhaps have more security on campus entrances or in some buildings."
Another student who did not know of the false report was Yareli Tiznado, 20, a kinesiology major at Mt. SAC. "I was not aware of the active shooter until the next day," she told SAC.Media. "I think the school should alert students more often and make students more aware of what needs to be done in case of a shooter or fire."
Other students stated that they feel safe on campus. Luis Velasquez Vasquez, 18, a criminal justice major said that he had received the alert but was not on campus when the report was made. "Feel pretty safe on campus. I think the school should maybe add some more security just in case the shooter actually tries to do something."
In 2020, gun violence was at a record high according to the Washington Post. A total of 611 reports were mass shootings, according to data from the gun violence archive. Oxford High School marked the 28th school shooting of 2021, many labeled mass shootings as America's epidemic.
Despite March 2020 being recorded as a month with zero school shootings, the New York Times suggested this was because this was when COVID-19 lockdowns were being implemented. With vaccination rates rising and restrictions easing, the familiar fear of school shootings reemerged.
Some faculty members at Mt. SAC have expressed concern for their students' safety.
Speech professor Roger Willis was on campus when the report was sent out on Nov. 16.
"I don't think we're going to see an end to, you know, mass shootings in the United States, unfortunately, that's the reality of it. And the really disturbing reality to me is that we've normalized school shootings."
When he was asked about Mt. SAC's active shooter training," Willis said. "Unfortunately, even for our campus here, I don't think we are effectively prepared if we have a mass shooter. I think the drills that we have on campus are outdated."
"I think that they are set up to be in more danger than to protect us. When I got the message I immediately took some steps to lock up my classroom and try to get my students into a safe position," he said. " We stayed where we were just for the moment but we locked up and shut off the lights and we made us look like nobody was in class."
Willis was not the only faculty member expressing their concern about safety on campus. English professor Kristina Allende shared her concern about the easy access people have when it comes to purchasing a gun.
"I think politically, weapons of war should not be on the streets. I think automatic weapons absolutely should not be anywhere anyone can get them, except if you're a military person or a law enforcement officer," she said. "I think the community has to work together. We are just a campus in the city of Walnut."
According to the Giffords Law Center, the average age required to purchase a gun in California is 21. A new law that took effect January 2022 restricted minors from possessing most semi-automatic rifles. The weapon used by the shooter from the infamous shooting that happened at Marjory Stoneman Douglas High School in Parkland, Florida killed 15 students, two teachers and left 14 injured was a legally purchased semi-automatic rifle.
"We are well prepared for circumstances in which we have anticipated an emergency, but I wouldn't be so confident to say that there could still be circumstances that were unusual for which we wouldn't be a hundred percent prepared," says Mt. SAC President Bill Scroggins when asked about how well prepared Mt. SAC would be in case of a real life emergency situation. "I'm satisfied with our current level of preparedness where we're working on some improvements of situations where we've seen in other circumstances around the nation that we'll be ready to respond to."
Purchasing a gun could be done in 15 minutes in some parts of the U.S. Active shooter training is becoming more common across schools in the U.S. At Mt. SAC, active shooter training and awareness programs are not mandatory for students attending the densely populated campus.
As of 2020-2021, no programs or courses have been offered to students to help aid in the prevention in the case of an active shooter. Police Chief Mike Williams did not respond for comment at the time of publishing.
As an outcry from students across the U.S. after the deadly Parkland shooting, movements such as the March For Our Lives were being organized to bring awareness to the almost normal day to day epidemic. Students and faculty at Mt. SAC joined students across the states to say enough is enough by attending a walkout organized by history professor Kimberly Earhart in 2018 to remember the 17 victims of Marjory Stoneman Douglas killed in a shooting.
Mt. SAC has offered safety tips and checklists regarding active shooter situations on campus:
Run.
In the event of an active shooter, students and staff are encouraged to run away and find safety away from the danger zone. Police will arrive the sooner they receive reports of an active shooter.
Hide.
In the event that students find themselves in class or inside a building with no way out students and faculty are encouraged to hide. Do not hide behind glass, doing so will make someone an easy target as the shooter will simply shoot through the glass. Students and staff are encouraged to find hiding spaces such as closets, behind shelves, under counters or separate rooms. Remember that an active shooter is always looking for easy targets.
Fight.
This should always come as a last resort if all other options have been exhausted. Everyone should equip themselves with whatever object they have on hand or within their reach to defend themselves. Shooters often expect and thrive off fear, so planning an attack with a group or individually to disarm a shooter is the last thing on their mind.
Remember that you too can survive this. Stay safe, stay alert and always be aware of your surroundings.
Although strides have been made to ensure the physical safety of students, the mental health aspect of the pandemic is another issue for the college to address.
Leave a Comment
About the Writer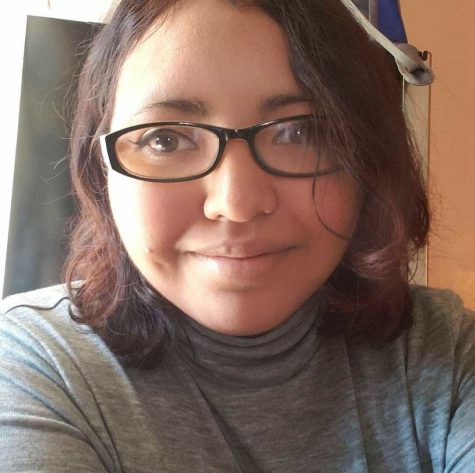 Gabby Flores, Staff Reporter
Gabby Flores is a staff reporter for SAC.Media. She is a journalism major who loves to write and listen to music.