The Leap Home
After leaving his mark on many, Coach Ron Kamaka rejoins both fathers
With a twinkle in his eye and one of the biggest smiles anyone has ever seen from Honolulu to Irvine, Coach Ron Kamaka is more than a coach.
Ron is a man of the Lord, beloved husband to Lynda and an athletic star.
His middle and last name (Kalani Kamaka) even translates to "heaven's eye" in Hawaiian.
When he powerslided into your view with an adept flair on his specialized equipment, this six-foot-five giant met you at your level with an outstretched arm to greet you. He followed with a firm handshake and optimism that was infectious.
His confidence consumed you whole. He knew he won you over before he even spoke, but he left you feeling like you had won him over and had his full confidence – and you did.
Whether you were a student, athlete, coach or an administrative official, he made you feel like you were his long lost buddy from the islands.
In fact, he even taught on the islands – at the prestigious Punahou High School – alongside his illustrious coaching and teaching career throughout California.
Ron has a gift for speaking.
It is hard to describe to someone who never had the chance to hear him speak at a board meeting, on the track or in his local church group. He mixes the persuasive power of a salesman with the passion of a Sunday sermon, then blends everything together with a wise parable or witty aphorism.
While that sounds like a preacher to most, he would probably describe himself more as a vessel. He always credited others for their accomplishments and would speak highly of those around him.
Still, there was a lot to learn from Ron.
He knows the struggles that community college athletes face. As a junior college product himself, he made his name known in high school as a high jumper for Rancho Cotate High School in Rohnert Park of Sonoma County before setting more records at Santa Rosa Junior College.
Graduating as the Redwood Empire Prep Best, he set a personal best of 6 feet 8 inches at the Santa Rosa Relays on April 11, 1981. He broke a meet record of 6-6 that had lasted for eight years, and in the process became the second all time in the Empire. It took seven more years for someone to match his record.
He was honored for both his achievements on the track and his basketball talent by his high school when he was inducted into the Rancho Cotate High School Hall of Fame in 2010.
By the time his feat was matched, he had already made a name for himself at the collegiate level.
He had a breakthrough year in 1983. He improved his personal best by four inches to clear 7 feet 2 inches at Santa Rosa Junior College, and he won gold at the World Junior Championships. He also became a high jump champion and helped his school win a state community college title before graduating with an associates degree in physical education.
His achievements were honored in 2000 when he was inducted into the Santa Rosa Junior College Hall of Fame.
He continued to dominate after transferring to the Arizona State Sun Devils in 1983, where he accomplished a personal best of 7 feet 3.5 inches in 1984. This record still stands as the college's fourth best of all time. He was even named team captain in his senior year with the Sun Devils in 1985 and excelled in leading the team with his spirit.
For the following years, Ron was on top of the athletic world with accolades to boot.
He continued to study in physical education at California State University East Bay and Sonoma State University until he received his bachelor's degree in 1988.
But the man upstairs had different plans for him.
Seeing his aptitude for leadership, life threw him a curveball that would force him to slow down.
While he was bodysurfing in 1990, he took one wave too late and the surf took him under before throwing him into the sandbar. Despite thinking he was going to die and being unable to move, he was pulled to safety by someone.
Battling dark thoughts from the accident, it was religion that found him.
By the grace from above, his inner demons did not win, and all of his attempts to leave were thwarted.
"On the day that he had planned to throw himself in front of a bus, it turned out the buses didn't run on that day," Irvine Valley Community Church Pastor Yurie Hwang said to Ron's loved ones and the community that attended his celebration of life on April 24.
"His backup plan was he would roll himself up a cliff behind the Rehab hospital and roll himself off into the gorge beneath. Only it had rained that day and his wheelchair got stuck in the mud," he added.
Hwang then explained how Ron also suffered a staff infection after getting stuck in the mud, which led Ron to only be allowed to see his doctor and a therapist.
That therapist, whether he liked it or not, was determined to stick by him and read him the Epistle to the Romans. Ron would be pushed by his therapist to follow the gospel stronger than he ever had before. He would later go to the Calvary Chapel of Honolulu and dedicate his life to faith.
After five and a half months, he came out the other side of recovery.
Instead of dwelling on the situation, he sought out his family and moved to be with his mother and brother in Irvine.
With this move, he found his true calling at his local elementary school.
Volunteering to help at Los Naranjos Elementary and later at Woodbridge High, Ron found he really had a knack for working with students.
Taking it further, he applied at Cal State Fullerton in 1995. Fullerton Track and Field Head Coach John Elders would later say it only took five minutes of watching him work with one of their athletes to give Ron the job.
It did not matter that he took public transportation. The three hour trip there and the three hour trip back would dissuade other men, but not Ron. It would not matter if it took him five hours to start his day and five hours to end it. Ron would be there for the students.
In January 1997, he would make one of the biggest decisions of his life and married his wife Lynda. They had met years prior when Ron coached her daughter at Woodbridge.
She would be his rock – or as he put it – "my everything."
With her by his side, he said that his life became "a lot more rewarding than the 27 years I spent walking."
He would be at CSUF for 12 years, serving as an assistant head coach for the first eight years and as an associate head coach for the last four. His tenure at CSUF led to five NCAA Division 1 All-Americans among other all-conference and conference awards.
One of his athletes, Giovanni Lanaro, found great support in Ron's mentorship. Lanaro competed under Ron's mentorship at CSUF, which led him to raise his pole vaulting career best to 5.60 meters. He would earn three NCAA All-American honors before becoming an Olympian.
After competing in numerous Olympics as a pole vaulter, he returned back to Mt. SAC to coach the next generation. He now serves as the head coach for the women's cross country team and was Ron's right hand for many years.
Ron's influence at CSUF went beyond Lanaro.
He would also mentor Rodney Anderson, a CSUF basketball player who became wheelchair-bound after a shooting occurred near his home in 2000. Ron mentored Anderson while starting school at Azusa Pacific University in 2001 and the pair would both eventually graduate.
Ron achieved his master's degree in kinesiology from APU in 2003 and Anderson returned to school and graduated from CSUF in 2005 with Ron's encouragement.
Getting back on track to establish himself as a top coach, Ron left a lasting impression when he first met Mt. SAC's Veteran Head Coach Doug Todd. This led to Ron being hired in 2006.
Todd took over Mt. SAC's program in 1995, just as Ron had started to move up the ranks with his first work in Fullerton, but Ron approached him as if he was already hired.
"Coach Todd, I just wanted to meet you and let you know I submitted an application for your assistant coaching position. I would love to work with you," Todd said. "I muttered something like 'Yeah, okay, I'll look forward to reading your application.' The next thing I know he says, 'Thanks for your time. I'm glad I bumped into you here. I know you've got things to do so I'll see you at the interview.'"
Todd made sure to point out that this was not an "I hope to see you at the interview" but rather a declarative statement. He also added that he does not believe it was a chance meeting, either.
Ron's tenure at Mt. SAC was not a legacy of chance either.
His impact was felt immediately when he joined Mt. SAC in 2006 as a kinesiology professor and assistant coach for cross-country and the track and field team.
He moved up the ranks with great speed. He took over in 2013 as the fifth men's head coach in the college's history. Ron had followed in the footsteps of Hilmer Lodge, Don Ruh, Evans Roderick and Doug Todd, and led the program to immediate results.
The program finished second in Ron's first year in the South Coast Conference, the team finished Southern California Championships and CCCAA State Championships without a single individual becoming a state champion on their own.
The next year, Ron was named the Men's Cross-Country Coach of the Year and led the Mounties to a fourth place finish in the CCCAA State Championships alongside an SCC Championship.
In 2015, he was named Men's Track and Field Coach of the Year and the California Community College Cross-Country and Track Coaches Association Coach of the Year. SCC Athletics Directors also named Ron the All-Men's Sports Coach of the Year. The team won the "Triple Crown" by winning all three championships.
The following year, he repeated his accolades and the Mounties got a second place finish in cross-country and a second consecutive state championship in track and field.
He became the men's cross-country head coach in 2017 and led them to their third state title. Men's track and field also ended the season with a state championship.
His accolades are too long to list and his impact is immeasurable.
As a former high jumper, Ron had a special gift for coaching hurdlers, long jumpers and high jumpers.
He always made sure to shift the athlete's mindsets regarding their events.
"High jumping is one of those events that always ends in failure," Ron said to the Los Angeles Times. "It's important for me to be able to move them out of that mind-set. There's always a positive side, even to a bad performance."
His career led him to be 5CTCA Track and Field Vice President before ending his term as the association's president. While many of his athletes have moved onto the United States Track and Field team, Ron holds a USATF Level I coaching certificate.
Ron's legacy will be forever immortalized in his favorite place to be – at the track.
Doing great work on and off the track, Ron found that he had no more use for his wheelchair on March 6. Though his athletes and friends miss him dearly, he will be eager to meet them all again.
At long last he will hear the following reassuring words when he meets both fathers above:
"Well done, my good and faithful servant."
Leave a Comment
About the Contributor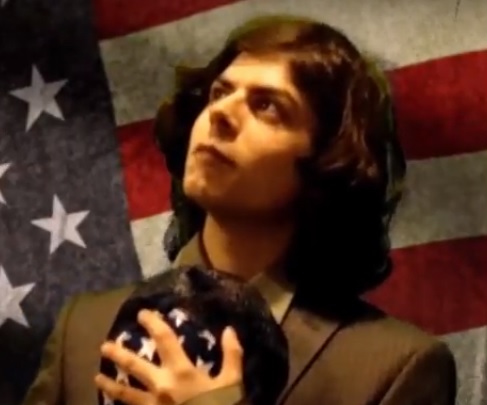 Joshua Sanchez
Joshua Sanchez is the former Editor in Chief and News Editor of SAC.Media. He was previously the managing editor of LAHS' student newspaper,
The Conqueror
. A portfolio of his reporting work can be found at
jdjoshsan.wordpress.com.