Mt. SAC's inaugural Track Fest: Run up the night
A culmination of entertainment celebrating athletics
Sports. Free food. Beer. Live music. What's not to like?
Mt. SAC hosted its first Track Fest, a hybrid "part music festival, part track meet" event featuring elite Olympic-caliber athletes representing 32 countries, from Canada to Japan, food trucks from locally owned businesses offering plant-based and vegan friendly options to traditional street vendor food and international musical entertainment.
Before we talk about the mouthwatering food and incredible live entertainment, let's dive into the notable athletic performances.
The athletes took center stage and did not disappoint.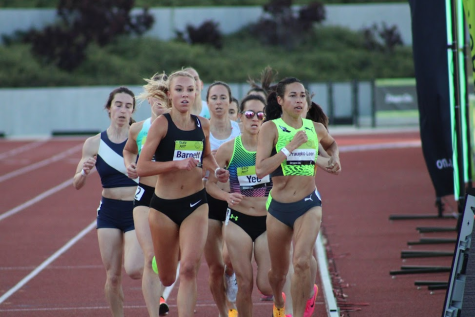 Josette Norris Andrews stole the show winning a stacked women's 5000-meter race, with an incredible time of 14:43.36 to win comfortably thanks to a 4:34.35 final 1600-meters and 2:12.75 final 800-meter. Andrews easily passed the 14:57.00 world standard, leading a total of five women under the mark: Venezuela's Joselyn Brea, Mexico's Laura Galvan and America's Emily Infeld and Elly Hene.
Andrews now joins elite company and ranks No. 7 on the all-time US indoor/outdoor list.
Canadian born Missouri high schooler Connor Burns broke the high school national 5000-meter record that stood for over 19 years by mere milliseconds with a time of 13:37.30. The Southern Boone County attendee broke the previous record time of 13:37.91 held by Galen Rupp by having the best opening two-mile start of his life.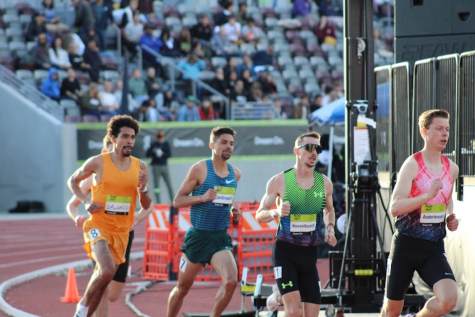 Burns after the race said he would celebrate the historic feat by flying home and being with his family.
Like Rupp, Burns will attend the University of Oregon this coming fall.
Two major upsets happened during the steeplechases as, Kenneth Rooks of Brigham Young University, more commonly known as BYU, posted a time of 8:17.62 to take down US champion Hillary Bor and Krissy Gear of HOKA NAZ Elite, a northern Arizona track club team, ran a 9:23.55 to defeat BYU's Courtney Wayment.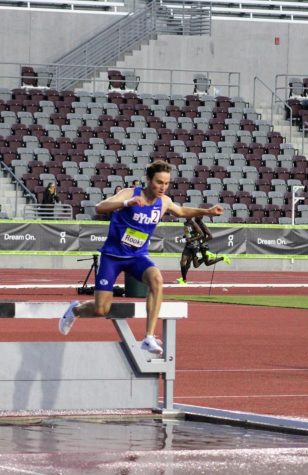 It was an outstanding performance overall for the BYU Cougars' track program. For Rooks, Mt. SAC must feel like a second home field for him. Winning this event marked his second first place finish at a Mt. SAC event with his first win coming in the 3000-meter steeplechase in April 2022. Although Wayment was upset, finishing second in a field of 28 represented countries is no easy feat to accomplish.
Last but not least, we saw a NCAA Women's 5000-meter record from Kateyln Tuohy. The North Carolina State Wolfpack's runner broke the NCAA outdoor record by 17 seconds but missed running a sub-15:00 posting a time of 15:03.12. The Wolfpack takes aim to finish her collegiate season strong. Moving forward, Tuohy said after the race she is thinking about focusing on the 1500-meter at NCAAs. But the plan remains to run the 5000-meter event at the USA qualifier in July.
Onto the food.
Five food truck options filled the spectators and athletes' stomachs during the night: Compton Vegan, Bite Me, Flaming Grain, Fried Out and Savage Tacos.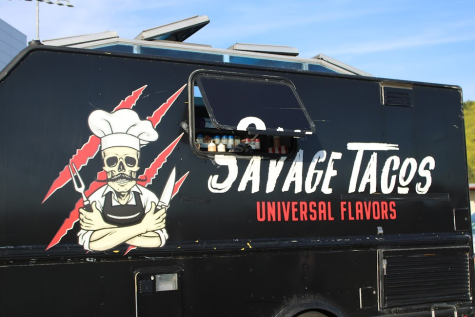 Having healthy options at a track meet is always a win for the athletes and patrons alike. Compton Vegan and Flaming Grain offered options like vegan hibachi, veggie protein bowls and other plant-based dishes. Even the carne asada tacos from Savage Tacos offered a plant-based alternative if you did not want the traditional meat option.
Fried Out, though it did not have a traditional vegan dish, offered its signature Grilled Cheese sandwich with its four-cheese blend. For the carnivores in attendance, they had their original Smash Burger and Bacon Smash burger featuring their house special 80-20 blend patty, cheese and signature sauce.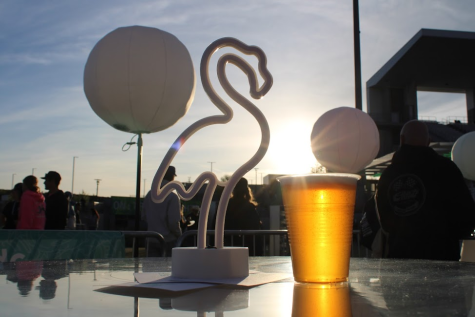 For the attendees over 21, the beer garden offered traditional and nonalcoholic brews to enjoy. Our neighbors from Cal Poly Pomona's Innovation Brew Works supplied the adult beverages for the night and they were refreshing to say the least. Innovation Brew offered its signature '66 Blonde Ale and Luther Holt IPA.
If you wanted to avoid the buzz, Athletic Brewing Co. supplied their Hazy IPA for customers to chug down. The San Diego brewing company is one of the leading non-alcoholic beer companies in the United States and has over a dozen buzz-free beers to share with your buddies.
Now onto the live concert entertainment.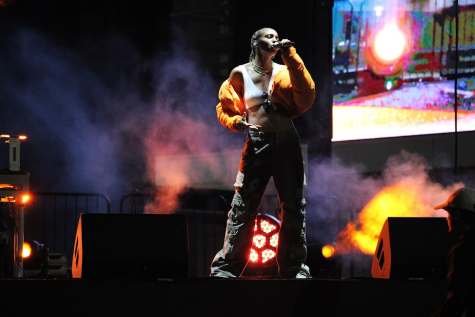 To give the crowd a break from the athletic performances, Track Fest offered its audience two live performances: singer Chloe Abbott and the rapper Kyle.
A contestant and runner up on NBC's The Voice, Chloe Abbott, a former University of Kentucky track standout, was the first to set off the live entertainment at Track Fest performing her hit songs like "Calypso" and "Slimthinn."
After warming up the crowd with Abbott's incredible live performance, Kyle took the stage and performed for over an hour.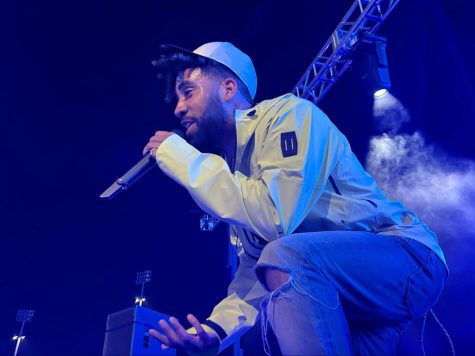 Kyle throughout the set kept encouraging the crowd to exit the bleachers and come up to the stage area to turn up with him.
The Southern California native and former high school track star performed for over an hour and turned up the entire stadium. He also performed smash hits like "Hey Julie," "Playinwitme" and "iSpy" before capping off the night with sneak peeks for two unreleased songs.
After the rapper captivated the night, the event capped off with the final two events: the men's and women's 10000-meter race.
The event was a success and hopes to make this an annual occurrence are in full swing.
Leave a Comment
About the Contributor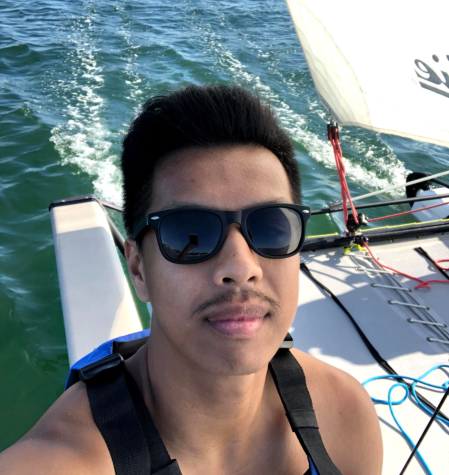 Robbie Doctor, Staff Reporter
Robbie Doctor is a staff reporter and writer for SAC.Media.