"Without You" Remix Hits You Right in the Feels
Kid Laroi and Miley Cyrus have come through with a remix that has everyone feeling some type of way
It's hard to imagine how The Kid Laroi's original song, "Without You", could get better—but it did. The Kid Laroi's recent release of his song, "Without You" remix with Miley Cyrus, was released on April 30. A melodic guitar instrumental jump starts this hit, which sets the tone for the remainder of the song. As the song progresses, the instruments advance and merge well with both The Kid Laroi and Cyrus' voices. Kid Laroi and Cyrus' voices are strong on their own but together, they complement each other in a seamless way as they naturally flow together.
Charlton Kenneth Jeffrey Howard, whose stage name is The Kid Laroi, has a distinct voice compared to other artists in the industry. Howard's voice has a nice flow and is pleasing to the ear. Within the song, you can hear the emphasis he adds to certain lyrics, which stylistically allows listeners to hear the pain in his voice. His voice gives off a raw sound, which is refreshing and keeps you wanting to hear more.
When Cyrus enters the song, the presence of her voice adds a mature sound. Vocally Cyrus' voice is powerful and her riffs throughout the song are aggressive. Her voice as an artist is very distinct and Cyrus sings in an effortless way. No other female artist would have been able to deliver the same sound that she was able to achieve on this track.
Kid Laroi came out with his hit single "Without You" last year, but when word got out that his collaboration with Cyrus on this song was going to come in late April of this year, many couldn't wait to hear it. The song takes you on a journey where you can't help but be forced to reflect on your own relationship experiences. You are put in a headspace where the only way to heal is by feeling every emotion again and again in hopes of it making an ounce of sense.
The song is relatable as it displays the emotions and thoughts of a relationship that is in the midst of a breakup. Lyrically, the type of relationship that is being exposed, paints a scene of two individuals who are revealing their truths about the same relationship. What's recognizable about the song is that with the addition of a female voice, such as Cyrus,' the song becomes conversational. This adds to the storytelling component of the song making it clear that both individuals are heart broken.
Kid Laroi's song "Without You", was a hit on it's own; but the collaboration with Cyrus managed to make the song sound like it had never been heard before. There is still so much to come for both of these artists and with the work they have been doing in the music industry, there is no doubt that their following is only going to grow.
People listen to music to feel emotion. To feel happy. To feel sad. To feel like they aren't alone—this piece of work does just that. The song takes you on a journey of a relationship that isn't working out anymore and the individuals understanding of how life without the other won't be the same. The Kid Laroi's song, "Without You" remix with Cyrus, is an anthem that many can relate to, and can blast in their cars on repeat.
Leave a Comment
About the Contributor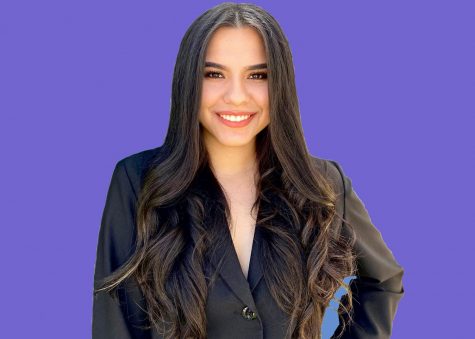 Delilah Perez, Arts & Entertainment Editor
Delilah Perez is the Arts and Entertainment editor at SAC.Media. She is also a part of the editing team of the Latinx platform Somos and is part of the public relations and social media team for the Mt. SAC journalism program and its student publications. Delilah has a passion for writing, and in her free time, she enjoys watching movies, going to concerts, and spending time with her family.